LAST 7 Days to get a Palladium Surprise Package
LAST 7 Days to get a Palladium Surprise Package
Final days to get a Surprise Package – get yours before it is too late. There are only 7 days left to snag yourself a Palladium Surprise Package – $100+ worth of product for $58 plus shipping – offer ends after midnight, next Tuesday, January 17, and will NOT be extended further. Miss out and you'll have to wait till next Christmas season for this deal.
A Surprise Package is a wonderful way to start the New Year. Use it to treat yourself, try new settings, get ideas for new campaigns, replace lost or worn out books, fill holes in your collection, or as a gift for the gamer in your life. Ideal for birthdays, anniversaries, Valentine's Day, and any gift-giving occasion. And please spread the word so other gamers, especially newcomers, can discover the magic of Palladium Books.
The Christmas Surprise Package offer – the best deal in gaming – is coming to an end – only 7 days left. This is your last chance to get physical books at PDF prices – $100+ worth of physical products for only $58 plus shipping. And we'll sign each book if you request it. For many this is the only way to get an autographed book. No other game company in the world offers a deal like this. Order yours before you miss out and please spread the word so other gamers can enjoy this incredible deal.
We extend the offer for those of you who have been so busy spending your time and money on your family and friends, that you have not had the opportunity or funds to treat yourself to a well-deserved Christmas Surprise Package.
We also extend it for those of you who cannot get enough of Palladium's games and want to start the New Year off with a setting or source material to launch a new campaign. And for those of you who can use a Surprise Package as the perfect gift for a birthday, anniversary, or special occasion coming up in January or February. (Valentine's Day?)
And we extend the Surprise Packages for you Johnny Come-Latelies who were meaning to get one, but how time flies during the holidays. It just feels like it is more important than ever to spread the joy of gaming into the New Year. So please, spread the word about the extended Surprise Package sale period, and travel the Megaverse® from the safety of your home.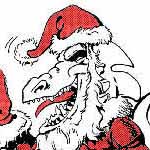 What is a Christmas Surprise Package?
A smile and a hug that comes in a box filled with signed game books from available Palladium staff and freelancers. And God knows things continue to be so crazy, we need something fun like the Christmas Surprise Package to ring in the New Year and provide a little joy and laughter. With so many people suffering from the fallout of the pandemic, depression, frustration, and in some cases, money issues, they need to escape into realms of role-playing adventures and this is a fun way to do so. Not to mention the huge savings and autographs available via a Palladium Christmas Surprise Package.
A Surprise Package is your way to get physical books (and autographs if you want them) for PDF prices! $100+ worth of Palladium products for only $58 plus shipping. That can nab you four or more items when these days one core rule book can cost you that alone.
These Surprise Packages are our way of saying thank you for your support and showing you our love and appreciation. It's a surprise because you never know exactly what you're going to get or who will sign your books, because we pick from your Wish List and may surprise you with stuff you are not expecting. Extra items may include other RPGs, sourcebooks, issues of the Rifter®, novels, miniatures, prints, art books, greeting cards, T-shirts, negatives, and other items. Some books may be slightly damaged (scuffs, scratches, dings, a crunched corner, etc.) so we can send you more.
The Surprise Packages can be that special gift for a birthday, anniversary, Valentine's Day, graduation, or any special occasion coming in the weeks ahead. It is also a great way to fill the winter months ahead with a pile of games on the cheap. And you can get a bunch of autographs (if you want 'em). Or as a means to treat yourself (you deserve it), fill holes in your collection, replace worn out books, or try new settings. And who doesn't like getting a "surprise" any time of the year?
Have you wondered about settings like Palladium Fantasy®, Heroes Unlimited, Dead Reign®, Chaos Earth®, Nightbane®, Systems Failure, Mechanoid Invasion®, Rifts®, After the Bomb®, etc. – ask for it in your Wish List and maybe you'll get it.
Your "Wish List" is vital – the Palladium Surprise Packages are designed to simulate the joy and surprise of the Christmas Season of Giving. To do this, you submit a list of 12-15 Palladium products (or more) FOR EACH Surprise Package you order. This list of 12-15 items for EACH Grab Bag is critical, because you will not know which items we will select to send you. That makes it just like a Christmas gift because it really is a surprise. Surrogate Santa Kevin personally hand-picks every item for every Grab Bag, and may toss in something extra like a limited edition print, or a negative, or similar collector's item, or an issue of The Rifter®, or something else he thinks you'll enjoy.
Autographed books. For those of you who want them (which are most people), Kevin and available members of the Palladium staff, and any freelancers we can lasso at the time, are happy to autograph each and every book in your Surprise Package. This is the only way many fans across the country and overseas can ever get signed books.
Send us your brief comments. There is a special form and format to fill out for Christmas Surprise Packages. It includes a place where you can offer your brief comments, suggestions, greetings and salutations.
First-timers are always nervous until they see the great value in their first Surprise Package. A typical Grab Bag has $100 worth of product, sometimes more! Yes, sometimes more, for only $58 plus shipping. Many people order 2-3. Some order 4-6, and some maniacs order even more! It makes sense, because it is a great way to fill holes in your own collection, treat yourself, get autographs, try new games and settings, rebuild your collection, replace worn out books, and get your gaming pals gifts you know they will love. PLEASE spread the word about this great offer.
To those of you outside the USA, the X-Mas Surprise Package is a way to get books and circumvent the damn high cost of shipping from the United States, since you are getting $100 (often more) worth of product and only paying $58, shipping via Priority Mail International (required for packages weighing 4 or more pounds) to most locations in Europe, Canada, Australia, and many other countries is around $70 US dollars. HOWEVER, because the cost of the product is so low, that's often the equivalent of paying retail for the products and only $1-$40 for shipping. A very good deal. Plus you get autographs if you want them! X-Mas Surprise Packages are the way to go for those of you outside the USA. Please take advantage of it to get all those products you've wished you could get except the shipping was too prohibitive. We feel your pain. Game on!
Please spread the word. The Christmas Surprise Package is only publicized by word of mouth, on Palladium's website, and social media, so please tell everyone you know. Buy one for every gamer you know. They make astonishing gifts for every occasion. Final days – ENDS – January 17, 2022.
© 2023 Palladium Books Inc. All rights reserved.