Palladium Books® Weekly Update – Dec. 19, 2013
By Kevin Siembieda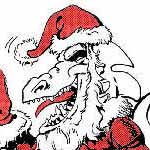 With Christmas next week, I think the focus of this Weekly Update has to be the holidays and the Christmas Surprise Packages. That offer ends Christmas Eve, 2013, so you still have time to order one for yourself.
At this point, only Priority Mail, Express Mail, 2nd Day UPS and Next Day UPS will arrive in time for Christmas. I would hope those of you purchasing a Surprise Package for the holidays have already done so. We certainly did everything we could on this end to get the Christmas Surprise Packages out as fast as humanly possible. Once in the mail, it's out of our hands.
Ah, but the beauty of the Surprise Packages is that they aren't just for Christmas. You can purchase one or more as gifts for any upcoming occasion (birthday, anniversary, Happy New Year's, Valentine's Day, graduation, and so on), or as a treat for yourself. A Surprise Package is also a great way to fill holes in your collection, try new world settings, get back issues of The Rifter®, get autographed books and specialty items like the Zeleznik art book, prints, original art, bookmarks, T-shirts, coffee mugs, and other non-book items.
Each Christmas Surprise Package is handpicked and packed with appreciation and warm holiday wishes. We do the Surprise Package as our way of saying thank you for your patronage and support, as well as a way to spread holiday cheer to the Palladium gaming community. So please, order as many as you'd like, enjoy and happy holidays.
There is still time to get a Surprise Package for Christmas, but you'll need to do it TODAY or over the weekend and pay for expedited shipping.
Get those orders in NOW to get Surprise Packages in time for Christmas without having to pay an arm and a leg for shipping! Order this weekend and Monday, and you can get your Surprise Package in time for Christmas by just using UPS Ground (1-3 days to deliver east of the Mississippi River, 4-5 days west of the Mississippi). UPS Ground is awesome and not too expensive and it can be tracked. Priority Mail is also a fast method of shipping guaranteed to arrive before Christmas if you place your order with Palladium Books by December 18.
Revised shipping guidelines for Christmas delivery:
Note: We will try to process and pack orders as quickly as possible. Please make our job easy by giving us plenty of clear choices in your Wish List and make certain your Address is Correct. Palladium will do everything in its power to make sure you get your expedited package in time for Christmas.
Priority Mail in USA – Place your order by TODAY, December 19 (or morning of the 20th) and we will ship it out FRIDAY. You 'should' get it on Christmas Eve. NO guarantee. And you MUST make sure you give us 10+ in stock items to choose from for EACH Grab Bag. If we have to contact you to find out what you want, your order will be delayed and will NOT reach you by Christmas.
UPS 2nd Day Air in USA – Place your order TODAY, December 19 and we will ship it on FRIDAY. You 'should' get it on Christmas Eve.
UPS Next Day Air in USA – Place your order by December 22, and we will ship it on Monday. You 'should' get it on Christmas Eve. NO guarantee.
Express Mail in USA – Place your order by December 22, and we will ship it on Monday. You 'should' get it on Christmas Eve. NO guarantee.
To our friends in Canada and overseas – Sorry, but your deadline for Christmas delivery has passed. Any method of shipping will reach you AFTER the holidays. Happy Holidays, one and all!
If you do NOT need the Surprise Package for Christmas . . . ALL OTHER methods of shipping are available to you. The order will arrive AFTER Christmas, but so what, right? That means you can use UPS Ground or Media Mail to get your "Post-Christmas" Surprise Package.
What is the Christmas Surprise Package offer? It's a way to get a boat load of Palladium RPG product on the cheap ($80-$95 worth for $40 plus shipping and handling), and get autographs and Erick Wujcik Keepsakes, too. And if you're into it, you can request a number of limited edition prints and even original artwork (limited as all art is donated by the artists). The perfect holiday gift for the gamer in your life. Or maybe for yourself. The Surprise Package is a great way to try new RPGs and plug holes in your collection. Have you tried Dead Reign™? Splicers®? Nightbane®? Rifts®? Robotech®? Here's your chance.
$80-$95 worth of product for only about $50 in every Palladium Christmas Surprise Package! These days, that's the price of a core rule book or two supplements. And sometimes the crazy Publisher includes even more value than that!
Autographs in every book in your Surprise Package, upon request if you want them. For many gamers, this is the only way for them to get signed books.
Get original artwork. The inclusion of art is considered only for those who request it, and depending on the size, subject and quality of the art, you may only get the art and one or two other items. (The typical piece of original art is 8½ x 11 and has a value of $30-$60.)
Get other goodies like limited edition prints, posters, back issues of The Rifter®, game settings you've been meaning to try, T-shirts, coffee mugs, bookmarks, magnets, Chi-Town Library pencils, Palladium greeting cards, and other Palladium goodies.
A great gift for ALL gift-giving occasions – Hanukkah, Kwanzaa, birthdays, anniversaries, and so on.
It's a surprise, like a real present, because you never know exactly what you are going to get and it is packed with love!
FREE Erick Wujcik Keepsake for Christmas Surprise Packages. A paperback novel or a magazine read and owned by Erick. This is a bonus item. Include it in your Wish List or in the Comments section by saying, "Please include an Erick Wujcik Keepsake," and we'll do so. We have plenty so do not hesitate to request one in your Surprise Package.
Click here to get more details and to place your order.
UPDATE: Phone call from Kevin Siembieda to Top NG-1 Insiders
I don't know if I'll have time to call before Christmas, but I will be calling. I owe the top 16 NG-1 Megaverse® Insiders a 20 minute telephone call. You are NOT forgotten.
QUESTION: Would you like a Heroes Unlimited Hardcover?
2014 is the 30th Anniversary of the Heroes Unlimited RPG (originally released in June 1984). We're almost out of the current print run, so we'll be sending it in for reprinting. But I'm thinking, it might be cool to print 300-400 copies of a Thirtieth Anniversary "Hardcover Edition" of Heroes Unlimited RPG, 2nd Edition (i.e. the current rules). And to celebrate the Anniversary, offer it at a low, reasonable price of $40 available only from Palladium Books; while supplies last. The content of the book would be the same as the current softcover except for the blue cloth hardcover (a different blue than the old hardcover) and gold foil printing. Signed and numbered by the Palladium staff.
The question is: Is this a good idea? Is an HU2 Hardcover something you would want? Please let us know. We need to make that decision over the next week or two. Think it would be fun. Personally, I love hardcover books.
UPDATE: Mark Dudley – iMAGiNOs PLUS Kickstarter – 2 days left!
Congratulations, Mark and Company, you have met your minimum Kickstarter goal! And with two days still left, exceeding that goal means you'll be able to do a lot more with iMAGiNOs and possibly future comic book plans. Awesome. I would like to think Palladium's efforts had something to do with that. And not just spreading the word. I think everyone at Palladium put in at least a $10 pledge. It was our Christmas gift to Mark and his crew.
It's cool to see that a pledge as small as $5-$10 by enough people can make the difference. Way to go, Mark!
The iMAGiNOs Kickstarter is the brainchild of Palladium's very own Mark Dudley and friends. Mark's artwork has graced the pages of dozens of Palladium RPG titles including Rifts® Ultimate Edition, Heroes Unlimited™, Rifts® New West™, Rifts® China 2, Shemarrian Nation™ Sourcebook, Northern Gun™ One and many, many others. So you know Mark Dudley as an artist, but you don't know Mark Dudley the comic book storyteller and innovator. And boy is he great at both. Check out this Kickstarter and get a glimpse. Support the iMAGiNOs Plus Kickstarter, and you'll be part of his first step into the beginning of something outstanding and potentially big. And all it will cost you is FIVE DOLLARS.
iMAGiNOs Plus is an anthology comic that presents several dynamic comic stories that Mark and company hope to expand into full-fledged comic book series. One of them, Candy Coated™, was inspired by Mark's Heroes Unlimited™ campaign that has run for years. Part of the "plus" in iMAGiNOs Plus is one of Palladium Books' own secret projects: The Adventures of Erin Tarn™ as a Girl. Yeah, a sort of ongoing origin story. The project has been shelved, but we still hope to bring this and other Palladium IP based comic book titles to life – and this is your first look at the initial 6-8 pages of one such project. Spread the word.
http://www.kickstarter.com/projects/1854358647/imaginos-plus-the-imaginos-workshop-anthology
Behind the scenes at Palladium
Whew, it has been another crazy, hectic week that has zoomed by like lightning. Over the weekend we saw 7-8 inches of snow and cold. We remained in the deep-freeze for the first half of the week and got another 3 inches of snow. But today it's supposed to hit 40 degrees Fahrenheit and stay just above freezing during the day through the weekend. After the last few weeks of colder than usual temperatures well below freezing, this will seem like Springtime.
This week included time spent wrapping and shipping out a multitude of Christmas presents, telephone calls with freelancers, meetings and calls with volunteers, Gen Con and convention discussions (yes, we are already planning for Gen Con, GAMA and Origins!), a talk with my agent at Surge Licensing, numerous exchanges with Ninja Division about Robotech® RPG Tactics™, as well as meetings with volunteers and setting up plans for the future. Tonight, Matthew, Wayne and I will be dining with a Hollywood gaming pal; always a good time with this gent. And, of course, there has been lots and lots of signing of books, packing and shipping for Christmas Surprise Packages. I'm glad people are enjoying them so much.
Have a Wonderful Christmas! I plan to post some Murmurs from the Megaverse before Christmas and even make some calls to people, but I want to wish you a joyous and happy holiday. Now, I'm going to let the positive and warm words we get in the comment section of many of our Surprise Packages fill the rest of the new portion of this Weekly Update. May you and your loved ones have a delightful Christmas.
– Kevin Siembieda, Publisher & Surrogate Santa
Surprise Package comments from fans like you
Every year there is a section where the customer can offer comments and suggestions with his or her Surprise Package order. Every year, in acknowledgment of our fans, and because they are fun to read, we offer a sampling in the Weekly Updates. Our heartfelt thanks to all of you who have stuck with Palladium through thick and thin. Keep those imaginations burning bright, have a joyous holiday season and game on.
You have no idea how much your comments and support mean to all of us. Everyone at Palladium enjoys reading your brief comments. They always brighten our day. Thank you. I've started putting in my own brief responses, as we've gotten positive feedback about it. Enjoy.
J.M.C. in College Place, Washington, writes: Thank you very much for doing the Grab Bags again. I love that I can lure more of my friends into your system with all of the product you send. Christmas is such a breeze with you guys around!
[Glad to help, J.M.C., enjoy. And thanks for introducing others to our games. – Kevin Siembieda]
A.J in Sachse, Texas, writes: I love the Grab Bags! Merry X-Mas to everyone at Palladium. KS, you've created my favorite RPG of all time [Rifts®]. I hope to be playing it until the end of my days.
[Thanks for the high praise, A.J. I hope those days of gaming run for decades. Keep that imagination burning bright. - KS]
J.S. in Minneapolis, Minnesota, writes: Keep up the great work! Can't wait to see what 2014 brings! Hopefully, more Beyond the Supernatural and Palladium Fantasy!
[Count on both, J.S. I plan to come out with several, long-awaited titles for both game lines. – KS]
C.S. in Minneapolis, Minnesota, writes: Love the material. Have for years.
[Nice to hear, C.S. – KS]
L.S. in Garden City, Kansas, writes: Love you guys and this game [Rifts®]. Been playing since I started gaming 26 years ago.
[Fantastic, and you can count on many more years of fun product to come. – KS]
J.S. in Turlock, California, writes: Look forward to the X-Mas Special every year. Thanks again.
[Awesome, J.S., enjoy. – KS]
S.S. in Welland, Ontario, Canada, writes (in part): I love you guys! The first RPG I ever purchased was Rifts®, in 1992, and I still have my incredibly worn and much loved copy. I have been hooked on the Palladium style ever since. Last year I received the pleasant surprise of a copy of Heroes Unlimited™ in my Grab Bag, and I'm hooked. It's amazing how well it generates the superhero feel I get when reading comics. Keep up the good work.
[Thanks for the kind words, S.S. As for Heroes Unlimited, after collecting, reading and, for a long while, wanting to write and draw comic books, I would hope I know comic books pretty well. Still, capturing that feel in a game can be tricky. Glad you think we succeeded. – KS]
J.S. in Versailles, Kentucky, writes: This [Palladium Fantasy®] is one of my favorite RPGs. I hope you guys keep on making great games.
[You've got it, J.S., more great game products coming your way. Hey, what's with all these names ending in 'S'? This is actually the way I've been pulling them out of the stack. Funny. – KS]
D.J. in Englewood, Colorado, writes: I have loved your games since you first came out, and I still have all your original Robotech® books.
[Hi D.J., thanks for the years of support. I'm thrilled you have enjoyed Robotech®, Rifts® and other Palladium game lines for so many years. Game on. - KS]
K.R. in Saint Paul, Minnesota, writes: My friends and I have been playing Palladium games for the last 20+ years and we are looking forward to all the new product that's to be released in the next year.
[Us too, K.R. Too few products have been coming out the last few years, and we want to really bang out a lot of great new titles in 2014 and 2015. Including several that people have been waiting for. - KS]
J.B. in Newark, Delaware, writes: Keep those Rifts® books coming.
[You can count on it, J.B. - KS]
C.M. in Marshall, Wisconsin, writes (in part): I have always enjoyed Palladium's attention to art and writing. Heck, I've gone years without being in a game and I still love to see and read your books. I look forward to seeing what you guys get out next year. Happy Holidays.
[Hey C.M., I'm happy to see that you and so many other folks are so excited about releases coming in 2014. We are too! - KS]
J.B. in Middletown, New York, writes: Happy Holidays! I hope 2014 brings a lot of long-awaited publications, particularly Rifts® Megaverse® in Flames.
[It will, J.B. The plan is to release Northern Gun™ 2, Rifts® Megaverse® in Flames, and Robotech® Expeditionary Force Marines (UEEF Marines) all in the first quarter of the New Year. Then later in the year, I want to release the two BTS sourcebooks, some Palladium titles, Chaos Earth® and other good stuff. – KS]
N.C. in Utica, New York, writes: Carl Gleba insists you will be able to take care of me right [with the Grab Bag]. Keep up the good work and may Palladium last for tens of years longer.
[Thanks, N.C., I hope we did your Grab Bag right. Enjoy. - KS]
C.S. in Edmonton, Alberta, Canada, writes: Love the system! Keep up the good work!
[Awesome! We will try our best to make upcoming RPG titles epic. - KS]
M.H. in Cedar Hill, Missouri, writes (in part): Guys, this is my second Surprise Package this year! Great deal. Loved the first one, especially the [Brian and Allen Manning] propaganda posters! Thanks for the awesomeness.
[Hey M.H., yeah, I love the Mannings' propaganda posters too. Happy Holidays. - KS]
L.B. in Victoria, Canada, writes (in part): I love the endless energy you guys put into every book. I would really enjoy seeing more graphic novels of the Rifts® world. Merry Christmas and thanks for the decades of awesome gaming!
[Ah shucks, L.B. Thank you for such high praise. I'm glad you enjoy our games and books so much. Your wish for a Rifts® graphic novel may be in the future. - KS]
T.F. in Stuart, Florida, writes: I love this every year. The Surprise Package allows me to get some items that have been on my wish list and get some key books my players have been wanting for themselves. Thanks, Palladium!
[You are very welcome, T.F. Game on! - KS]
R.B. in Santee, California, writes: Thank you, as always, for what you do. I've been a fan for well over 20 years. Your Christmas specials have helped me when I was in the military and overseas. And it's been fun to introduce your games to friends and family for the first time. Thanks again to everyone at Palladium.
[I'm glad you enjoy our games so much, R.B. Happy Holidays to you and your family. - KS]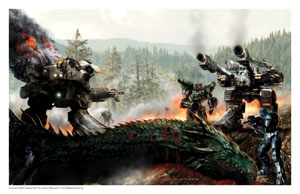 NEW! Northern Gun™ One signed & numbered "print" – available now
The first 50+ prints went to a select number of the Megaverse Insiders, but starting with Number 55, you too can get a signed and numbered Northern Gun™ Print. It is the striking Charles Walton, wrap-around cover without any text or logo to obscure the artwork. Limited to a total of 180 copies.
Limited to 180 signed and numbered prints; 54 of which are already gone to Megaverse Insider crowdfunders. 126 remain available while supplies last.
The artwork is by fan fave Chuck Walton.
Each is signed by Charles Walton (artist), Matthew Clements (author) and Kevin Siembieda (author and publisher) in silver.
Size: Printed on 17½ x 11½ inch glossy paper. 16x10 image area. Suitable for framing.
Mailed rolled in a sturdy tube.
$10 retail (available only from the Palladium Website) – Cat. No. PR810. Available now.
Note: A print of NG-2 will also be made available after that book is released.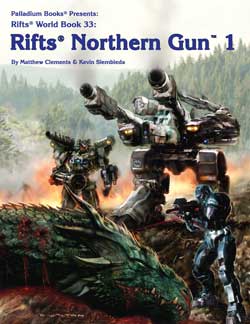 Rifts® World Book 33: Northern Gun™ One – Available Now!
This book rocks! Rifts® Northern Gun™ One is the most tech-filled World Book Palladium has ever produced and gamers are loving every page of new weapons, robots, power armor, vehicles and NG background.
In-depth look at Northern Gun, its robots, stores, politics and operations.
70+ NG weapons; old and new.
27 NG giant combat and exploration robots. Described in detail.
Many new robot weapon systems and features.
Northern Gun freighter ships and hovertrains. Cargo tables too.
Notable cities and people of the Ishpeming Republic/Northern Gun.
NG O.C.C.s, police, specialists and NG Mercenary army.
The NG Bounty Board, the largest collection of bounties and mercenary contracts anywhere on Rifts Earth.
Key locations, people and dangers around Northern Gun.
NG mercenary defenders, groups and pirates.
Northern Gun's relationship with the CS and other nations.
Interior Artwork by Chuck Walton, Mark Dudley, Amy Ashbaugh, and others.
Wraparound cover by Chuck Walton.
Written by Matthew Clements, Kevin Siembieda and others.
224 pages – $24.95 retail – Cat. No. 887 – Available NOW!
Check out the new FREE Sneak Preview on DriveThruRPG.com!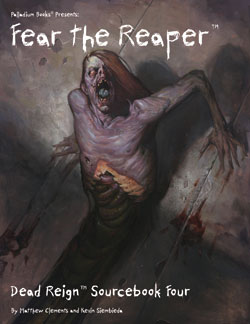 NEW! Dead Reign™ Sourcebook 4: Fear the Reaper™ – Available now
Like knights mounted on motorcycles, the Road Reapers travel the wasteland that Earth has become, searching for survivors, fighting zombies and waging war against the Death Cults that threaten all mankind.
This epic sourcebook explores the nature of heroes and heroism in the Zombie Apocalypse. It contains the secrets of the fabled Road Reapers, their structure, leadership, missions and purpose, as well as gear and combat notes. Plus a horrifying new zombie known as the Terror Zombie, plus Floaters (zombies in water) and which zombies can swim. Survival is one thing. Can you keep your humanity and be a hero?
Comprehensive background on the legendary Road Reapers™ – zombie hunters and heroes of the Zombie Apocalypse.
The Road Reaper Way of Life: Living and fighting on the road.
Road Reaper missions, strategies and tactics.
The Road Reapers' Code – a guide to being a Road Reaper and hero.
Structure and organization of Road Reaper units.
Road Reaper areas of specialty and bonus skills.
Road Reaper Specializations like the Ex-Con, Road Captain, Scout and Fix-It Man.
More zombie-killing advice from Brad Ashley, the notorious leader of the Road Reapers and author of the Road Reapers' Survival Guide.
Notable weapons and gear used by the Road Reapers.
Stats for snowmobiles and boats.
Combat notes and optional character tables.
Terror Zombie, an amalgamation of horror fused to a Mock Zombie.
Zombies in water and which ones can swim!
Many adventure ideas and random tables.
Written by Matthew Clements.
48 pages – $12.95 retail – Cat. No. 234. Available now!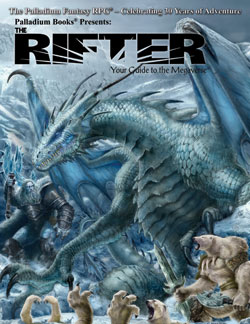 NEW! The Rifter® #64 – Available now
The Rifter® #64 is our annual horror issue. This one presents chills and monsters for Beyond the Supernatural™, Dead Reign™, Nightbane® and even for the Palladium Fantasy RPG®. There is a 'Giant' adventure (as in an adventure about Giants) for Palladium Fantasy®, and The Black-Malice Legacy, Part Two, with more details about the Coalition States' Psi-Division. Plus, stories, news, coming attractions, and more.
Every issue of The Rifter® is an idea factory that helps players and Game Masters to generate new ideas and keep their games fresh. It provides useful, ready to go, source material gamers can just drop into their ongoing games. A doorway to new possibilities and numerous Palladium role-playing worlds. It offers new characters, O.C.C.s, powers, magic, weapons, adventure and ideas for your games. It presents new villains, monsters and dangers to battle, and new ideas to consider. Every issue has material for Rifts® and at least two or three other Palladium game lines.
The Rifter® Number 64 includes:
Rifts® – The Black-Malice Legacy, Part II – by Matt Olfson and Will Hunter. Source material about the Coalition States' psionic operatives and technology, including squad formation and new psychic martial art classes for special operatives in CS Psi-Battalion.
Rifts® Short Story – A Cold Night, Dead Past by Brett Caron.
Dead Reign™ source material by Jeff Duncan. New Survivor Occupations and related skills set in the Zombie Apocalypse.
Nightbane® source material by Bryant Telfer. A new class of mystical wanderer and Nightbane.
Palladium Fantasy® Adventure by Michael Osborne. Play Giant characters or pint-sized humans who invade the lairs of Trolls and evil beings in control of dark magic.
Palladium Fantasy RPG® – New creatures: Ice Bearmen and the Winterserpent by Matthew Clements, Chuck Walton and Kevin Siembieda. "Official" Fantasy source material.
Rifts® NG/Minion War™ story (and hint of things to come) by Matthew Clements.
Heroes Unlimited™ Short Story by Glen Evans.
News, coming attractions, product descriptions and more.
96 pages – $11.95 retail – Cat. No. 164. Available now!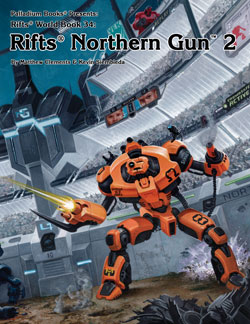 Rifts® World Book 34: Northern Gun™ Two
In production! Expanded to 192-224 pages and filled with all kinds of adventuring gear: New environmental body armor, power armor, hovercycles, robot drones, robot haulers, combat vehicles, other vehicles, robot gladiators and much more. More information about the weapons, vehicles and practices of Northern Gun, including the new rage of robot gladiatorial combat. Expanded page count. Epic adventure.
NG robot haulers and drones.
NG power armor suits; an expansive range.
NG M.D.C. body armor, and combat gear.
NG bionics, cybernetic services and other equipment.
NG hovercycles, land vehicles and combat vehicles.
NG jet packs and aircraft.
NG boats, ships and submarines.
NG Robot Gladiatorial Arena.
Robot Gladiator O.C.C. and robot gladiators.
Pirates and more.
Written by Matthew Clements and Kevin Siembieda.
Interior Artwork by Chuck Walton, Nick Bradshaw, and others.
Wraparound cover by John Zeleznik.
192-224 pages – $24.95 retail – Cat. No. 888. January or February, 2014.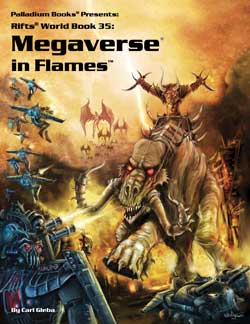 Rifts® World Book 35: Megaverse® in Flames™
The Minion War spills across Rifts Earth, where demons and infernals hope to recruit allies and use the Rifts as gateways of destruction. Their influence shakes things up across the planet, especially at locations where demons and Deevils already have a strong presence. Demons, Deevils and supernatural beings run rampant and wreak havoc across the world.
Demon plagues and mystic blights.
Soulmancy and Blood Magic revealed.
Magical and demonic weapons and war machines.
Demonic armies, strongholds and places of evil.
Hell Pits and Rune Forges.
Many Demon Lords, their minions and plans.
Calgary, the Kingdom of Monsters; in detail.
Ciudad de Diablo, Harpies' Island and other notable Hell holes on Earth.
Lord Doom, Pain and other demonic leaders.
Horune treachery, Dimension Stormers and other villains.
Notable demonic generals, mercenaries, people and places.
Battleground: Earth – as demons and infernals amass their legions.
Global chaos and the places most dramatically affected by the Demon Plagues.
Epic battles and adventure ideas galore.
Written by Carl Gleba. Part of the Minion War "Crossover" series.
192 pages – $24.95 retail – Cat. No. 876. February or March, 2014.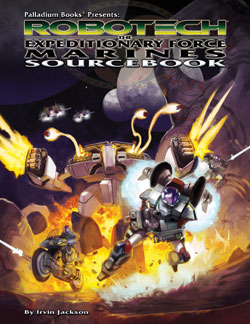 Robotech®: Expeditionary Force Marines Sourcebook One
Spotlight on the valiant Marine Corps of the United Earth Expeditionary Force (UEEF). New character classes, mecha and gear for new realms of adventure.
UEEF Marine Corps O.C.C. and M.O.S. skills.
Many new mecha.
New Marine ground vehicles.
New Marine weapons and gear.
History, training, & organization of the UEEF Marines.
Aliens and space adventure.
Written by Irvin Jackson.
160 pages – Cat. No. 553 – $20.95 – Shooting for a quick release, but early 2014 seems realistic.
Available in the U.S., Canada and the European Union only.
UPDATE: Robotech® RPG Tactics™
The only product people are more excited about than the two Rifts® Northern Gun releases is Robotech® RPG Tactics™. Momentum is building to a fever pitch. Fans will not be disappointed. Demos at the Alliance Trade Show got nothing but big, toothy smiles and positive reviews. Here are some details.
● Flexible Date of Release: An exact release date is yet to be determined, but it is looking like sometime in February, 2014. Ninja Division's original projections had product delivery at October or November, but we were all a bit too optimistic. In order to make this game line everything it can be, there have been delays. As a result, the game has yet to be sent into manufacturing. That said, 98% of the work is completed, the game pieces look incredible, and Ninja Division is wrapping up on final packaging, layout and tweaks. We expect to get final approval from licensor Harmony Gold in two or three weeks. At which point, Robotech® RPG Tactics™ goes into manufacturing. Factoring in manufacturing time, shipping from China and other factors, it is looking more and like a February 2014 release. We'll see. Note: As stated in the past, we will ship product to the Kickstarter supporters before we ship to distributors.
● Plastic game pieces. All of the 1/285th game pieces in the box set and expansion packs are plastic. (Special editions and limited releases for conventions and the Kickstarter may be in resin and/or metal.)
● Expansions released in waves. Palladium plans to release Robotech® RPG Tactics™ products in waves. The core box game and first six expansion packs will be the initial release. 4-6 additional expansion packs of mecha game pieces will ship approximately every three months thereafter.
● Robotech® RPG products – available now. Don't forget that Robotech® RPG products are available now. They include the Robotech® Shadow Chronicles® core rule book available as a $30.95 hardcover (Cat. No. 550HC) and as a $16.95 manga-sized RPG paperback (Cat. No. 550), and the Macross® Saga Sourcebook (Cat. No. 551) which is the same setting as the Robotech® RPG Tactics™ game. Each book is a wealth of background information about Robotech® and fun to read and play. With excitement growing for Robotech® RPG Tactics™, there is renewed interest in the Robotech® role-playing game line.
● New Robotech® RPG products coming in 2014. Palladium has three new Robotech® sourcebooks in development. UEEF Marines Sourcebook One, UEEF Marines Sourcebook Two and The Zentraedi Protectorate Sourcebook are all slated for release before Summer 2014. Additional Robotech® sourcebooks are on the drawing board.
● Palladium is working with Harmony Gold to expand the scope of its license to provide you with an even greater range of Robotech® products.
Robotech® RPG Tactics™ – Game Description
This is the game Robotech® fans have wanted for decades.
Robotech® RPG Tactics™ is a fast-paced, tabletop combat game that captures the action and adventure of the Robotech® anime. Two or more players can engage in small squad skirmishes or scale up to massive battles. Relive the clashes of the First Robotech War, engage in stand-alone tactical games, or use the dynamic game pieces to enhance your Robotech® RPG experience. Or simply collect your favorite mecha from an expanding range of top-notch game pieces.
Mecha vs Mecha. Take command of the fighting forces of the United Earth Defense Force (UEDF) valiantly defending Earth from alien annihilation. Or lead the massive clone armies of the Zentraedi Armada to recover an alien artifact of immense power and enslave humankind.
Robotech® RPG Tactics™ Box Set
Brought to you by Palladium Books®, created with Ninja Division (the creative minds behind Soda Pop Miniatures and Cipher Studios).
Rules by Alessio Cavatore, David Freeman and Carmen Bellaire.
Full color, softcover rule book; wraparound cover and lots of new, color artwork.
24 Battle Dice, 12 UEDF and 12 Zentraedi.
40 color game cards (unit cards, etc.).
4x VF-1A Valkyries (in Fighter, Guardian, and Battloid modes).
1x VF-1J "Officer" in all three modes.
4x Destroids: 2 Tomahawks and 2 Defenders.
12x Regult Zentraedi Battlepods.
1x Glaug Officer's Battlepod.
1x Quel-Regult Recon Battlepod.
1x Quel-Gulnau Recovery Pod.
1/285th scale, high quality, multi-pose plastic game pieces (40mm to 70mm tall). World-class sculpts from sculptors around the world.
Game rules use D6.
Turn-based system of play.
Scalable from small squad skirmishes to mass battles. Can accommodate two to several players.
Combat is fast and designed to emulate the anime action.
Measuring tape required to determine targets and distance.
Small parts and some assembly required. Game pieces come unpainted.
Release Date: Barring any further delays, the Robotech® RPG Tactics™ box game and initial expansion sets ship February 2014 (tentative).
$90 retail price (tentative). The price of the final box set is not yet determined, but we want to hold it around $90.
Cat. No. 55100 (Main Boxed Game).
The First Six Robotech® Expansion Packs
The initial expansion packs will also ship at the same time as the main box game. All prices listed are likely, but still tentative. We want most packs to fall in the $25-$35 price range.
UEDF Valkyrie Wing (2x each, Fighter, Guardian, Battloid) – Cat. No. 55201 – $30.00 retail (tentative).
UEDF Destroid Pack (2x Tomahawks, 2x Defenders) – Cat. No. 55202 – $30.00 (tentative).
UEDF Spartan Pack (2x Spartans, 2x Phalanxes), Cat. No. 55203 – $30.00 (tentative).
Zentraedi Regult Battlepod Squadron (6x Regults) – Cat. No. 55401 – $30.00 (tentative).
Zentraedi Support Battlepods (4x Artillery Battlepods) – Cat. No. 55402 – $30.00 (tentative).
Zentraedi Command Pack (1x Glaug, 1x Quel-Regult, 1x Quel-Gulnau) – Cat. No. 55403 – $35.00 (tentative).
Additional expansion packs to be released in waves every few months, 4-8 at a time, throughout 2014. More will follow.
Palladium plans to release the mecha and settings for ALL eras of Robotech®. Many other details are still in development.
Tournament play support is planned. Ninja Division will help Palladium to develop and launch the program.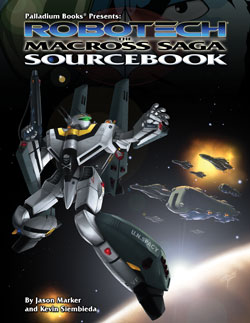 Robotech® Macross® Saga Sourcebook – New Size
Available now – 8½ x 11 size
All the famous mecha and action of Robotech® starts here with the Macross® Saga when an alien armada enters Earth orbit. They have come to reclaim a lost spacecraft that crash-landed on Earth 10 years earlier. A space fortress that Earth's protectors have rebuilt into their own flagship against alien invasion. The resulting conflict gives birth to heroes and becomes the stuff of legend, but the Earth will never be the same. Robotech® The Macross® Saga Sourcebook is now available as an 8½ x 11 inch sourcebook.
Note: This is the setting for Robotech® RPG Tactics™, so if you're looking for more information about the mecha, Earth's defenders, the Zentraedi invaders, and the Macross Saga setting, this is the book for you. Epic adventure awaits.
A Robotech® Role-Playing Game Sourcebook:
Transformable Veritech Fighters known as Valkyries take to the sky to defend the Earth.
Destroids, giant walking tanks, are among Earth's front-line defenders.
The SDF-1 and Earth air, ground and space combat vehicles.
Zentraedi mecha, powered armor suits, and select spacecraft.
The Zentraedi warriors, their war machines and culture.
Notable characters from the TV series statted out.
Quick Character Creation Tables enable you to make Macross characters in 15 minutes or less.
New skills and M.O.S. skill bundles.
The Robotech® The Shadow Chronicles® RPG "rule book" is needed to play (Cat. No. 550 or 550HC).
128 pages – $16.95 – Cat. No. 551 – standard 8½ x 11 size – Available now.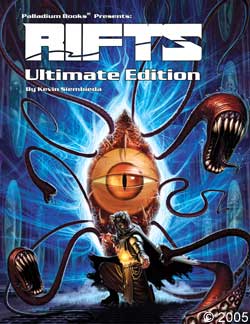 BACK IN PRINT
Rifts® Ultimate Edition
Imagine a world setting that is Earth 300 years after an apocalypse that results in the return of magic. Now imagine a world where magic and super-science collide. Where cyborgs and men clad in power armor and giant robots clash with demons, dragons and sorcerers.
Now imagine lines of blue, magic energy rippling across the land. Where two or more of those lines cross, there is a tear in the fabric of space and time. A Rift to infinite worlds and realities that have unleashed an endless cavalcade of aliens, mutants and monsters into our world. Some are adventurers like you, others are invaders, some are slaves or prisoners, and still others are demonic nightmares and gods from ancient myths. All now make Earth their home or hunting ground. Welcome to Rifts®.
Rifts® combines the genres of science fiction, fantasy, horror and post-apocalypse (among others) in a plausible setting where adventure is limited only by your imagination and the possibilities are truly infinite.
33 O.C.C.s – Bursters, Crazies, Cyber-Knights, Dog Boys, Glitter Boys, Juicers, Ley Line Walkers, Mind Melters, Psi-Stalkers, dragons, mutants & more.
The Coalition States – heroes or villains?
Coalition O.C.C.s, gear and States described.
Psionic powers and characters.
Magic spells and Techno-Wizardry.
Techno-Wizard device construction rules.
World information and background to set the stage for adventure.
All the info you need to play is contained in this core rule book.
Color end sheets painted by John Zeleznik. Cover by Scott Johnson.
24 pages of color, 75+ color images; great art throughout.
Created and written by Kevin Siembieda.
90+ sourcebooks to expand your Rifts® adventures.
376 pages – Cat. No. 800HC – $39.95 – Hardcover.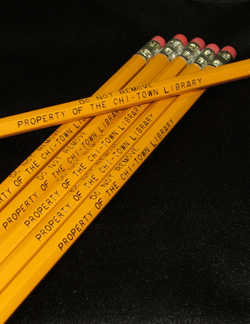 BACK IN PRINT: Chi-Town Pencil
Do Not Remove — Property of the Chi-Town Library
They're fun and silly, and Rifts® gamers love them, so we pressed a new batch of Chi-Town Library pencils. They look great on the gaming table.
Printed on each are the words: Do Not Remove — Property of the Chi-Town Library.
50 cents each – Cat. No. 2561 – No. 2 pencil. Available now.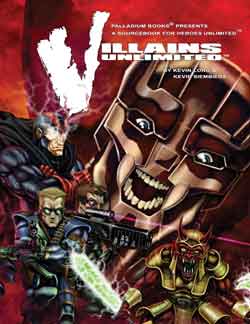 BACK IN PRINT: Villains Unlimited™
More than 80 villains with complete stats, background and motives for trouble. And lots of other epic source material.
80+ villains.
Rules for designing your own super-organization.
S.C.R.E.T. – Superbeing Control Retrieval and Elimnation Team.
The Jury – are they heroes or villains?
Fabricators Inc. – the weapons and armor suppliers to the criminal underworld.
Magic Tattoos and more.
All of the above serve as catalysts for adventure.
Written by Kevin Siembieda and Kevin Long.
224 pages – $24.95 – Cat. No. 501 – Available now.
PDF downloads from DriveThruRPG.com
This is a great resource for getting out of print Palladium titles and other select books. We've made 90 titles available as PDF digital downloads from DriveThruRPG.com. This is a great way to try Palladium products and get access to out of print RPG source material. Some notable titles include:
© Copyright 2013 Palladium Books Inc. All rights reserved.
Rifts®, The Rifter®, RECON®, Splicers®, Palladium Books®, The Palladium Fantasy Role-Playing Game®, Phase World®, Nightbane®, Megaverse®, The Mechanoids®, The Mechanoid Invasion®, Coalition Wars® and After the Bomb® are Registered Trademarks of Palladium Books Inc. RPG Tactics™, Beyond the Supernatural, Chaos Earth, Coalition States, Dead Reign, Heroes Unlimited, Ninjas & Superspies, Minion War, Mysteries of Magic, SAMAS, Thundercloud Galaxy, Three Galaxies, Vampire Kingdoms, and other published book titles, names, slogans and likenesses are trademarks of Palladium Books Inc., and Kevin Siembieda.
Robotech® and Robotech® The Shadow Chronicles® are Registered Trademarks of Harmony Gold USA, Inc.
This press release may be reprinted, reposted, linked and shared for the sole purpose of advertising, promotion and sales solicitation.