Palladium Books® Weekly Update – Nov. 21, 2018
By Kevin Siembieda
Holiday Sales – one game system – countless worlds – endless adventure
If Thanksgiving Day is here already, that means Christmas is a scant 4 weeks away and the holiday gift buying season jumps off this weekend with Black Friday sales quickly followed by Cyber-Monday. Please don't forget about Palladium Books® this holiday season. We've got sales too.
Palladium has 3 BIG Sales going on this weekend
1. Palladium's Black Friday Sale is NOW thru Tuesday – Our Black Friday and Cyber-Monday sales start right now. Almost ALL Rifts® books and metal miniatures are on sale starting NOW through Tuesday, November 27, 2018.
2. Palladium PDF Sale NOW till Tuesday morning on DriveThruRPG.com – Most Palladium PDFs are available at a 33% discount for awesome savings – offer ends Tuesday morning, November 27, 2018.
3. Christmas Surprise Packages have been delighting gamers for 20 years. Each book is signed by me and available staff and freelancers if you want autographs. I do not believe I have sent out a Surprise Package with less than $95 worth of product – most have been closer to $100 or more! Our holiday season gift to you. And if you are lucky, you may be able to turn items from ONE Surprise Package into gifts for 2-3 gamers in your life. With only four weeks till Christmas, time is starting to run out, so please tell everyone you know! Offer ends December 24, 2018.
4. Plus a sale at Kevin's Ebay store – http://stores.ebay.com/kevinstoys-artandcollectibles – though technically not a "Palladium sale," you can find original art by Charles Walton II, Kevin Long, and other artists, as well as Palladium collectibles from my (Kevin Siembieda's) personal archives, signed books, one-of-a-kind book negatives, action figures and toys, all on sale now through Tuesday.
Note: If you are ordering books or Christmas Surprise Packages as gifts for the holidays – please remember to allow a week for shipping (more if ordering via Media Mail). That means it is really more like THREE weeks till Christmas and Kwanzaa, and a little more than a week till Hanukkah.
AVAILABLE Now – 3 fun RPG books back in stock for the first time in decades – but just for the Holidays
Just for the holidays, Palladium is doing a limited short-run of three out-of-print titles that have been out of print for years. Two of them have been out of print for decades! We are printing enough that they should be available now thru December, and probably into January – available only while supplies last – so order 'em while you can. All are available in Palladium's online store and will be considered as requests in Christmas Surprise Packages while supplies last. We expect to print enough to get us through the holiday season. Enjoy. Ho, ho, ho.
Only 4 Weeks till Christmas – Order your Palladium Christmas Surprise Package NOW!
Can you believe it? It's that time again for the Palladium Christmas Surprise Package offer. Palladium Books® has been doing Christmas Surprise Packages, or "Grab Bags," for 20 years! And what a great tradition it has become.
It enables you to get several RPG titles ($90-$100 worth) for ONLY $46 (plus shipping and handling) as gifts for others or for yourself. It is our way of saying thank you to our many fans for being so kind and patient, and for your years of support. You are appreciated more than you may realize.
Christmas Surprise Packages are not just for Christmas. Whether you celebrate Christmas, Hanukkah, Kwanzaa, or the Winter Solstice, or you're looking for that special gift for a birthday, anniversary, graduation, or any special occasion that falls between now and February, a Surprise Package may be the ideal way to go. You get a ton of stuff on the cheap, you can get a bunch of autographs (if you want 'em), and you look like you spent a fortune.
This is also a great way to try that game setting you've wondered about (Splicers®, Dead Reign®, Chaos Earth®, Palladium Fantasy®, Nightbane®, Mechanoid Invasion®, Rifts®, After the Bomb®, etc.), or to get something for your favorite Game Master. Or perhaps, to get your player group to consider a new game or setting.
Your "Wish List" is vital – The Palladium Surprise Packages are designed to simulate the joy and surprise of the Christmas Season of Giving. To do this, you submit a list of 12-15 Palladium products (or more) FOR EACH Surprise Package you order. This list of 12-15 items for EACH Grab Bag is critical, because you will not know which items we will select to send you. That makes it just like a Christmas gift because it's a surprise. Plus, Santa Kevin, who personally hand-picks every item for every Grab Bag, may toss in something extra like a limited edition print, or color maps, or T-shirt, or issue of The Rifter®, or something else he thinks you'll enjoy.
Autographed books. For those of you who want them (which are most people), available members of the Palladium staff, and any freelancers we can lasso at the time, are happy to autograph each and every book in your Surprise Package. This is the only way many fans, especially those in other countries, can EVER get signed books.
Send us your brief comments. There is a special form and format to fill out for Christmas Surprise Packages, including a place where you can offer your brief comments, suggestions, greetings and salutations.
It only costs $46 plus shipping to get $90-$100+ worth of Palladium products! First-timers are always nervous until they see the great value in their first Surprise Package. A typical Grab Bag has $90-$100 worth of product, sometimes more! Yes, sometimes more. Many people order 2-3. Some order 4-6, and some maniacs order even more! It makes sense, because it is a great way to fill holes in your own collection, treat yourself, get autographs, try new games and settings, and get your gaming pals gifts. PLEASE spread the word about this great offer.
To those of you outside the USA, the X-Mas Surprise Package is a way to get books and circumvent the damn high cost of shipping from the United States. Since you are getting $90-$100 worth of product and only paying $46 plus a small handling charge, shipping via Priority Mail International (required for packages weighing more than four pounds) to most locations in Europe, Canada and many other countries is around $50-$60 US dollars. HOWEVER, because the cost of the product is so low, that's the equivalent of paying retail for the products and only $0-$30 for shipping. A very good deal. Plus you get autographs if you want them! X-Mas Surprise Packages are the way to go for those of you outside the USA. Please take advantage of it to get all those products you've wished you could get except the shipping was too prohibitive. We feel your pain. Game on!
IMPORTANT NOTE: The X-Mas Surprise Package is a Grab Bag. As such, while we always try to send you items from your Wish List, you may NOT get everything you ask for and you are likely to get one or more items NOT on your list, like The Rifter®, or other item(s) we think you should enjoy. PLEASE give us a long Wish List and fill out other questions (favorite Palladium games, would like to try X, and so on) because it helps us to make your Surprise Package special. If you need or want specific items, do NOT use the Surprise Package; place a regular order at full retail to guarantee you get the books you want. Offer ends December 24, 2018.
Please tell everyone about the Christmas Surprise Packages. We want to put smiles on the faces of gamers around the world.
UPDATE: The Rifter® #82 – ships November 26
The Rifter® #82 is at the printer, but we have not gotten the ship date confirmed. We know our printer is slammed with work and on an extended turnaround schedule, but we still anticipate The Rifter® #82 to ship next week. You can see a FREE Sneak Preview of it on DriveThruRPG right now.
The Rifter® #82 is epic. Most of it is "official" source material and fun as can be: the reprinted Wujcik gaming advice, the Pyromancer O.C.C., the 50+ Pyromancy spells, the HU2 and Nightbane material, the preview monsters from Rifts® Bestiary, it's all top-notch and fodder for adventure. Numerous people who have seen the proofreader's copy have said the Erick Wujcik Remembrance is wonderful. Some said part of it brought tears to their eyes, while other parts made them chuckle and smile. All of it is a celebration of life and imagination. So I highly recommend The Rifter® #82 to everyone. The preview is up and available on DriveThruRPG.
The Rifter® #82 contains official source material for the Rifts® Bestiary™ Volume One (a sneak preview of just a few old and new monsters and animals), official source material for Rifts® Chaos Earth® (Pyromancer, 50+ Pyromancer spells, the Zone Twister, notable characters, and adventure ideas), official source material for Nightbane® (age modifiers and tables for selecting skills based on a Nightbane's age, and more), an expanded revisit of the Physical Training character for Heroes Unlimited™, gaming advice from Erick Wujcik, a historically significant, fun and touching Remembrance of Erick Wujcik, 10 years after his death, some cool photos too, plus news and more.
In Production ...
The Rifts® Bestiary Volume One, In the Face of Death™ for Dead Reign®, The Rifts® Bestiary™ Volume Two, Garden of the Gods™, Chaos Earth® Psychic Scream™, Rifts® Antarctica, The Rifter® #83 and #84, The Disavowed and much more is in the pipeline and being worked on. Plus a couple of surprises. But this is Thanksgiving Weekend so we are going to try to keep this update short.
New on DriveThruRPG.com – Dead Reign® Paper Miniatures Volume One: Survivors AND see The Rifter® #82 FREE Sneak Preview
New: Dead Reign® Paper Miniatures Volume One: Survivors is the first in a series of new paper miniatures from Michael Leonard. There are also paper miniatures for Heroes Unlimited™, Palladium Fantasy® and Rifts®. The Rifter® #82 FREE Sneak Preview gives you a look at the Pyromancer O.C.C. and Pyromancy magic, some Rifts® Bestiary monsters, HU heroes, bad guys, Nightbane®, and Erick Wujcik remembered.
Recent PDF additions include Nightbane® Dark Designs™ sourcebook with 60 new Common Talents, 38 new Elite Talents, 18 new Morphus Tables, all other Morphus Tables collected and more. Systems Failure™ RPG, a 160 page RPG that deals with alien invasion and a post-apocalypse setting that is fun and dynamic. Civilization is on the verge of collapse when the so-called "bugs" invade and turn humans into zombie-like slaves. Monsters, heroes and fun. A complete RPG and setting. Rifts® World Book 34: Northern Gun™ Two: 256 pages of technology and fun. 30+ power armors, 30+ body armors, 15 combat vehicles, 45 vehicles (hovercycles, etc.), 10 robot haulers, the Robodome and more. Bizantium and the Northern Islands™: the northernmost part of the Known World, the Cold Born, Necromancy ships made from dead sea serpents, 15 creatures, Random Sea Monster Generator, and more. Rifts® Northern Gun™ One. This fan favorite might be thought of as the big book of giant robots – an in-depth look at Northern Gun, 70+ weapons, 27 robots, NG O.C.C.s, key people and places, and much more. Mysteries of Magic™ Book One: The Heart of Magic™ with Wizards, their Apprentices, nearly 60 new magic spells and remember, magic and monsters in the Fantasy RPG are easily adapted to Rifts®, Chaos Earth®, HU2 and other settings. Wolfen Empire™ Fantasy sourcebook, the Great Northern Wilderness and Killer Winters, 12 Wolfen Tribes, Wolfen military and society, 15+ creatures, 5 full adventures, 101 adventure ideas, random encounter tables, notable people, places, plus FREE Sneak Previews of The Rifter® #80 & The Rifter® #81, and more on DriveThruRPG.com.
Charles Walton II Artwork, Toys and Collectibles "on sale" now in Kevin's Online Toy & Collectibles eBay Store along with other good things
For the first time ever, Charles "Chuck" Walton has decided to offer a dozen or two dozen pieces of original artwork via my online store. All money goes to the artist. Includes original art from Rifts® Sovietski, Secrets of the Atlanteans, Rifts® Chaos Earth® Resurrection and others. This is a fun and unique opportunity to get some of Chuck's art other than having to attend one of the few conventions where Chuck is a guest. He sold a good number at Gen Con and was wondering how he might make his art more available to people. I suggested trying my online store. Most prices range from $50-150, with a few more expensive pieces. Artwork make a great gift for the hard to surprise gamer. Enjoy. Chuck says thanks.
Other one-of-a-kind original artwork available by me (Kevin Siembieda), Kevin Long, Mark Evans (money goes to the artist), as well as prints, limited edition hardcovers, proofreader copies, out of print items, Star Wars toys, Marvel toys and many other toys and collectibles from my personal collection. Alex and I will keep adding items as our busy schedules allow, but we have a lot of fun collectibles available now and coming soon. Hundreds of items. Take a look every weekend for new additions.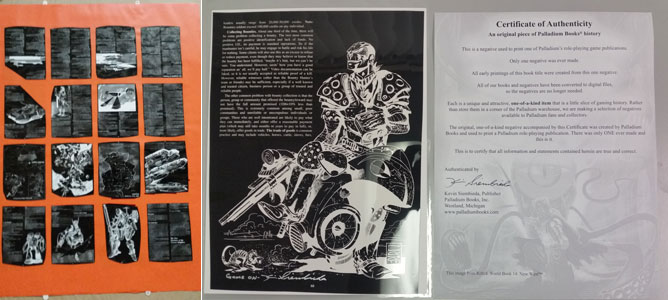 Available now: One-of-a-kind book negatives. Negatives were very popular items at the Palladium Open House and people went crazy over them at Gen Con – including actor Joe Manganiello who scooped up a pile of TMNT negatives, while Palladium's own Mark Oberle, Carmen Bellaire, Brandon Aten and a whole lot of Palladium gamers went for negatives from Rifts® New West, Lone Star and Free Quebec. Fun.
Negatives are unique and attractive, one-of-a-kind (on rare occasions two-of-a-kind if a page was replaced or a second edition was made) works of art that resemble woodcut art and are very dynamic conversation pieces. Before digital printing, pages of a book were laid out by hand on a board, and each page was photographed. The plastic film negatives were then "ganged" on a massive sheet of Mylar 16 pages per big sheet, and the printing plates were made from the negatives – everything white, printing black.
When our printer, McNaughton and Gunn, went completely digital, they asked if Palladium Books wanted the negs, otherwise they would be destroyed. Regrettably, I let a few dozen be destroyed, but the negatives of many books were sent to Palladium. They have sat in our warehouse for years until I started to offer them for sale. I have also started signing the negatives in silver and each comes with a Certificate of Authenticity. Each negative comes on a white board inside a plastic magazine bag and looks fabulous framed! Fits in an 8x10 inch matt opening in a frame (each neg is roughly 8½ x 11 inches).
http://stores.ebay.com/kevinstoys-artandcollectibles
Happy Thanksgiving
The holidays are upon us and I'm feeling cheerful and positive. We all are. The Rifts® Bestiary Volume One is one thing I'm thankful and excited about. It is just so good. I think you are going to go wild over it. Not just monsters to fight and cool critters for pets and riding animals, but all kinds of ideas and fodder for adventures. Adventures in cities as well as the wilderness. There's the Ghost Allosaurus, Canadian Duckbill, Burrower Bruin, Cerebro-Scrambler, Deathspringer, Dragon Wasp, Frost Spider, Impact Beetle, Riding Lizard, and so many others, new and old. All updated. I can't wait until we can announce it is at the printer. Soon, darn it, soon. I know, it's taking too long, but we really want these Bestiaries to be special. You can see a few of the "beasts" appearing in the Rifts® Bestiary Volume One in the FREE Sneak Preview of The Rifter® #82 (at the printer). The preview is available on DriveThruRPG.com right now. Btw, The Rifter® #82 is a great issue and should be coming back from the printer soon. I know you are disappointed that the two Bestiary titles are not done yet; us too, especially me, but you'll love 'em.
I'm also thankful and delighted to see the rampant excitement over the re-release of three, fan-fave books that have been out of print for a decade or two, the Systems Failure™ RPG (alien invasion), Boxed Nightmares™ (for BTS 1st Edition rules, six scary adventures easily adapted to BTS, 2nd Ed.), and the Nightbane® Shadows of Light™ sourcebook, all available now, but only for the holidays. Folks have been scooping them up like crazy. Awesome. I think we have at least two other fun surprises coming before Christmas.
For us in the United States of America, this Thursday, November 22, is our Thanksgiving Day. A day of reflection, getting together with loved ones, and giving thanks. I, for one, have much to be thankful for, starting with a wonderful life and a wealth of friends that makes me blush when I think about it. Sure there have been hard times, losses and challenges over the years, with more to come. Life is a journey. There are good times and bad, but it is always made easier when you have loving people at your side to help you on that journey. I love you all.
For a variety of reasons, I never really knew most of my blood relatives, so I built my own family out of the friends and astonishing array of wonderful people I have met over the decades, and continue to meet. As you should know by now, that includes you. I consider our fans to be much more than mere customers. You are part of my extended family. The Palladium Family. The Christmas Surprise Package offer and putting our hearts and souls into every game product we do are just two ways we try to show you our love and appreciation. Thank you for your support and please enjoy a Thanksgiving Day feast with loved ones and a joyous holiday season.
Oh, and don't forget about Palladium's Black Friday sales, starting now! Snag yourself a Christmas Surprise Package (I make 'em pretty awesome), miniatures, Rifts® books, PDFs, negatives and other goodies, and keep those imaginations burning bright. With thanks and appreciation,
– Kevin Siembieda, Game Designer, Writer, & Surrogate Santa
Surprise Package comments from fans like you
Every year there is a section where the customer can offer comments and suggestions with his or her Surprise Package order. Every year, in acknowledgment of our fans, and because they are fun to read, we offer a sampling in the Weekly Updates. Our heartfelt thanks to all of you who have stuck with Palladium through thick and thin. Keep those imaginations burning bright, have a joyous holiday season, and game on.
You have no idea how much your comments and support mean to all of us. Everyone at Palladium enjoys reading your brief comments. They always brighten our day. Thank you. I have tried to write a short response [in brackets] to each.
C.A. in Applegate, California, writes: My favorite time of the year is filling out one of these Surprise Package orders. I love it every Christmas.
[Awesome, C.A., I think you'll love this one just as much. Game on and Merry Christmas. – KS]
E.W. in Belmont, New Hampshire, writes: Thank you for making great games. I have been playing Rifts® since 1990 and Palladium Fantasy® shortly after. I have never been disappointed.
[Thrilled to hear that, E.W., and appreciate the high praise. We love what we do and work hard to fill every book with fun and Wow Factor. Game on and happy holidays! – KS]
J.C. in Lebanon, Indiana, writes, in part: "... Archie needs more love. He is a great villain. I would love to see more stuff with him and Titan Robotics.
[Agreed, J.C., A.R.C.H.I.E. Three is a great villain and you WILL be seeing more about him and Titan Robotics. And soon. You don't have our office bugged by any chance, because how could you ... oh, yeah ... Archie is watching! – KS]
D.B. in Waterford, Michigan, writes: Thank you for always making the world in my head grow, bigger, bolder and better with your books.
[Thanks for the kind words, D.B., they mean a lot, because that's exactly what we want to do. Wait till you see what we have coming down the pipe ... oh, boy, are we going to blow some minds. – KS]
D.J. in Honolulu, Hawaii, writes, in part: Thanks for doing this for another year. I purchased a few Surprise Packages some years ago and they were very successful. It was great receiving the surprise not quite knowing what would be inside... I have been happy to see more Palladium pdfs available on DriveThruRPG.com ...
[Hi, D.J., delighted you enjoy the Surprise Packages so much. Yep, we have more than 250 PDF products available on DriveThruRPG. Watch for holiday sales (Cyber-Monday) coming your way from both DriveThru and Palladium's online store. – KS]
J.C. in Sarasota, Florida, writes: The Palladium Fantasy RPG® and Beyond the Supernatural™ have always been my top two favorites, with Rifts® and Heroes Unlimited™ a close second.
[Hi J.C., happy Thanksgiving! I love all the games we do, but those four are also at the top of my list. You'll be seeing more for them all in 2019. – KS]
R.K. in Sault Sainte Marie, Michigan, writes: Thank you for the great selection in my first Christmas Grab Bag.
[My pleasure, R.K. I think you'll like this second one just as much. – KS]
J.P. in Dayton, Ohio, writes, in part: A big "Thank You" to Kevin and the entire crew at Palladium. Your commitment to the fans is unmatched in the industry! Keep up the good work. P.S.: If I can put in a good word for Heroes Unlimited ... and it would be great to see more Beyond the Supernatural ...
[Thank you for the kind words, J.P. I think you will be thrilled with what we have planned for Heroes Unlimited and Beyond the Supernatural. Don't want to reveal anything yet, but boy oh boy, great stuff. – KS]
A.L. in Glenburn, Maine, writes: Thanks for doing this.
[Our pleasure, A.L. Please spread the word so Palladium fans everywhere can enjoy these Christmas Surprise Packages. – KS]
B.W. in Farmington, Missouri, writes: This will be the 2nd X-Mas Surprise Package I'm getting from you all. I loved the first one and am looking forward to seeing what's in the second. A great way to help rebuild my collection.
[Welcome back for more, B.W., please feel free to keep on coming back. Thank you for letting me know how much you enjoyed that first Surprise Package. It's good to know we are succeeding in putting smiles on the faces of gamers around the world. Happy Holidays. – KS]
B.B. in Fargo, North Dakota, writes, in part: ... Question: If I pre-order a book, is it charged right away or when it goes to print? I would like to start pre-ordering so I don't miss out on releases, but don't want to get charged until the item is ready to go. Keep those great books coming and looking forward to the Rifts® Bestiary books.
[A great question, B.B., thank you for asking it. No, you do NOT get charged for pre-orders until AFTER the book goes to the printer. When you pre-order, we make a special file with your pre-order request. Then a few weeks before the book is to arrive from the printer, we email you and everyone in the file to let you know that the book will soon be available, AND that you need to resubmit your order and credit card info for it. We do NOT keep credit card data on file for security reasons. However, you will pay for shipping for each item as it comes out. Sorry. Media Mail is the least expensive way to ship.
So if you placed pre-orders for titles like Rifts® Bestiary™ Volume Two, Garden of the Gods™, The Disavowed™, etc., that are NOT at the printer and which may be coming out weeks or months after a book is announced, they go into that file and you will be notified when each becomes available to ship.
There is one exception, we charge for pre-orders when the item is at the printer and we know the book is coming out within 2-4 weeks of when the pre-order is placed. For example, we have been charging for Systems Failure™ RPG, Boxed Nightmares® and Nightbane® Shadows of Light™ because they were all at the printer and we knew they would ship within 2 weeks of our making them available in the online store.
Btw, you are going to love the Rifts® Bestiary books. I have to admit, I am a little surprised at the level of excitement for them. I think they are something Rifts® gamers really want. In fact, I recently had a fan lament that he wished we had a book that collected all the monsters like we did for the D-Bees of North America™. I laughed and said, you're in luck because I'm finishing up two such books right now. He was very pleased. Happy holidays. – KS]
The Rifter® #82 – Ships November 26 (maybe sooner)
The Rifter® #82 is all about discovery and unleashing the power inside of you. That's true whether you are playing a Chaos Earth® Pyromancer™ learning to survive and save lives after the Great Cataclysm; or a newly awakened Nightbane® seeking his or her purpose in a dark world of conspiracy and demons; or a Heroes Unlimited™ vigilante trained to the height of physical perfection in a war against evil; or an RPG gamer like you and me, unleashing our imaginations to create wonderful new characters and epic adventures. This issue of The Rifter® also lovingly celebrates a master of unleashed imagination and big thinking, Erick Wujcik, ten years after his untimely passing. Bits of Palladium history and heartfelt sentiments revealed along the way. Enjoy.
Rifter® #82 Highlights:
Systems Failure™ RPG
– Back in Stock – just for the Holidays
When the cities fell, and the world went "off-line," all seemed lost. Anarchy reigned.
On an alternate Earth, all that is left are the Survivalists, Nature-Lovers, Farmers, Gun Bunnies, Eggheads and backwoods wackos living on the fringe. Either people found in remote regions or those who were prepared for the Y2K Bug and the collapse of civilization.
Oh, and there are "bugs" alright. Alien, bug-like things that feed on energy and turn humans into zombie-like slaves. Things are worse than anyone could have imagined, even for those who were prepared. But these survivors are not ready to give up. America (and then the world) will be free! And they mean business. Play the unlikely heroes fighting to save the world in a post-holocaust environment.
This is an action-packed, post-holocaust role-playing game that can be played straight and serious, or with a touch of satire and humor. Back in 1999, this RPG was inspired by fears of the Y2K Bug and possible end of the world as we knew it. So THIS game is an alternate Earth where Y2K was a real event and worse than anyone could imagine. Enjoy the wild characters and setting, and destroy some Bugs!
Boxed Nightmares™ – Adventure Sourcebook for Beyond the Supernatural™
– Back in Stock – just for the Holidays
Boxed Nightmares™ is exactly what the title suggests, ordinary people coming face to face with supernatural nightmares. The adventures are designed to give players and Game Masters a better idea of the variety and scope of adventures one can explore in the world of modern horror. Some adventures are short, others long. Some are monster stomping action, while others require investigation, cunning, and the uncovering of clues.
The newspaper portion is in the back of the book. It is one of those sensational, check-out counter tabloids that boasts headlines like Woman marries Big Foot, or Elvis's clone living in Tampa. However, this tabloid is tied to the adventure portion of the sourcebook in several different ways. First, it contains clues and information for the actual adventures inside the sourcebook. Second, the publishers of the paper often hire psychics and parapsychologists to investigate strange phenomena, so your characters could be working for the tabloid company. And third, it may give you ideas for additional adventures.
Shadows of Light™ – A Nightbane® Sourcebook
– Back in Stock – just for the Holidays
The forces of Light and Darkness clash as never before in the modern setting of the Nightbane® RPG.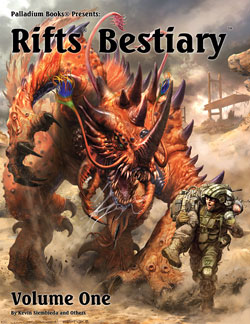 New! Rifts® Bestiary™: North America, Vol. One
A series of books that collects all the notable monsters, dinosaurs and creepy crawlers and creatures of Rifts® North America (US, Canada and Mexico) into two juicy volumes with a number of new creatures. Each volume includes maps and new creatures, large and small, to help or plague player characters. Between them, these two volumes compile all the beasts of Rifts North America (unintelligent monsters, predators, notable animals and intelligent beings that are monstrous or animal-like in appearance or behavior) from all current World Books and Sourcebooks. In addition, Kevin Siembieda, Chuck Walton and Greg Diaczyk are adding some new monsters to make life in the wilderness interesting. Presented in alphabetical order, with maps showing their range and location, in two big books.
Winter releases, both volumes are being worked on simultaneously, right now, so that Volume Two will quickly follow Volume One within 4-6 weeks. Other volumes, like a Bestiary of Spirits and the Supernatural, are likely to follow.
Future volumes will include spirits, ghosts and entities, another on dragons, other volumes on creatures in other parts of Rifts Earth, and so on.
NEW! Rifts® Bestiary Volume Two – ships December
More of notorious Rifts® monsters and animals, old and new, everything updated and expanded.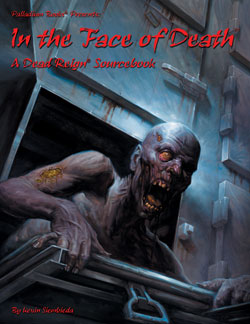 COMING: In the Face of Death™ – A Dead Reign® Sourcebook
"People will tell you no one can survive in the big cities. They are wrong." – Brad Ashley, Leader of the Road Reapers in the Zombie Apocalypse.
This sourcebook is all about inner city survival. Survivor colonies finding a way to live and prosper in the big city. The conventional wisdom is that living in the big population centers is impossible. These survivors prove otherwise.
UPDATE: Garden of the Gods™ – A Palladium Fantasy® Sourcebook
Matthew Clements is still adding to his considerable contributions to Garden of the Gods before turning it in to Palladium. Matthew has started work on another Fantasy sourcebook and other projects.
The Garden of the Gods is said to be a holy place watched over and even frequented by the avatars of the gods. According to legend, the god may visit heroes and followers in dreams or in person by an avatar of the god, to be given guidance, inspiration, heroic quests, and gifts of knowledge and magic. More details about this title will follow.
Back in Stock – Beyond the Supernatural™ RPG – available now
Beyond the Supernatural™ RPG is supernatural horror in the modern world. A plausible modern horror setting that makes sense and will have you wondering if this stuff could be for real. Play ordinary people, psychics or paranormal investigators.
Back in Stock – Rifts® World Book 18: Mystic Russia™ – available now
Rifts® Mystic Russia™ – setting information, key people and places, demons, monsters, gypsies and magic galore.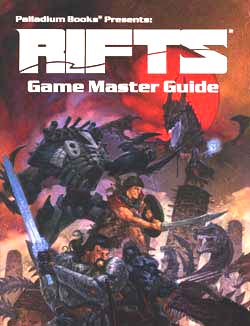 Back in Stock – Rifts® Game Master Guide™ – Available now
The Rifts® Game Master Guide™ is a massive 352 page reference book with short stats and description on every Rifts® robot, power armor, body armor, vehicle, weapon, gadget, skill, experience table, and map that appears in Rifts® World Books 1-23 and Sourcebooks 1-4, plus a bionics index, an O.C.C.s and R.C.C. index, rules clarifications, combat examples, advice on how to run a game and more.
Other core Rifts® titles to remember:
Fun and Notable Podcasts and Sites that feature Palladium Books
If you are doing a Palladium fan-based website, podcasts, YouTube programming, etc., please let us know so we can take a look at what you are doing and so we can give you a shout out. We do not have the staff and resources to do everything we want to do, so we appreciate the fan sites that feature Palladium Books' games and settings and promote the RPG hobby. Awesome. We are happy to support you when we can.
What's Coming (in production or development):
Copyright 2018 Palladium Books Inc. All rights reserved.
Rifts®, The Rifter®, RECON®, Splicers®, Powers Unlimited®, Palladium Books®, The Palladium Fantasy Role-Playing Game®, Phase World®, Nightbane®, Megaverse®, The Mechanoids®, The Mechanoid Invasion®, Coalition Wars®, Chaos Earth®, Dead Reign®, and After the Bomb® are Registered Trademarks of Palladium Books Inc.; Beyond the Supernatural, Coalition States, Heroes Unlimited, Ninjas & Superspies, Minion War, Mysteries of Magic, SAMAS, Thundercloud Galaxy, Three Galaxies, Vampire Kingdoms, and other published book titles, names, slogans and likenesses are trademarks of Palladium Books Inc., and Kevin Siembieda.
This press release may be reprinted, reposted, linked and shared for the sole purpose of advertising, promotion and sales solicitation.