The Rifter® #57 Shipping Now!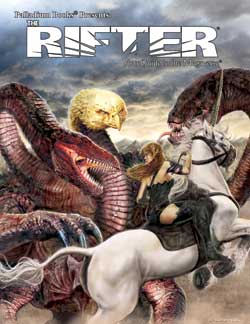 The Rifter® #57 is shipping now!
Rifts® Lemuria – sneak preview.
Rifts® – new weapons and vehicles of the Coalition States.
Beyond the Supernatural™ – 5 new monsters and supernatural threats.
Palladium Fantasy® – 20 monsters and dangerous animals galore.
For all game settings – Genie bottles and dimensional pockets.
Rifts® – The Brodkil War Machinist O.C.C.
Rifts® – NGR Anthropological Field Operative O.C.C..
News, coming attractions, and more.
Cover by Charles Walton II.
96 pages – Cat. No. 157.