Palladium Books® Weekly Update – Nov. 1, 2013
By Kevin Siembieda
There is so very much to talk about this week – Robotech® RPG Tactics™, NG-1, progress on upcoming books, Detroit Fanfare, plotting other conventions and convention support, the Christmas Surprise Package and the prep around it, and so much more – that I'm going to jump right into it.
Loss of a dear friend
I thought I'd start off with the sad news first. Our dear friend and long time Palladium supporter and investor (and the love of Erick Wujcik's life), Kathyrn Kozora, has finally lost her battle with cancer. I talk about Kate in the last Weekly Update, so suffice it to say that she will be missed by all of us at Palladium Books as well as many, many other people around the world.
We all knew Kate's struggle was coming to an end, yet it never ceases to amaze me how when a loved one passes, the sense of loss and sorrow is not mitigated one bit. I must admit, it took the steam out of me for a few days. There are many who feel a deep loss with Kate's passing. And while we all talk about celebrating her life and focusing on all the joyful things, the hurt remains and we miss her dearly. Our deepest condolences and warmest thoughts to Kay's loved ones. I'll be meeting with some of her family and friends next week.
A bit of fun: Entrepreneur Magazine Ranks Robotech® RPG Tactics™
Entrepreneur is a magazine published by Entrepreneur Media as well as having an online magazine. On October 24, 2013, Entrepreneur ranked the top 100 Crowdfunded Companies. Palladium Books with its Robotech® RPG Tactics™ Kickstarter was ranked at #19 overall, and #5 among tabletop crowdfunders. Pretty sweet. Thought you'd enjoy hearing about this. If you'd like to read the article, hear's the link:
http://www.entrepreneur.com/article/229477
Detroit Fanfare Report
Attendance seemed light to us, sales were so-so, but we had a great time. We also continue to harbor the idea of making Detroit Fanfare an annual mini-Palladium Open House. A place for Palladium gamers to meet, chat, exchange ideas and play games, as well as get the opportunity to buy books, get autographs and chat with many of the Palladium madmen. This year, we had the entire Palladium staff, except for Kathy Simmons, present along with Chuck Walton, Carmen Bellaire, Mark Dudley and Ben Rodriguez on hand to meet fans, sign books and chat.
I was surprised by how many Palladium fans came from such great distances. In addition to fellow Michiganders (though some from quite a distance away in Michigan), we had some Windsorites, a nice couple from Ottawa, Canada (it was great meeting you both, Suzanne and Clayton), Brett and Lin from Toronto, Thomas from New York, and many others. I hope you all enjoyed yourselves. I sure did. It was fun.
We had the pleasure of meeting Steve Yun from Harmony Gold, too. Despite Palladium having been a Robotech® licensee for going on three decades, I have never met Tommy Yune or Steve Yun in person – only on the telephone and via emails. It was really nice to put a face to the voice on the phone and name at the end of so many emails. I sat in on one of Steve's panel talks, he sat in on mine, and Steve hung out at the Palladium booth. He took plenty of photos of Robotech® game pieces and the setup in both demo areas, Steve chatted with me and the guys, and we took him out to dinner Saturday night. Regrettably, what used to be a favorite local restaurant has declined in quality over the last year or so, and the food was only passingly good. Sorry, Steve.
I also had the pleasure of seeing and reconnecting with several old friends (Kelly, Mindi, Dave, Mike, Paul and others), as well as meet some new interesting folks, including a potential new artist or two. So while the convention was work, we all enjoyed our time at Detroit Fanfare. In fact, it was nice to see a convention with actual programming and events, not just a dealers' room and media celebrities signing photos for $20 a pop. I would recommend this convention to comic book fans and Palladium gamers alike. We plan to be there in 2014, and hope to see more of you there next year.
Of course, being the clumsy oaf that I am, I injured myself at the very start of the convention on Friday as we were coming in to set up our booth. I stubbed my toes and tripped over . . . I'm not sure what laying on the floor and tore a ligament in one of my toes. Ouch. I have been limping around ever since. It feels like I'm walking with a large stone or bubble in the middle of my foot.
The weekend seemed to fly by, as did this entire week, but I'm still worn out from it and from working too many long hours and weekends for much too long. I think all of us have been dragging this week. So glad we decided to pass on the Youmacon anime convention this weekend. It's a massive 15,000+ event, and growing. We wish our friends in attendance and our pals who run the convention a fun and profitable weekend.
A belated Happy Halloween
Halloween is a special time for Kathy Simmons and me. It is her very favorite holiday and my second favorite (a very close second to Christmas). As many of you already know, every year, she and I go all out with a massive display of several diorama-like scenes filled by more than 100 life-sized figures – "ghouls" as Kathy calls them – that we've created over the last 10 years. We added a dozen this year, including a bio-hazard section complete with barrels of (fake) toxic goo, Darth Vader playing cards with Yoda and a classic UFO alien, and other good stuff. We also added some figures and features to our graveyard this year, and tweaked and changed the overall layout of the display. Everyone seemed to love it more than ever. Our display has become so popular that we have 100-200 people walking through and even more driving by every day of the week, and triple that number on the weekends. Last Halloween we lost count after 300 trick-or-treating children, and that number does not include their parents and adults who also love the display. Regrettably, it rained all day and into the night this Halloween, but we still had something in the neighborhood of 200 kids plus adults swing by that night. Nice.
We are busy as all get out!
We are crazy busy trying to get books finished, new books and projects started, juggling business matters, dealing with the loss of our dear friend Kay, Halloween and all kinds of other stuff. As Robotech® RPG Tactics™ gets ever closer to manufacturing, our emphasis has shifted to getting RPG sourcebooks into your hands. We remain behind on all fronts, but books are nearing completion, enthusiasm is running high, and ideas are flying like wild for a wide range of gaming products. Stuff that will rock your world. And I mean that. Woo hoo, and that includes Beyond the Supernatural™ titles in 2014 (Matthew Clements and I have whipped up a nice little teaser monster for The Rifter® #64.)
UPDATE: Rifts® Northern Gun™ One – Available now!
People are loving Rifts® Northern Gun™ One. Don't take our word for it, check out the couple of sneak previews available from DriveThruRPG.com. We expect to get the NG-1 Hardcover editions (one with a color cover and one with a foil cover) in a week or two. As soon as they arrive we'll start shipping out the crowdfunding packages, including the PDF to the Cyber-Insiders. Game on!
NEW – Rifts® Northern Gun™ One Sneak Preview – available now on DriveThruRPG.com
Wayne has posted a new, FREE Sneak Preview of Rifts® Northern Gun™ One available on DriveThruRPG.com right now for your enjoyment. There are also previews available for the Rifts® Vampires Sourcebook, Rifts® Vampire Kingdoms™ (Revised Edition), Rifts® Black Market, Rifts® Lemuria, Dead Reign™ RPG, Endless Dead™ sourcebook and others. The original Rifts® Vampire Kingdoms World Book is also available as a PDF on DriveThruRPG, for those of you who may be interested.
More than 90 other Palladium titles can be found on DriveThruRPG.com as PDFs, including Splicers®, Rifts® RPG (the edition before RUE), The Rifter® #1-52, and first edition rule books and sourcebooks for Palladium Fantasy RPG®, Heroes Unlimited™, The Mechanoid Invasion® Trilogy, Beyond the Supernatural™ and lots of other good titles. DriveThruRPG.com also offers the Rifts® and Palladium Fantasy® Game Master Kits ($5 each; both written by Carl Gleba and complete with maps, combat matrix, character sheets, spell list, and 20 pre-rolled characters created by Julius Rosenstein). Check it all out.
UPDATE: The Rifter® #64 – November 20 Release
This is another fine issue of The Rifter®. Wayne and company are still working on it, but it will go into layout next week. It has material for Rifts®, Dead Reign™, Nightbane®, Palladium Fantasy® and other good stuff. See the expanded description elsewhere in this Update. Chuck Walton fantasy cover.
UPDATE: Dead Reign™ Sourcebook 4: Fear the Reaper™ – November 20 Release
All I can say about this book is, wow. Matthew Clements has outdone himself on this sourcebook. Fear the Reaper™ is awesome. We are working on it simultaneously with The Rifter® #64 and both books will go into print and ship at the same time. See the complete description for it elsewhere in this Update.
UPDATE: Rifts® Northern Gun™ Two – December Release
This World Book is every bit as big and filled with gear, fun and info as NG-1. We are still shooting for a December release. See the full description for it later in this Update.
UPDATE: Rifts® Megaverse® in Flames™
Carl Gleba's Rifts® Megaverse® in Flames™ is a title that will instigate turmoil and change that will provide plenty of fodder for adventure. It has also spawned a surprise title that fans of the Coalition States are going to love. Likely to be an early 2014 release (January/February).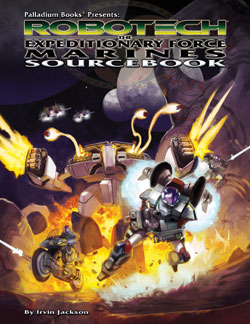 UPDATE: Robotech® UEEF Marines™ Sourcebook One
Here is the cover of Robotech® UEEF Marines™ Sourcebook One by new artist Daniel Dussault. More of Dan's artistry graces the pages of the Robotech® RPG Tactics™ rule book. This will be a hot, early 2014 release.
UPDATE: Robotech® RPG Tactics™
Hey everybody, sorry for not getting you more substantive details sooner, but we've been working to hammer out all the details and variables around the Robotech® RPG Tactics™ project, for you, our distributors, and ourselves.
First, not only is this Palladium Books' very first Kickstarter, this is also our first venture into making a game like Robotech® RPG Tactics™. Our learning curve has been steep and this undertaking is massive, even with Ninja Division's experience and handling of much of this.
Second, the scope of Robotech® RPG Tactics™ was expansive and demanding to begin with, and grew as the Kickstarter went on. The sheer number of different product SKUs, special figures, poses, components for the box game, the many expansion kits, and so on, has meant a tremendous amount of work and logistics. That's okay, because we want this game line to be truly epic, but it has proven challenging for everyone involved.
Third, the consensus of everyone, Palladium Books to Ninja Division and Harmony Gold, has been that it is better to get this product right than to rush it.
Fourth, detail matters. As Palladium Books has stated before, we want the end product to be everything Robotech fans could want. And we have a pretty good idea of what that is, because a) we listen to you, and b) we are super-fans ourselves. This has actually added to Ninja Division's work load, because we want these representations of the Robotech® mecha we all know and love to be as detailed and awesome as possible. When there were shortcuts Ninja Division could have taken or Palladium could have authorized, we agreed not to do so in order to give you a superior product.
For example, that has meant numerous additions and tweaks to sculpts, and additional cost and engineering considerations for mold-making and manufacturing. This has caused delays and doubled the cost of the molds, but Palladium is willing to make that sacrifice to give you the best product we can possibly make. No cutting corners if we can avoid it.
The ship date. At this point, we still do not have an exact release date, but it's no longer possible for it to be in December, as we have not even gone into manufacturing yet. If I had to guess, I'd say February, 2014, though we're working to try to make it sooner. Palladium Books and Ninja Division are looking to firm up details and dates, and we'll provide them to you as we get them ourselves.
Is this delay disappointing? Of course, but this is worth doing right. Palladium has spent thousands of dollars on advertising stating the game is coming out in the Fall of 2013 and December 2013, so obviously, that was the plan. But as I said, when faced with sacrificing quality, we all agreed to take a step back and go with quality even if it meant delaying the release. Even our distributors, who are champing at the bit for this game just like you, agreed it is better to do Robotech® right than to rush it out for fast sales, or quick, personal gratification.
Here's how things are unfolding:
1. Almost there. The design and layout work for the rule book, stat cards, packaging and accessories are all pretty much complete. They are the fast and easy part of manufacturing. It's the final mold engineering and mold-making that has been taking some time to keep the details and features we know you'll want. As we get close to finalizing that process, we approach the actual manufacturing. However, our earlier delays mean we face a glut of product in the pipeline for Christmas, and potentially further delays.
2. Manufacturing. How soon our job can get into manufacture (hopefully later this month) will determine how quickly we'll get the finished product. Other factors include the Chinese New Year that closes down much of the manufacturing for a few weeks, and shipping to the USA port (another 4-6 weeks), then clearing Customs and then shipping to Palladium. The latter should go quickly (a week?).
3. USA: Once product is in Palladium's hands, even with an efficient assembly line set up and additional help brought in, it will take some time to process, pick, pack and ship the 5,000+ Kickstarter orders and the many Kickstarter accessories and special items. Note: Kickstarter orders will ship before Palladium sends any product to distributors for retail distribution. We appreciate your support, and you will get the product before it goes to retail. And remember, MANY of the Kickstarter items will be in your hands months before the retail expansion packs are released in waves to retail. Enjoy.
4. EU & Overseas: We have made special arrangements to pull, pack and address your packages at the Palladium warehouse, and then ship them in bulk to an agent who will post them from within the EU. That should mean everyone in the EU will get shipped around the same time, but after packages are shipped in the USA.
We will update details and firmer dates as we learn them. Meanwhile, Palladium will continue to provide you with images of actual game pieces and the full production packages as we go along.
Our apologies for the longer than anticipated wait. The game pieces/models are gorgeous, the game is a fast, fun simulation of the Robotech® TV show, and this product will be worth it!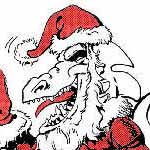 Palladium Christmas Surprise Packages Start NOW!
Christmas Surprise Packages or Grab Bags are a long running holiday tradition in which you can get several RPG titles at a substantial discount. It is our way to say thank you to our many fans for being so kind and patient, and for your years of support. You are appreciated more than you may know.
Christmas Surprise Packages are not just for Christmas. Whether you celebrate Christmas, Hanukkah, Kwanzaa, or the Winter Solstice, or you're looking for a gift for a birthday, anniversary, Valentine's Day, or other special occasion that falls between now and February, a Surprise Package may be the ideal way to go. You get a ton of stuff on the cheap, you can get a bunch of autographs, and you look like you spent a fortune.
This is also a great way to try that game setting you've wondered about (Splicers®, Dead Reign™, Chaos Earth®, Palladium Fantasy®, Nightbane®, etc.), or to get something for your favorite Game Master, or perhaps to get your player group to consider a new game or setting.
The Palladium Surprise Packages are designed to simulate the fun, joy and surprise of the Christmas Season of Giving. In this case, Santa Kevin (yeah, that's me) has you submit a list of 8-12 Palladium products (or more) that you would like to receive in your Christmas Surprise Package. This list of 8-12 (or more) items is critical, because you will not know which items you'll be getting. That makes it just like a Christmas gift because it's a surprise! Plus, Santa Kevin, who personally handpicks every item for every Grab Bag, may toss in something extra like a limited edition print or T-shirt, or issue of The Rifter®, or something else he thinks you'll enjoy.
Autographed books. For those of you who want them (which are most people), the available members of the Palladium staff, and any freelancers we can lasso at the time, are happy to autograph each and every book in your Surprise Package. This is the only way many fans, especially those in other countries, can EVER get signed books.
Send us your brief comments. There is a special form and format to fill out for Christmas Surprise Packages, including a place where you can offer your brief comments, suggestions, greetings and salutations.
It only costs $40 plus shipping to get $80-$90 worth of Palladium product! First-timers are always nervous until they see the great value in their first Surprise Package. A typical Grab Bag has $85-$90 worth of product, sometimes more. Many people order 2-3. Some order 4-6, and some maniacs order even more! It makes sense, because it is a great way to fill holes in your own collection, treat yourself, get autographs, try new games and settings, and get your gaming pals gifts.
Click here to get the entire Surprise Package description.
Happy Holidays from the Palladium crew. May they be filled with laughter, joy and gaming.
More happening at Palladium
There are changes coming for the Palladium website and other things to announce next Weekly Update. Meanwhile, take advantage of the Christmas Surprise Package offer and game on!
– Kevin Siembieda, Publisher, Writer and Game Designer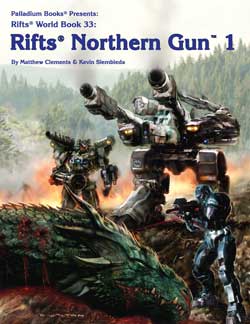 Rifts® World Book 33: Northern Gun™ One – Available Now!
Rifts® Northern Gun™ One is the most tech-filled World Book Palladium has ever produced. In addition to world information, background and O.C.C.s for the Northern Gun corporation and Ishpeming, there are 27 robots, 70+ weapons and all kinds of dynamic information and gaming resources. Courtesy of the largest arms dealer and independent manufacturer on the continent: Northern Gun™.
Northern Gun™ is the most famous arms manufacture in North America. Outside of the Coalition States, one could argue, no other kingdom is as powerful or influential, at least when it comes to technology and weapons. The manufacture and sale of Northern Gun weapons and vehicles has given virtually every kingdom, town, colony of settlers and adventurer group a chance to survive and prosper. Located in Michigan's Upper Peninsula, NG has been the premier outfitter of mercenaries, adventurers and upstart kingdoms for generations. Now, for the first time ever, learn Northern Gun's history, goals and plans for the future. Of course, that means new weapons, robots, power armor, vehicles and gear.
In-depth look at Northern Gun, its robots, stores, politics and operations.
70+ NG weapons; old and new.
27 NG giant combat and exploration robots. Described in detail.
Many new robot weapon systems and features, including alternative power supplies, anti-monster gear and experimental weapons.
Northern Gun freighter ships and hovertrains. Random Cargo tables too.
Notable cities and people of the Ishpeming Republic/Northern Gun.
NG O.C.C.s, police, specialists and NG Mercenary army.
The NG Mercenary army and police.
The NG Bounty Board, the largest collection of bounties and mercenary contracts anywhere on Rifts Earth.
Key locations, people and dangers around Northern Gun.
NG mercenary defenders, groups and pirates.
Northern Gun's relationship with the CS and other nations.
Interior Artwork by Chuck Walton, Mark Dudley, Amy Ashbaugh, and others.
Wraparound cover by Chuck Walton.
Written by Matthew Clements, Kevin Siembieda and others.
224 pages – $24.95 retail – Cat. No. 887 – Softcover Edition.
Softcover edition is available NOW!
Deluxe Hardcover and Collectors' Hardcover Editions ship in November to crowdfunders. Only a few dozen will be made available to the open market at steep prices and in the Palladium Christmas Surprise Package offer.
Check out the new FREE Sneak Preview on DriveThruRPG.com!
The Rifter® #64 – Ships November 20
The Rifter® #64 presents optional source material for Rifts®, Dead Reign™ (zombies), Nightbane®, Palladium Fantasy RPG® and more. Each and every issue of The Rifter® is an idea factory that provides useful, ready to use, source material gamers can just drop into their ongoing games.
The Rifter® Number 64 includes:
Rifts® – The Black-Malice Legacy, Part II – by Matt Olfson and Will Hunter. Source material about the Coalition States' psionic operatives and technology, including squad formation and new psychic martial art classes for special operatives in CS Psi-Battlion.
Rifts® Short Story – A Cold Night, Dead Past by Brett Caron.
Dead Reign™ source material by Jeff Duncan. New Survivor Occupations and related skills set in the Zombie Apocalypse.
Nightbane® source material by Bryant Telfer. A new class of mystical wanderer and Nightbane.
Palladium Fantasy® Adventure by Michael Osborne. Play giant characters or pint-sized humans who invade the lairs of Trolls and evil beings in control of dark magic.
News, coming attractions, product descriptions and more.
In final production.
96 pages – $11.95 retail – Cat. No. 164. November 20, 2013.
Reminder, The Rifter® #63 included a Robotech® RPG Tactics™ eight page photo spread showing dozens and dozens of the mecha figures coming in that series.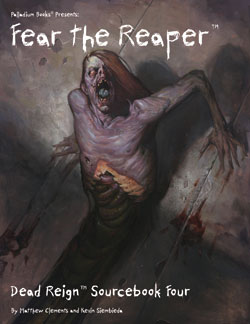 NEW! Dead Reign™ Sourcebook 4: Fear the Reaper™ – Ships November 20
Join the legendary Road Reapers as the struggle for survival pits bikers against zombies out on the highways and streets of a world stalked by the walking dead. Like knights mounted on motorcycles, they travel the wasteland that Earth has become, searching for survivors, fighting zombies and waging war against the Death Cults that threaten all mankind.
Comprehensive background on the Road Reapers.
The Road Reaper Way of Life: Living and fighting on the road.
Road Reaper missions, strategy and tactics.
Structure and organization of Road Reaper units.
Different types of Road Reapers like Off-Roaders and Former Highway Patrol.
The Road Reapers' war against Death Cults and Raiders.
Random Road Reaper Creation Tables.
Road Reaper Specializations like the Ex-Con, Road Captain and Fix-It Man.
Notable Road Reaper leaders and captains.
More background information and zombie-killing advice from Brad Ashley, the notorious leader of the Road Reapers and author of the Road Reapers' Survival Guide.
Written by Matthew Clements.
48 pages – $12.95 retail – Cat. No. 234. November 20 release.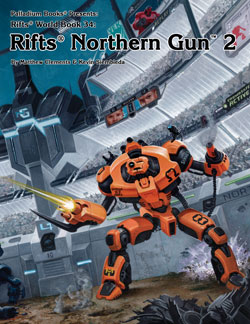 Rifts® World Book 34: Northern Gun™ Two
In production! Expanded to 192-224 pages and filled with all kinds of adventuring gear: New environmental body armor, power armor, hovercycles, robot drones, robot haulers, combat vehicles, other vehicles, robot gladiators and much more. More information about the weapons, vehicles and practices of Northern Gun, including the new rage of robot gladiatorial combat. Expanded page count. Epic adventure.
NG robot haulers and drones.
NG power armor suits; an expansive range.
NG M.D.C. body armor, and combat gear.
NG bionics, cybernetic services and other equipment.
NG hovercycles, land vehicles and combat vehicles.
NG jet packs and aircraft.
NG boats, ships and submarines.
NG Robot Gladiatorial Arena.
Robot Gladiator O.C.C. and robot gladiators.
Pirates and more.
Written by Matthew Clements and Kevin Siembieda.
Interior Artwork by Chuck Walton, Nick Bradshaw, and others.
Wraparound cover by John Zeleznik.
192-224 pages – $24.95 retail – Cat. No. 888. December, 2013 remains our target date and seems doable at this stage (tentative).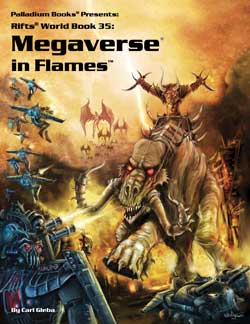 Rifts® World Book 35: Megaverse® in Flames™
The Minion War spills across Rifts Earth, where demons and infernals hope to recruit allies and use the Rifts as gateways of destruction. Their influence shakes things up across the planet, especially at locations where demons and Deevils already have a strong presence. Demons, Deevils and supernatural beings run rampant and wreak havoc across the world.
Demon plagues and mystic blights.
Soulmancy and Blood Magic revealed.
Magical and demonic weapons and war machines.
Demonic armies, strongholds and places of evil.
Hell Pits and Rune Forges.
Many Demon Lords, their minions and plans.
Calgary, the Kingdom of Monsters; in detail.
Ciudad de Diablo, Harpies' Island and other notable Hell holes on Earth.
Lord Doom, Pain and other demonic leaders.
Horune treachery, Dimension Stormers and other villains.
Notable demonic generals, mercenaries, people and places.
Battleground: Earth – as demons and infernals amass their legions.
Global chaos and the places most dramatically affected by the Demon Plagues.
Epic battles and adventure ideas galore.
Written by Carl Gleba. Part of the Minion War "Crossover" series.
192 pages – $24.95 retail – Cat. No. 876. January/February release.
Robotech® UEEF Marines Sourcebook One
This is another book that is guaranteed to wow and please Robotech® fans.
New mecha and weapons.
Aliens and space adventure.
Written by Irvin Jackson.
160 pages – Cat. No. 553 – $20.95 – Shooting for a quick release, but early 2014 seems realistic.
UPDATE: Robotech® RPG Tactics™
The only product people are more excited about than the two Rifts® Northern Gun releases is Robotech® RPG Tactics™. Momentum is building to a fever pitch. Fans will not be disappointed. Demos at the Alliance Trade Show got nothing but big, toothy smiles and positive reviews. Here's are some details.
● Flexible Date of Release: An exact release date is yet to be determined, but it is looking like some time in February, 2014. Ninja Division's original projections had product delivery at October or November, but we were all a bit too optimistic. In order to make this game line everything it can be, there have been delays. As a result, the game has yet to be sent into manufacturing. That said, 98% of the work is completed, the game pieces look incredible, and Ninja Division is wrapping up on final packaging, layout and tweaks. We expect to get final approval from licensor Harmony Gold in two or three weeks. At which point, Robotech® RPG Tactics™ goes into manufacturing. Factoring in manufacturing time, shipping from China and other factors, it is looking more and like a February 2014 release. We'll see. Note: As stated in the past, we will ship product to the Kickstarter supporters before we ship to distributors.
● Plastic game pieces. All of the 1/285th game pieces in the box set and expansion packs are plastic. (Special editions and limited releases for conventions and the Kickstarter may be in resin and/or metal.)
● Expansions released in waves. Palladium plans to release Robotech® RPG Tactics™ products in waves. The core box game and first six expansion packs will be the initial release. 4-6 additional expansion packs of mecha game pieces will ship approximately every three months thereafter.
● Robotech® RPG products – available now. Don't forget that Robotech® RPG products are available now. They include the Robotech® Shadow Chronicles® core rule book available as a $30.95 hardcover (Cat. No. 550HC) and as a $16.95 manga-sized RPG paperback (Cat. No. 550), and the Macross® Saga Sourcebook (Cat. No. 551) which is the same setting as the Robotech® RPG Tactics™ game. Each book is a wealth of background information about Robotech® and fun to read and play. With excitement growing for Robotech® RPG Tactics™, there is renewed interest in the Robotech® role-playing game line.
● New Robotech® RPG products coming in 2014. Palladium has three new Robotech® sourcebooks in development. UEEF Marines Sourcebook One, UEEF Marines Sourcebook Two and The Zentraedi Protectorate Sourcebook are all slated for release before Summer 2014. Additional Robotech® sourcebooks are on the drawing board.
● Palladium is working with Harmony Gold to expand the scope of its license to provide you with an even greater range of Robotech® products.
Robotech® RPG Tactics™ – Game Description
This is the game Robotech® fans have wanted for decades.
Robotech® RPG Tactics™ is a fast-paced, tabletop combat game that captures the action and adventure of the Robotech® anime. Two or more players can engage in small squad skirmishes or scale up to massive battles. Relive the clashes of the First Robotech War, engage in stand-alone tactical games, or use the dynamic game pieces to enhance your Robotech® RPG experience. Or simply collect your favorite mecha from an expanding range of top-notch game pieces.
Mecha vs Mecha. Take command of the fighting forces of the United Earth Defense Force (UEDF) valiantly defending Earth from alien annihilation. Or lead the massive clone armies of the Zentraedi Armada to recover an alien artifact of immense power and enslave humankind.
Robotech® RPG Tactics™ Box Set
Brought to you by Palladium Books®, created with Ninja Division (the creative minds behind Soda Pop Miniatures and Cipher Studios).
Rules by Alessio Cavatore, David Freeman and Carmen Bellaire.
Full color, softcover rule book; wraparound cover and lots of new, color artwork.
24 Battle Dice, 12 UEDF and 12 Zentraedi.
40 color game cards (unit cards, etc.).
4x VF-1A Valkyries (in Fighter, Guardian, and Battloid modes).
1x VF-1J "Officer" in all three modes.
4x Destroids: 2 Tomahawks and 2 Defenders.
12x Regult Zentraedi Battlepods.
1x Glaug Officer's Battlepod.
1x Quel-Regult Recon Battlepod.
1x Quel-Gulnau Recovery Pod.
1/285th scale, high quality, multi-pose plastic game pieces (40mm to 70mm tall). World-class sculpts from sculptors around the world.
Game rules use D6.
Turn-based system of play.
Scalable from small squad skirmishes to mass battles. Can accommodate two to several players.
Combat is fast and designed to emulate the anime action.
Measuring tape required to determine targets and distance.
Small parts and some assembly required. Game pieces come unpainted.
Release Date: Barring any further delays, the Robotech® RPG Tactics™ box game and initial expansion sets ship February 2014 (tentative).
$90 retail price (tentative). The price of the final box set is not yet determined, but we want to hold it around $90.
Cat. No. 55100 (Main Boxed Game).
The First Six Robotech® Expansion Packs
The initial expansion packs will also ship at the same time as the main box game. All prices listed are likely, but still tentative. We want most packs to fall in the $25-$35 price range.
UEDF Valkyrie Wing (2x each, Fighter, Guardian, Battloid) – Cat. No. 55201 – $30.00 retail (tentative).
UEDF Destroid Pack (2x Tomahawks, 2x Defenders) – Cat. No. 55202 – $30.00 (tentative).
UEDF Spartan Pack (2x Spartans, 2x Phalanxes), Cat. No. 55203 – $30.00 (tentative).
Zentraedi Regult Battlepod Squadron (6x Regults) – Cat. No. 55401 – $30.00 (tentative).
Zentraedi Support Battlepods (4x Artillery Battlepods) – Cat. No. 55402 – $30.00 (tentative).
Zentraedi Command Pack (1x Glaug, 1x Quel-Regult, 1x Quel-Gulnau) – Cat. No. 55403 – $35.00 (tentative).
Additional expansion packs to be released in waves every few months, 4-8 at a time, throughout 2014. More will follow.
Palladium plans to release the mecha and settings for ALL eras of Robotech®. Many other details are still in development.
Tournament play support is planned. Ninja Division will help Palladium to develop and launch the program.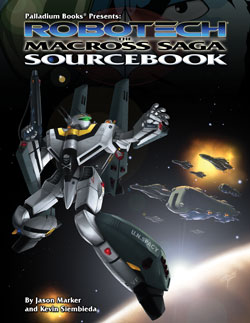 Robotech® Macross® Saga Sourcebook – New Size
Available now – 8½ x 11 size
All the famous mecha and action of Robotech® starts here with the Macross® Saga when an alien armada enters Earth orbit. They have come to reclaim a lost spacecraft that crash-landed on Earth 10 years earlier. A space fortress that Earth's protectors have rebuilt into their own flagship against alien invasion. The resulting conflict gives birth to heroes and becomes the stuff of legend, but the Earth will never be the same. Robotech® The Macross® Saga Sourcebook is now available as an 8½ x 11 inch sourcebook.
Note: This is the setting for Robotech® RPG Tactics™, so if you're looking for more information about the mecha, Earth's defenders, the Zentraedi invaders, and the Macross Saga setting, this is the book for you. Epic adventure awaits.
A Robotech® Role-Playing Game Sourcebook:
Transformable Veritech Fighters known as Valkyries take to the sky to defend the Earth.
Destroids, giant walking tanks, are among Earth's front-line defenders.
The SDF-1 and Earth air, ground and space combat vehicles.
Zentraedi mecha, powered armor suits, and select spacecraft.
The Zentraedi warriors, their war machines and culture.
Notable characters from the TV series statted out.
Quick Character Creation Tables enable you to make Macross characters in 15 minutes or less.
New skills and M.O.S. skill bundles.
The Robotech® The Shadow Chronicles® RPG "rule book" is needed to play (Cat. No. 550 or 550HC).
128 pages – $16.95 – Cat. No. 551 – standard 8½ x 11 size – Available now.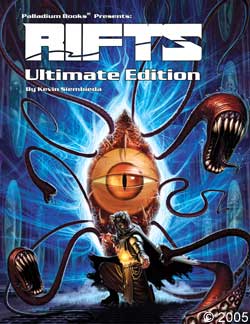 BACK IN PRINT
Rifts® Ultimate Edition
Imagine a world setting that is Earth 300 years after an apocalypse that results in the return of magic. Now imagine a world where magic and super-science collide. Where cyborgs and men clad in power armor and giant robots clash with demons, dragons and sorcerers.
Now imagine lines of blue, magic energy rippling across the land. Where two or more of those lines cross, there is a tear in the fabric of space and time. A Rift to infinite worlds and realities that have unleashed an endless cavalcade of aliens, mutants and monsters into our world. Some are adventurers like you, others are invaders, some are slaves or prisoners, and still others are demonic nightmares and gods from ancient myths. All now make Earth their home or hunting ground. Welcome to Rifts®.
Rifts® combines the genres of science fiction, fantasy, horror and post-apocalypse (among others) in a plausible setting where adventure is limited only by your imagination and the possibilities are truly infinite.
33 O.C.C.s – Bursters, Crazies, Cyber-Knights, Dog Boys, Glitter Boys, Juicers, Ley Line Walkers, Mind Melters, Psi-Stalkers, dragons, mutants & more.
The Coalition States – heroes or villains?
Coalition O.C.C.s, gear and States described.
Psionic powers and characters.
Magic spells and Techno-Wizardry.
Techno-Wizard device construction rules.
World information and background to set the stage for adventure.
All the info you need to play is contained in this core rule book.
Color end sheets painted by John Zeleznik. Cover by Scott Johnson.
24 pages of color, 75+ color images; great art throughout.
Created and written by Kevin Siembieda.
90+ sourcebooks to expand your Rifts® adventures.
376 pages – Cat. No. 800HC – $39.95 – Hardcover.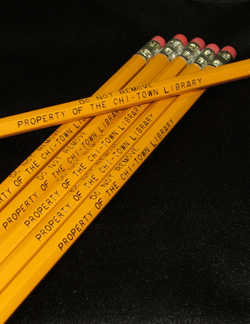 BACK IN PRINT: Chi-Town Pencil
Do Not Remove — Property of the Chi-Town Library
They're fun and silly, and Rifts® gamers love them, so we pressed a new batch of Chi-Town Library pencils. They look great on the gaming table.
Printed on each are the words: Do Not Remove — Property of the Chi-Town Library.
50 cents each – Cat. No. 2561 – No. 2 pencil. Available now.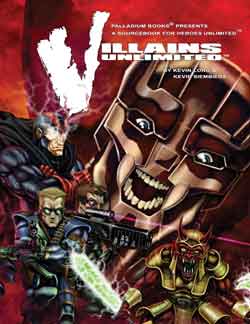 BACK IN PRINT: Villains Unlimited™
More than 80 villains with complete stats, background and motives for trouble. And lots of other epic source material.
80+ villains.
Rules for designing your own super-organization.
S.C.R.E.T. – Superbeing Control Retrieval and Elimnation Team.
The Jury – are they heroes or villains?
Fabricators Inc. – the weapons and armor suppliers to the criminal underworld.
Magic Tattoos and more.
All of the above serve as catalysts for adventure.
Written by Kevin Siembieda and Kevin Long.
224 pages – $24.95 – Cat. No. 501 – Available now.
PDF downloads from DriveThruRPG.com
This is a great resource for getting out of print Palladium titles and other select books. We've made 90 titles available as PDF digital downloads from DriveThruRPG.com. This is a great way to try Palladium products and get access to out of print RPG source material. Some notable titles include:
© Copyright 2013 Palladium Books Inc. All rights reserved.
Rifts®, The Rifter®, RECON®, Splicers®, Palladium Books®, The Palladium Fantasy Role-Playing Game®, Phase World®, Nightbane®, Megaverse®, The Mechanoids®, The Mechanoid Invasion®, Coalition Wars® and After the Bomb® are Registered Trademarks of Palladium Books Inc. RPG Tactics™, Beyond the Supernatural, Chaos Earth, Coalition States, Dead Reign, Heroes Unlimited, Ninjas & Superspies, Minion War, Mysteries of Magic, SAMAS, Thundercloud Galaxy, Three Galaxies, Vampire Kingdoms, and other published book titles, names, slogans and likenesses are trademarks of Palladium Books Inc., and Kevin Siembieda.
Robotech® and Robotech® The Shadow Chronicles® are Registered Trademarks of Harmony Gold USA, Inc.
This press release may be reprinted, reposted, linked and shared for the sole purpose of advertising, promotion and sales solicitation.