Palladium Books® Weekly Update – May 9, 2013
By Kevin Siembieda
We are working away like maniacs. The Rifter® #62 is done! Writing and editing of Rifts® Northern Gun™ One is picking up speed, we think we've taken care of all the customs' preparations we need to make to attend Anime North (May 24-26), and we continue to do work on Robotech® RPG Tactics™; not just the Kickstarter, but all the aspects of the product itself. New gorgeous sculpts and artwork have come in for approval, text is being completed and new ideas are flying around all the time.
Only 10 days left on the Robotech® RPG Tactics™ Kickstarter
After today, there are only 10 days left to the Robotech® RPG Tactics™ Kickstarter. That means it is crunch time as the final round of pledges come in. Palladium is doing its part to promote the Kickstarter by sending out a second round of press releases this past Monday to our many contacts and a number of news and hobby web sites. We ask you do the same. We are surprised at the number of gamers and web sites completely unaware of the Robotech® Kickstarter. And these are people who get excited when they learn about and want to support it. PLEASE help Palladium get the word out. Post about it on your own Facebook pages and the web sites you regularly post and visit. Include a link directly to the Palladium website or Kickstarter page.
Together, we can make this one of the biggest and best Kickstarters ever. And don't forget, the more successful the Kickstarter, the more amazing we can make the product line. As I keep saying, we want to release the mecha for EACH generation of Robotech: Macross, Masters Saga, New Generation, and Shadow Chronicles (planet-hopping and space combat). A successful Kickstarter, followed by the launch of the Robotech® RPG Tactics™ game line to the retail market later this year, will provide Palladium with the resources we need to increase production and give you more role-playing games at a faster pace. Please support the Robotech® RPG Tactics™ Kickstarter in whatever way makes sense for you. You don't even need to purchase a single thing, help by spreading the word. Thank you, so much. Game on!
For those of you new to Kickstarters, you'll want to check out the FAQ at the bottom of the page and the small Update tab at the top of the page for more info, insight and updates. Something NEW is being announced and added EVERY DAY, sometimes several times a day. And wait till you see what's coming via new stretch goals, new add-ons, new photos and information. So check back often and tell everyone about this opportunity. Thanks for your support.
UPDATE: Robotech® RPG Tactics™ Kickstarter – $610,000 – 10 days left
We are in frequent contact with Ninja Division and Harmony Gold as all aspects of the Robotech® RPG Tactics™ game line are expanded and developed. Everyone is pushing on all cylinders to make this game line great and the Kickstarter amazing.
The Kickstarter has gone from $475,000 when we posted the last Weekly Update and has climbed past $610,000 in one week. 10 days left to go!
New Interview with Kevin Siembieda
I did a brief interview with Not The Singularity. It was a fun thing to do and the interview is a quick, fun read. Here's the link: http://notthesingularity.com/3551/a-brief-talk-with-kevin-siembieda-about-robotech-tactics/
Other interviews:
MTV Geek Part One: http://geek-news.mtv.com/2013/04/25/kevin-siembieda-robotech/
MTV Geek Part Two: http://geek-news.mtv.com/2013/04/29/robotech-rpg-kickstarter-2/
Craven Games: http://cravengames.com/interviews/kevin-siembieda-on-robotech-rpg-tactics.html
NEW Podcast from Gateway to the Megaverse – coming next week
I'll be doing a live podcast with Matthew Daye early next week. It is will also made available for download after the live airing. Watch for it and enjoy. I'll try not to give away too many secrets. (Or will I?)
NOTE: Palladium Books is happy to arrange interviews and podcasts with me and other creators involved with Robotech® RPG Tactics™. Just give the Palladium office a call to make arrangements (734-721-2903). We want to spread the word everywhere. Thanks.
UPDATE: Robotech® RPG sale
Gamers are taking advantage of the big Robotech® RPG sale in droves. ALL titles have been marked down by 20% until the Robotech® RPG Tactics™ Kickstarter ends on May 20. The prices listed in our online store already include the discount. It is nice to see so many new faces. Welcome, enjoy, and unleash your imaginations. We have some epic, new Robotech® RPG sourcebooks coming this Summer and Fall.
UPDATE: Palladium at Anime North – May 24-26, 2013
We are very pumped up about Anime North. I'm one of the Guests of Honor, and deeply touched to be the 2013 Momiji Award winner for a significant contributions in anime, manga and/or Japanese culture. What a great honor. We'll also be bringing 16 cases of books to display and sell at the convention. As always, all the Palladium creators present (and there are a lot of us) are happy to sign books and chat with gamers. Wayne and I think we've taken care of all the Customs documentation and paperwork necessary to bring people and merchandise to Canada for Anime North. By the way, I need to get used to referring to our RPGs and other items as "merchandise," not "product." It seems at customs and law enforcement agencies, "product" has come to mean drugs. We learned this the hard way. Funny.
Join the fun and meet many Palladium creators at Anime North. We'll be running games, selling merchandise, signing autographs and having a blast. We don't know when we'll be back so please come over and have some laughs with the Palladium crew!
Palladium Related Anime North Highlights:
Meet Palladium Founder, Writer and Game Designer Kevin Siembieda.
Meet Palladium Writer and Game Designer Carmen Bellaire.
Meet Palladium Editor Wayne Smith.
Meet Palladium Writer Matthew Clements.
Meet Palladium Writer Greg Diaczyk.
Meet Palladium Writer Braden Campbell.
Panel talks with Kevin Siembieda and others.
Carmen Bellaire to run Robotech® RPG Tactics™ demos! Carmen is one of the game rules designers behind Robotech® RPG Tactics™ along with David Freeman of Ninja Division, legendary Alessio Cavatore, and others. Carmen will be running demos of Robotech® RPG Tactics™ all three days, May 24, 25 and 26, which means those who participate will be among the very first to get a look at this fun, fast-paced Robotech game from one of the creators!
I, Kevin Siembieda, am the winner of the prestigious Momiji Award for achievements in promoting anime and Canada. How cool is that? I couldn't believe it when I got the news. There will be an award ceremony, a short speech and everything. I am very, very honored.
I, Kevin Siembieda, will be participating in many panel talks and running a game or two. I am happy to sign autographs and chat with fans at the panel talks, after the talks and all weekend long at the Palladium Booth located in the Guest Autograph area.
Palladium Dealer Tables in the Guest Autograph area. We'll bring a good selection of Palladium products, new releases, art prints and other goodies. Plus, Wayne Smith, Matthew Clements, Carmen Bellaire, Greg Diaczyk, Braden Campbell and all Palladium creators present are available to chat and sign autographs.
We are coming to Canada and Anime North to have a rip-snorting, fun weekend. Please visit to say hello and to join the fun.
Anime North is a mixed media event that includes gaming, anime, manga, toys, cosplay, and other fun. For more information go to http://www.animenorth.com
DriveThruRPG.com – your place for FREE book previews and PDFs of more than 90 Palladium titles
The FREE Sneak Preview of Rifts® Vampires Sourcebook and an early one for Rifts® Northern Gun One (with a newer one coming in a few weeks) are available on DriveThruRPG.com for your enjoyment. There are also previews available for Rifts® Vampire Kingdoms™ (Revised Edition), Rifts® Black Market, Rifts® Lemuria, Dead Reign™ RPG, Endless Dead™ sourcebook and others. The original Rifts® Vampire Kingdoms World Book is also available as a PDF on DriveThruRPG, for those of you who may be interested.
More than 90 other Palladium titles can be found on DriveThruRPG.com as PDFs, including Splicers®, Rifts® RPG (the edition before RUE), The Rifter® #1-52, and first edition rule books and sourcebooks for Palladium Fantasy RPG®, Heroes Unlimited™, The Mechanoid Invasion® Trilogy, Beyond the Supernatural™ and lots of other good titles. DriveThruRPG.com also offers the Rifts® and Palladium Fantasy® Game Master Kits ($5 each; both written by Carl Gleba and complete with maps, combat matrix, character sheets, spell list, and 20 pre-rolled characters created by Julius Rosenstein).
UPDATE: The Rifter® #62 will ship in May
The Rifter® #62 is finally done and will ship in a couple weeks. We can't believe that we have been so buried with work and other demands of our time that Wayne and I couldn't get the Rifter® #62 released in April. And we have been working 10-14 hour days, seven days a week!!! This is only the second time in The Rifter's 15 year history that an issue has missed its scheduled month of release. Our apologies. Ah, but this issue of The Rifter® is filled with outstanding official and unofficial source material you are going to love. Plus the usual news and information. See the more complete description later in this Update.
UPDATE: Rifts® Northern Gun™ One and Two
I have been writing and editing like crazy. Chuck Walton is finishing a few late additions of artwork. This book is epic. We want to get it to the printer and in your hands pronto! Northern Gun™ Two is the book we dive into immediately after that.
Other Titles
Just because we are not talking about them right now, does not mean other titles are not being finished or developed. Stay frosty. This is going to be a very good year for Palladium and its legion of gamers. Keep those imaginations burning bright and game on.
– Kevin Siembieda, Publisher, Writer and Gamer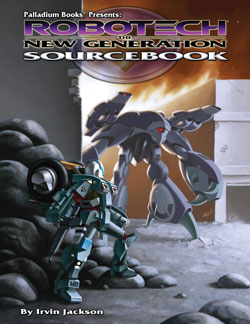 Robotech® New Generation™ Sourcebook
The Third Robotech War begins with the alien Invid laying siege to planet Earth. The Army of the Southern Cross is overwhelmed by the superior numbers of the enemy. Earth falls and is occupied by the Invid, but the war continues. Human resistance fighters wage a guerilla war while they await the return of Admiral Rick Hunter and the UEEF fleet to liberate the Earth.
You play a new generation of bold heroes who dare to oppose the frightening and enigmatic alien overlords known as the Invid. You defend the human race against impossible odds and rescue the innocent from the alien tyrants.
ALL eras of Robotech mecha are available to players, from the giant Valkyries and Destroids, to Hover Tanks and AJAX, to the small, sleek Alpha Fighters and Cyclones of the UEEF.
Frankenmecha – amalgamations of different eras of Earth mecha cobbled together into something new and deadly – are also available to Earth's valiant resistance fighters.
7 new Occupational Character Classes (O.C.C.s).
Notable weapons, combat vehicles, and gear.
Notable resistance fighters, simulagents and more.
Invid Hives, Protoculture Farms and Genesis Pits.
Overview of the world under Invid domination.
New Character Classes, Invid mutations, and more.
The Robotech® The Shadow Chronicles® RPG "rule book" is needed to play (Cat. No. 550 or 550HC).
Four generations of mecha. Hours of fun.
96 pages – currently on sale for $13.56 ($16.95 normally) – Cat. No. 554. Available now. Place your order.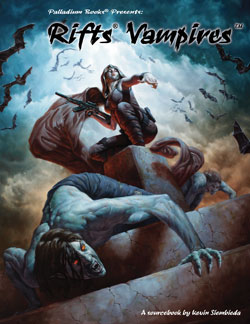 Rifts® Vampires Sourcebook™ – Available Now
New secrets, new monsters and danger, new places to explore, new magic to wield, dark magic and forces to fear, new trouble and adventure in Mexico and the Yucatan. New conflicts between rival forces are brewing as Doc Reid prepares to take his private war with the vampires to a whole new level. Meanwhile, the vampires live like smug tyrants and gods, dominating an underclass of slaves and people used as cattle to feed upon. Learn more about the vampires, their rivals, allies and the humans who willingly serve them. A must-have guide for those who wish to travel deeper into the Vampire Kingdoms or play as vampires and their human minions.
Vampire Hunter weapons and equipment.
Techno-Wizard weapons and special gear.
Lemurian gifts to better fight vampires.
The horror of Soulcrafting and Dark Weapons.
Hero Necromancers and their role in fighting vampires.
Fort Reid, an entire city devoted to hunting the undead.
The history and stats for Doc Reid, his top leaders and Reid's Rangers.
Deathspike – the vampires' own high-tech answer to Vampire Hunters.
The Yucatan Peninsula and its many monsters and mysteries.
Animated dead, mummies and zombies used to fight vampires.
New strategies and tactics for fighting vampires, plus Mage Vampire Hunters, D-Bee Vampire Hunters, Bandit Vampire Hunters, and other slayers of the undead.
Werejaguar Vampire Hunters and other werebeasts.
Firefighting robots, hover firetrucks and more anti-vampire gear.
Tampico Military Protectorate expanded with much more detail.
The human strongholds such as Tampico, Monterrey, Silver City, the Crystal Caves, Acapulco, Ocotlan and others.
The Mayan god Camazotz, Lord of Bats and Darkness.
Desert Survival rules and more. Yes, more!
Cover by Michael C. Hayes.
Art by Amy L. Ashbaugh, Nick Bradshaw, Kent Burles, Mark Dudley, Kevin Long, Allen and Brian Manning, Mike Mumah and Chuck Walton.
Written by Kevin Siembieda, Matthew Clements, Christopher Kluge and Braden Campbell.
176 pages – $20.95 – Cat. No. 884. Available now. Place your order.
Check out the free Sneak Preview on DriveThruRPG.com!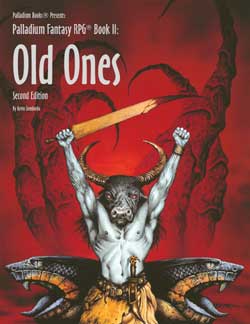 BACK IN PRINT: Palladium Fantasy® Book Two: Old Ones
This is a massive adventure book, with maps and descriptions of more than 50 locations in the Timiro Kingdom. As if that were not enough to make this the ultimate adventure book, there is also information about the Old Ones and a few O.C.C.s.
50+ cities, towns, and forts described and mapped. Each suitable as a place for adventure.
7 fully fleshed out adventures and scores of adventure ideas.
Includes the fabled "Place of Magic," an ancient Dwarven Ruin reputed to date back to the Elf-Dwarf War.
Minotaur R.C.C., Illusionist P.C.C. and Monk/Scholar O.C.C.
Background and rumors about the Old Ones and adventure galore.
Travel notes, world information about Timiro and more.
Written by Kevin Siembieda.
$24.95 – 224 pages. Cat. No. 453. Available now.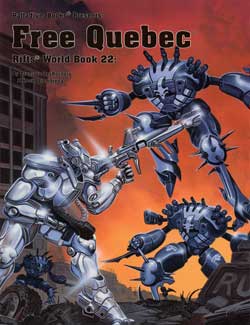 BACK IN PRINT: Rifts® World Book 22: Free Quebec
This World Book contains a wealth of information about Free Quebec, Glitter Boys and notable people and places.
Overview of Free Quebec and its military.
6 Quebec Military O.C.C.s including variant Glitter Boy Pilots.
6 types of Glitter Boys plus the Glitter Boy Sidekick.
Pale Death SAMAS and other Quebec power armor.
Free Quebec's Navy, Cyborgs and technology.
Notable places, including Old Bones and various combat groups.
Many adventure ideas and more.
Written by Kevin Siembieda and Francois DesRochers.
192 pages – $24.95 retail – Cat. No. 837. Ships May 1.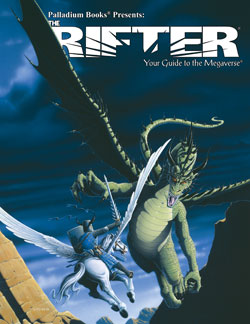 The Rifter® #62 – Ships May 14, 2013
Sorry for the rare delay of this product, but this issue of The Rifter® is truly going to be spectacular with as many as 48 pages of "official" source material for Rifts® (20 pages of "official" Rifts® Vampires source material, new Necromancy spells, a Northern Gun mech, and the missing Rifts® Black Market and Vampire Kingdoms experience tables!), detailed castle floor plans and descriptions that can be dropped into any Palladium Fantasy® campaign anywhere you need one, some epic Heroes Unlimited source material I may expand into a complete sourcebook in the future, plus news and information.
Since 2013 is the Palladium Fantasy® RPG's 30 Year Anniversary, we are trying to include something special for the Fantasy RPG line in every issue. This issue has that detailed castle and many maps/floor plans, and the cover reprints the popular Kevin Long Palladium Fantasy RPG® cover from the 1980s. In fact, EVERY cover of The Rifter® in 2013 will be a fantasy illustration. Last issue was Amy L. Ashbaugh, this issue a classic Kevin Long, next issue's cover will be by John Zeleznik and the October issue will be by Chuck Walton (we want to keep Charles working away on Northern Gun). Note: Writers & Game Masters, if you have some awesome Fantasy material (large or small) you've been thinking about sending in for The Rifter®, this is the time to do so. Thanks!
And The Rifter® is a bargain. Since this publication is a special product, it only costs $11.95 for a 96 page book. That's less than what we charge for a 64 page sourcebook!
Each and every issue of The Rifter® is an idea factory that helps players and Game Masters to generate new ideas and keep their games fresh. It provides useful, ready to go, source material gamers can just drop into their ongoing games. A doorway to new possibilities and numerous Palladium role-playing worlds. It offers new monsters, villains, characters, O.C.C.s, powers, magic, weapons, adventure and ideas for your games. It presents new villains, monsters and dangers to battle, and new ideas to consider. Every issue has material for Rifts® and at least two or three other Palladium game lines.
The Rifter® Number 62 includes:
Rifts® – OFFICIAL Rifts® Vampires Sourcebook Bonus Material by Matthew Clements and Kevin Siembieda. Awesome, fun stuff we cut from the sourcebook due to page count considerations. Heck, we had already increased the Rifts® Vampires Sourcebook from 96 pages to 128, and then to 160. The book finally topped out at 176 pages and we still had source material and ideas that Kevin Siembieda finished up for inclusion in this issue of The Rifter®.
- More about the secret vampire special forces organization, Deathspike.
- More Deathspike O.C.C.s including Werewolf Agents.
- Two notable Deathspike leaders.
- The vampires' Top Ten Enemies List.
- Vampire Harvesters and their "Meat Wagons."
- Some additional vampire fighting gear.
- 11 Hook, Line and Sinker Adventures.
Rifts® – OFFICIAL Black Market and Vampire Kingdoms O.C.C. Experience Tables by Kevin Siembieda. Please note that the Experience Tables will also be made available online for free in the next week or so. Please make sure people who purchased Rifts® Black Market and Vampire Kingdoms, Revised know about that.
Rifts® – OFFICIAL Necromancy and Bone Magic spells by Jeff Duncan. What else is there to say than more magic and darkness for your Necromancers (and the African Witch)?
Rifts® Northern Gun™ Sneak Preview of the Gunbot Robot-Hunter by Matthew Clements and Kevin Siembieda. Text and art to give you another taste of what's coming in NG-1. Also see the more expansive, FREE Rifts® Northern Gun™ Advance Preview that has been available on DriveThruRPG.com.
Palladium Fantasy® source material by Michael Long. A very detailed presentation of a castle with dozens of maps and floor plans, plus a general description.
Heroes Unlimited – World Association of Super-Humans by Thomas Morrison. A peacekeeping organization with international credentials that works with law enforcement agencies and governments around the world.
All Settings – An in-depth look at the Climbing skill and its many uses, by Michael Strom.
News, coming attractions, product descriptions and more.
96 pages – Still only $11.95 retail – Cat. No. 162. Ships May, 2013.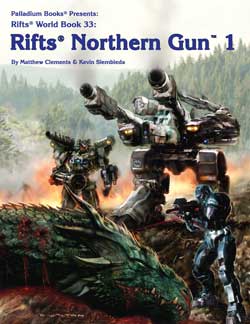 Rifts® World Book 33: Northern Gun™ One
Northern Gun™ is the largest independent manufacturer of high-tech weapons, robots and vehicles in North America. Outside of the Coalition States, one could argue, no other kingdom is as powerful or influential, at least when it comes to technology and weapons. The manufacture and sale of Northern Gun weapons and vehicles has given virtually every kingdom, town, colony of settlers and adventurer group a chance to survive and prosper. Located in Michigan's Upper Peninsula, NG has been the premier outfitter of mercenaries, adventurers and upstart kingdoms for generations. Now, for the first time ever, learn Northern Gun's history, goals and plans for the future. Of course, that means new weapons, robots, power armor, vehicles and gear.
In-depth look at Northern Gun and its business operations.
Ishpeming, the face and people of Northern Gun.
Northern Gun weapons and combat gear; new and old.
Northern Gun robot drones; new and old.
Northern Gun giant combat robots; new and old.
Northern Gun freighters and hover trains.
Northern Gun O.C.C.s and enforcers.
The NG Mercenary army and police.
The NG Bounty Board, the largest collection of bounties and mercenary contracts anywhere on Rifts® Earth.
Key locations, people and sales outlets in and around Northern Gun.
Northern Gun's relationship with the Coalition States, Triax Industries, the Black Market and others.
Written by Matthew Clements and Kevin Siembieda.
Interior Artwork by Chuck Walton, Nick Bradshaw, and others.
Wraparound cover by Chuck Walton.
160 pages – $20.95 retail – Cat. No. 887 – May release.
Check out the free Advance Preview on DriveThruRPG.com!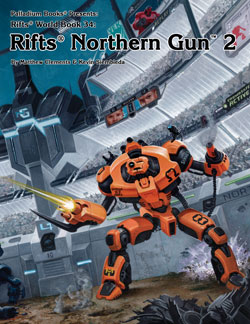 Rifts® World Book 34: Northern Gun™ Two
More information about the weapons, vehicles and practices of Northern Gun, including the new rage of robot gladiatorial combat.
Northern Gun body armor; new and old.
Bionic and cybernetic services.
Northern Gun power armors; new and old.
Northern Gun hovercycles & land vehicles; new and old.
Northern Gun aircraft; new and old.
Northern Gun boats, ships and submarines; new and old.
Northern Gun Robot Gladiatorial Arena; new!
Robot Gladiator O.C.C. and robot gladiators.
Pirates and more.
Written by Matthew Clements and Kevin Siembieda.
Interior Artwork by Chuck Walton, Nick Bradshaw, and others.
Wraparound cover by John Zeleznik.
160 pages – $20.95 retail – Cat. No. 888 – June release.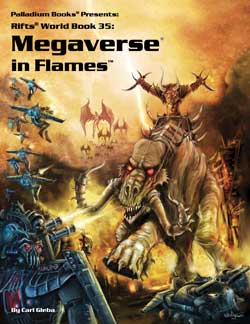 Rifts® World Book 35: Megaverse® in Flames™
The Minion War spills across Rifts Earth, where demons and infernals hope to recruit allies and use the Rifts as gateways of destruction. Their influence shakes things up across the planet, especially at locations where demons and Deevils already have a strong presence. Demons, Deevils and supernatural beings run rampant and wreak havoc across the world.
Demon plagues and mystic blights.
Soulmancy and Blood Magic revealed.
Magical and demonic weapons and war machines.
Demonic armies, strongholds and places of evil.
Hell Pits and Rune Forges.
Many Demon Lords, their minions and plans.
Calgary, the Kingdom of Monsters; in detail.
Ciudad de Diablo, Harpies' Island and other notable Hell holes on Earth.
Lord Doom, Pain and other demonic leaders.
Horune treachery, Dimension Stormers and other villains.
Notable demonic generals, mercenaries, people and places.
Battleground: Earth – as demons and infernals amass their legions.
Global chaos and the places most dramatically affected by the Demon Plagues.
Epic battles and adventure ideas galore.
Written by Carl Gleba. Part of the Minion War "Crossover" series.
192 pages – $24.95 retail – Cat. No. 876. Early 2013 release.
Robotech® RPG Tactics™
Robotech® RPG Tactics™ is a fast-paced, strategy battle game that expands on the popular Palladium role-playing system to enter new realms of adventure.
Mecha vs Mecha. Take command of the fighting forces of the United Earth Defense Force (UEDF) valiantly defending Earth from alien annihilation. Or lead the massive clone armies of the Zentraedi Armada to recover an alien artifact of immense power and enslave humankind.
A video demonstration of game play is available on the Kickstarter page.
Images of the gorgeous sculpts are on the Kickstarter page and in the Update file of the Kickstarter.
Full color, 90+ page, softcover rule book; wraparound cover and lots of new, color artwork.
24 Battle Dice; 12 UEDF and 12 Zentraedi.
40 color game cards (unit cards, etc.).
4x VF-1A Valkyries (in Fighter, Guardian, and Battloid modes).
1x VF-1J "Officer" in all three modes.
4x Destroids (includes parts to make them Tomahawks, Defenders, or two of each).
12x Regult Zentraedi Battlepods.
1x Quel-Regult Recon Battlepod.
1x Glaug Officer's Battlepod.

1/285th scale, high quality, multi-pose plastic game pieces (40mm to 70mm tall). World-class sculpts from sculptors around the world.
Game rules use D6.
Turn-based system of play.
Scalable from small squad skirmishes to mass battles. Can accommodate two to several players.
Combat is fast and designed to emulate the anime action.
Measuring tape required to determine targets and distance.
Tournament play support is planned. Ninja Division will help Palladium to develop and launch the program.
Barring any unexpected delays, the Robotech® RPG Tactics™ box game and initial expansion sets should go to manufacturing quickly after the Kickstarter. An exact street date is unknown at this time and we'd rather not speculate, but definitely 2013.
Retail price for the box set is not yet determined, but we want to hold it at the $80-$90 range. Expansion kits will fall into the range common for this type of item.
Several expansion kits will be released at the same time as the box set. More will follow. Exactly how many, and how fast, will depend on the level of success we see with the Kickstarter.
There will be more reveals as the Kickstarter continues.
The Kickstarter will be updated on a regular basis. Ninja Division is managing the Kickstarter.
Palladium plans to release the mecha and settings for ALL eras of Robotech®. Many other details are still in development. Some will depend on the success of the Kickstarter.
Robotech® RPG Tactics™ is designed in partnership with Ninja Division. Ninja Division brings together the design talents of Soda Pop Miniatures and Cipher Studios, makers of Super Dungeon™ Explore, Relic Knights™, Helldorado™ and Anima Tactics™, to bring you the best quality game pieces, design and rules for Robotech® RPG Tactics™ and all of your Robotech® adventures. Rules by David Freeman, Carmen Bellaire, Alessio Cavatore and others.
PDF downloads from DriveThruRPG.com
This is a great resource for getting out of print Palladium titles and other select books. We've made 90 titles available as PDF digital downloads from DriveThruRPG.com. This is a great way to try Palladium products and get access to out of print RPG source material. Some notable titles include: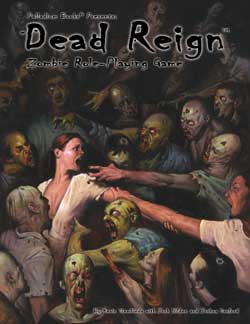 Dead Reign™ RPG – Back in print, and hot, hot, hot
Can you survive the zombie apocalypse?
Yes, you may think so. But there is only one way to find out for sure: Play the Dead Reign™ RPG. The core rule book is all you need to start playing. Rules are easy. Character creation is fast and fun. Combat, quick and deadly. Survival? Harder than you might think. Good luck.
Dead Reign™ RPG is the aftermath of the zombie apocalypse. Civilization is gone, the dead reign, and the living fight to survive against impossible odds. Battle zombies, mad men and death cultists in a post-apocalyptic world where the last of humanity struggles to survive. Think you know zombies? Think again.
Easy to learn, easy to play, and fast paced.
Clean, simple rules and quick character generation, and a depth of information and setting.
7 different types of zombies.
Zombie combat and survival tips.
6 Apocalyptic Character Classes & Ordinary People. 40+ occupations to choose from.
101 Random Scenarios, Encounters and Settings.
100 Random Corpse Searches and other tables.
Weapons, vehicles, and places of note.
Death Cults, their Priests, power over zombies and goals.
Quick Roll Character Creation tables (10 minutes).
A complete role-playing game.
Written by Kevin Siembieda, Josh Hilden and Joshua Sanford.
$22.95 retail – 224 pages – Cat. No. 230. Available now.
Dead Reign™ Sourcebooks
Civilization Gone™: Dead Reign™ Sourcebook One. There is no army, no government, no help coming. You are on your own and things are only getting worse. Villains include madmen and pychopaths, bandits and raiders. Many random tables for encounters, houses, and survivor camp creation, and more. $12.95 – 64 pages. Cat. No. 231.
Dark Places™: Dead Reign™ Sourcebook Two. Using railroad tracks and subways, sewer tunnels, steam tunnels and other dark places to travel undetected by zombies. Many tables for random encounters, boxcar contents, zombies and more. Survival tips, new zombies like the Bug Boy, Sewer Crawler and Impersonator. $12.95 – 64 pages. Cat. No. 232.
Endless Dead™: Dead Reign™ Sourcebook Three. Zombie hordes grow in number and strangeness. Where is the military? What's next for the living survivors? Many new types of zombies, new O.C.C.s like the Wheelman and Zombie Hunter, the military and random tables for military bases, police and other places. Plus weaponizing vehicles, vehicle combat, Survivor caravans, and more. $16.95 – 96 pages. Cat. No. 233.
Upcoming Appearances
Anime North – May 24-26, 2013 – Toronto, Canada – www.animenorth.com
Kevin Siembieda is one of the Guests of Honor, but several Palladium creators will also be at Anime North in Toronto, Canada, to meet and game with you. The event takes place Memorial Day weekend, May 24-26, 2013. Wayne Smith and other Palladium creators will also be present to chat and sign autographs. We are bringing a pile of books, prints and other goodies to sell in the dealers' room. www.animenorth.com
Gen Con® Indy – August 15-18, 2013 – Indianapolis, Indiana
We can hardly wait for Gen Con this year as we hope to have advance copies of Robotech® RPG Tactics™ there. Not to mention a stock of new releases from throughout the year. We may even need to expand the size of our booth. Hope to see many of you there.
Game Masters, submit your events NOW to get into the Gen Con program book! See http://www.gencon.com/host/eo-gm for more details.
Note: There will be no Palladium Open House in 2013 or 2014.
© Copyright 2013 Palladium Books Inc. All rights reserved.
Rifts®, The Rifter®, RECON®, Splicers®, Palladium Books®, The Palladium Fantasy Role-Playing Game®, Phase World®, Nightbane®, Megaverse®, The Mechanoids®, The Mechanoid Invasion®, Coalition Wars® and After the Bomb® are Registered Trademarks of Palladium Books Inc. Beyond the Supernatural™, Chaos Earth, Coalition States, Dead Reign, Heroes Unlimited, Ninjas & Superspies, Minion War, Mysteries of Magic, SAMAS, Thundercloud Galaxy, Three Galaxies, Vampire Kingdoms, and other published book titles, names, slogans and likenesses are trademarks of Palladium Books Inc., and Kevin Siembieda.
Robotech® and Robotech® The Shadow Chronicles® are Registered Trademarks of Harmony Gold USA, Inc.
This press release may be reprinted, reposted, linked and shared for the sole purpose of advertising, promotion and sales solicitation.