Palladium Books® Weekly Update – Dec. 29, 2011
By Kevin Siembieda
Another Holiday weekend is upon us. I'm planning to work at getting Rifts® Lemuria closer to finished, while relaxing a bit.
The New Year always seems to bring about a certain amount of nostalgia for the past and reflection about the future.
I won't lie to you, I do not know what lies ahead for Palladium. Our pool of talented creators – writers and artists – have never been better and we have a million ideas for great new product.
My personal and professional goal remains to get Palladium in a position to release one or two new books every month. I know, I talk like that every year, but this year I really think we have things in place to pull it off. If we do finally succeed in pulling off one or two new releases month after month, we will need YOUR support by purchasing them and spreading the word to encourage others to try our games and supplements. The last two years, we have seen a lot of new gamers join the Palladium family. With your help we can continue to grow that audience and bring Palladium back to its former days of glory. Wouldn't that be nice? I say let's do it!
I was feeling a bit blue earlier this week. I think it was brought on by the disappointment of the post-Christmas drop in sales (frustrating) and missing the people I've lost in recent years, most notably my Dad, Erick Wujcik, and Mrs. Bartold just a few weeks ago. I've also been worrying about my dear, sweet friend, Kathryn Kozora and her battle with cancer, Madman Mike in the aftermath of his bone-breaking car crash, and a few other friends struggling with health or financial issues. Makes me angry to see these good, kind people struggling or suffering. With any luck, 2012 will be a happy, healthy and prosperous year for us all.
I couldn't stay blue for too long, though. Not with the deluge of telephone calls, text messages and emails from a great number of friends and loved ones the last few days. Besides, I'm excited about the new year and brimming with ideas about, well, everything.
On a personal note, I got big news on Christmas Day: I'm going to become a Grandpa in 2012! My daughter Monica is pregnant with her first child. They don't know if it's a boy or girl (they want it to be a surprise, which I think is cool) and both Monica and her husband Steven are overjoyed. When I got the news Christmas morning we were all laughing and squealing like idiots. Wow. Congratulations Monica and Steven! Thanks for waiting and making the good news part of Christmas. :D
My thanks to the many friends and fans for your warm holiday wishes. I trust everyone had a wonderful holiday weekend.
More Murmurs from the Megaverse® and posts on Palladium's Facebook Page. Both have been seeing increased activity as I've gotten back into posting more frequently at both web locations as well as interacting more on Facebook. I will continue to do so into the new year.
Online Video Programs for Palladium Books® are coming in 2012.
It looks like we'll have some new video offerings online soon.
I plan to do some online video chats, interviews and presentations to post online starting next year. You know, short, fun stuff maybe 5-10 minutes long every week or two. Haven't decided what to call it yet. Conversations with Kevin Siembieda or Kevin on Gaming, or . . . heck if I know. I'm open to suggestions. I'll keep you posted on that front.
Carmen Bellaire is also planning on starting his video review show of Palladium products called From the Rifts®. He expects the first several reviews to be posted on YouTube sometime in January, 2012. I know he's done 6-8 videos already, but has to edit them.
2012: Plans for new product. I'll go into our plans for 2012 and start talking about the 2012 Palladium Open House (coming up FAST) in the next Weekly Update.
UPDATE: Online Sales. Though we didn't break a record with last week's sales, we came close to tying one. I was delighted with sales up through Christmas Day, then they plummeted. And I mean dropped like a rock. Yeesh. Talk about soul crushing.
All I can figure is people were out taking advantage of "After Christmas Sales" at retail stores and having too much holiday fun to be ordering Palladium products. Still, the precipitous drop was startling and worrisome. We saw sales rebound Wednesday night, but they were sluggish again last night. If sales follow the trend of previous years we should see sales shoot back up this weekend and through the next couple of weeks. The extension of the Christmas Surprise Package offer (you only have a couple weeks to still get one) should help on that front. I sure hope so as I was rather hoping for strong sales to rocket us into the New Year. I'd love to start the New Year off strong and kick it into high gear as we approach the 2012 Palladium Open House (May 3 VIP Night, 4, 5 & 6).
Palladium's Christmas Surprise Package is the best deal of the holidays and it has been extended for about two weeks. $80-$90 (sometimes more) worth of Palladium Books product for only $38 plus shipping and handling. What are you waiting for?
BIG SALE on Kevin's Online Toy & Collectibles Store. Speaking of sales, just about everything in my online store is selling at a 30% discount! That includes the toys and Palladium collectibles. Plus, I think I'll have Alex and I put a couple dozen new "Palladium" items (books, proofreader copies of books, original artwork, prints, and other rare stuff) into the store in a day or two and maybe more next week. Alex has already added a bunch of new toys. All items are from my personal collection and are generally in very good to mint condition. The store's current sale started yesterday and ends January 9, 2012. Check it out.
http://stores.ebay.com/kevinstoys-artandcollectibles
UPDATE: Rifts® Path of the Storm™ remains the Number One requested specific product for Surprise Packages in the month of December. The Palladium Bookmarks, Set One is the other hot new release, along with Robotech® The New Generation™ Sourcebook. As you might expect, Rifts® is the most requested product line, but we are also seeing a lot of interest in Dead Reign™ (zombies), Heroes Unlimited™, Palladium Fantasy RPG® and Nightbane® as well as Chaos Earth™.
UPDATE: Rifts® Lemuria. Work on the writing and editing has been slow the last several weeks with the holidays and Grab Bags, but it is now my top priority! I worked on it a little yesterday and quite a bit today. Will continue to do so until it goes to the printer. This is a January release and you are going to love it.
UPDATE: The Rifter #57. Most of the artwork has been assigned and the book is being edited right now. It is another great issue with a bunch of monsters and strange animals for Palladium Fantasy® and tech stuff for Rifts® among other things. See the description elsewhere in this Update. January release.
UPDATE: Dead Reign™ Sourcebook 3: Endless Dead™. I finish this frightening addition to the Dead Reign™ RPG series next. The 96 page sourcebook presents zombies like you have never seen them, 7 new types of them, 5 new survivor O.C.C.s including the Wheelman and Zombie Hunter, vehicle armor rules, many encounter tables, adventure tables, what the military is doing and more. A February release.
UPDATE: Rifts® Vampires Sourcebook. I'll be diving into this book right after Endless Dead. Looking at a February release.
UPDATE: Robotech® Genesis Pits. I spoke with Irvin Jackson last week and he's working away on the manuscript with an eye to see this baby out no later than March.
UPDATE: Rifts® Northern Gun™. Matthew Clements has been writing away on the two Northern Gun books and he has more surprises in development. I want both Northern Gun™ books out before the Open House.
UPDATE: Other Titles. Like I mentioned earlier, I'm going to save the info on the rest of our line up for 2012 till next year. ;) But it includes Megaverse® in Flames, Beyond the Supernatural™, Palladium Fantasy™, Chaos Earth™ and other good stuff. I plan to make 2012 a year Palladium fans will never forget!
Happy New Year's. Have fun, relax, buy a Palladium Surprise Package, be safe and have a wonderful New Year's holiday. May the new year be a happy, healthy and prosperous one for us all.
– Kevin Siembieda, Publisher, Writer and Game Designer
Fan Comments from Christmas Grab Bags
During the holiday season, we like to let you see some of the many comments we get with the Christmas Surprise Packages. It's a nice way to acknowledge some of our fans and to share with you the words we hear from gamers throughout the world. We show only the person's initials as some people would rather keep their identity private. Our thanks for your kind words of appreciation and encouragement. We're happy to see so many satisfied customers and the rampant enthusiasm.
Extended till January 15, 2012. A I usually do, I have extended the Christmas Surprise Packages offer so that everyone who wants one has a fair chance at getting one. There will be no other extensions. You are down to your last two weeks or so to get a Surprise Package.
The Surprise Packages are our way of giving back to you, our wonderful fans, and saying thank you. Keep those imaginations burning bright. I'll let fan comments from Surprise Packages take it from here. – Kevin Siembieda
N.K. in Lyndell, Pennsylvania, writes: Thanks for extending the X-Mas Grab Bag deal! Have a Merry Christmas!
J.C.Z.P. in Iquique, Tarapaca, Chili, writes: My English it's not good. Last year I was buy a X-Mas Surprise Package for first time, only I can say is WOW THANKS. Now for second time I will send my Christmas letter to Santa Kevin and hope he can send me a Surprise Pack and make me happy again. :D I live far away in South America and I have only one chance a year to buy your products. I have been saving money all the year to pay expensive shipping cost. I want to give you my congratulations because you do an excellent job. Palladium is my favorite game company. I hope Palladium Family have a Merry Christmas and have a great new year. I hope Mike Leonard get a soon recovery. Thanks to all and I give you a big hug from the distance.
J.W. in Barrie, Canada, writes: As a Canadian fan, the X-Mas Surprise Package is a great opportunity for me to get some recent books and save on shipping costs. It's great that you extended the deadline!
D.S. in Leander, Texas, writes: Just wanted to say Palladium is awesome! I have really enjoyed playing Rifts® over the last decade and watching the world of Rifts® expand and mature. Thanks for the countless hours of fun and the springboard for many a legendary character. Keep up the fantastic job!
S.S. in Clifton Park, New York, writes: Thank you for the memories of good times I have had playing your games.
A.S. in Missoula, Montana, writes: Just got my kids playing my old TMNT books. They are loving it! Thanks for all your hard work over the years!
M.M. in Las Vegas, Nevada, writes: Rifts® is the greatest RPG out there! Keep up the good work!
R.F. in Willow Springs, Missouri, writes: Palladium Fantasy® is by far my favorite role-playing game. Thanks for the hard work.
J.S. in League City, Texas, writes: My compliments on the Heroes of the Megaverse® concept. A fantastic way to say thank you. And as the maker of one of my favorite games, I thank you for persevering.
D.F.C. in Lawrence, Kentucky, writes: I've been a Palladium fan for 20 years now, dating back to my first RPG ever, Robotech®. Thanks for the years of fun!
S.H. in Roy, Utah, writes: I can't believe it's been more than two decades that I have stuck with Palladium, now. From high school to college, through personal good times, tragedy and recovery (well, almost). Other games make good products and fun adventures, but no one else truly tries to make "worlds!" My characters in other games are cool, but my characters in Palladium get "stories." Wonderful times and memories, and even sometimes help to get through tragedies. Best wishes of the season to ya!
J.M.H. in Watertown, Massachusetts, writes: Thank you very much for bolstering my Christmas cheer with these [Surprise] Packages. I always love them!
C.M. in Magna, Utah, writes: Would not mind another signed copy of Path of the Storm™ as it is a great read and I would like to put one up as a collector item.
A.S. in Piscataway, New Jersery, writes: I'm new to all of your products, please do your best to show me what you're all about and surprise me! Also, like I said, the only thing I really want from Pallasanta is Rifts® Ultimate. Thank you.
L.D.N. II in Mary Esther, Florida, writes: Thank you for 10 plus years of great gaming. Through these rough last few years, you make dreams come true month after month. I lost my father to cancer this past May. Your products [have helped me] to get away from it all, and reading about how you have pushed on week after week have helped me do the same.
J.G. in Hurst, Texas, writes: Merry Christmas K & Company! Thanks for yet another year of awesome memories.
Time is running out to order your Christmas Surprise Package – offer ends January 15, 2012
You can continue to order the Palladium Christmas Surprise Packages into the first two weeks of the New Year. But then the deal is gone until next Christmas. Don't wait, order NOW! Please spread the word to other gamers. This is your last chance to get the 2011 Surprise Package.
$80-$90 worth of merchandise (sometimes more) for only $38 plus shipping and handling, is one of the best holiday and post-holiday deals anywhere. And you also get autographs in every book if you want them and the element of surprise with your wish list. Heck, the Palladium Christmas Surprise Package may be the "very best gift" money can buy, period! At least for gamers. Buy one or several as gifts for your friends or for yourself.
We want EVERYONE to have a chance to get and enjoy at least one Surprise Package filled with joy, autographs and hours of gaming pleasure for the long winter.
Remember, Surprise Packages make great gifts for birthdays, anniversaries, housewarmings, graduations, and other gift-giving occasions – especially if they are coming up in January, February and March, heck, even this Spring. Not to mention it is a nice opportunity to fill in your own collection or try new game settings, or get back issues of The Rifter® or original art, art prints and autographs.
Surprise your fellow gamers with one choice book or a big pile of books for that special occasion. Can you imagine the look on your friend or loved one's face when you hand him or her a pile of role-playing products or original art worth $80-90 . . . and with autographs? And you only paid $38 (plus shipping and handling)? Word your wish list right and you may get a Surprise Package that has enough items to give to two or three friends.
The Winter is long. Fill your nights and weekends role-playing with the new books you get in a Surprise Package. For a lot of people this is the only way to get books signed by some of the creators and Palladium staff. What are you waiting for? Time is running out, so order yours today. There's no better way to start the New Year.
Click here to order yours today.
To make sure you get your Surprise Package, PLEASE make sure your Surprise Package Wish List/Special Wants are clear and numerous, include 8-12 currently available books/items, and make certain your address is complete and correct. We MUST have a complete street address including Apartment Number to ship via UPS. UPS cannot ship to a P.O. Box (see Priority). If you give us the wrong or incomplete address and the order gets lost – the loss is yours. Palladium cannot replace the order as a result of your mistake or omission. Remember, we are packing Christmas Surprise Packages full, often with $85-$100+ worth of product, and Palladium cannot afford to send the package out twice due to your mistake. We hope you understand. Likewise, numbered, limited editions and original artwork can NOT be replaced if lost. BE CAREFUL, send your complete, current address – including your apartment number – and use a reliable, trackable and insured method of shipping like UPS.
Note to Customers Outside the U.S.A.: 1. You, the customer, are responsible for any and all duty, taxes or Customs fees. Books have the lowest fees and duty, but they can still be costly (typically around $20-$30). 2. Palladium Books is not responsible for any delays at Customs. We cannot guarantee time of arrival, so give yourself a few extra days. International Priority Mail should arrive within 5-7 business days, but give yourself a little extra time to be safe. 3. Palladium charges you ONLY for ACTUAL postage plus a small handling fee. We are a small company and can not offer the low or no shipping that big companies like Amazon are able to provide. We hope you understand.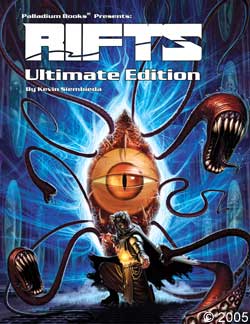 Rifts® Ultimate Edition – Available now
Rifts® Ultimate Edition is a beautiful, 376 page, hardcover role-playing game waiting to be your first step into the amazing Rifts® Earth setting®, for only $39.95 retail. It contains everything you need to start playing except dice, friends and imagination.
Rifts® is the ultimate, multi-genre setting that combines science fiction and fantasy with horror, adventure, and superheroes in a plausible and compelling post-apocalyptic setting unlike anything else on the market. It provides avenues of adventure you've never imagined, challenges the imagination and is fun, fun, fun.
Magic and super-science coexist in a wild post-apocalyptic setting where humans and alien life forms clash, and magic and technology collide. Thus, dragons, demons and monsters walk alongside giant robots, cyborgs and augmented warriors. High-tech warriors and tech-based mutants are pitted against (or working with) mages, creatures of magic, Faerie Folk, powerful psychics and alien beings from beyond the Rifts.
The Rifts are tears in the fabric of space and time that allow "things" from an infinite number of worlds to travel to Rifts Earth. This includes alien people and explorers, to mythical beings like dragons and Faeries, to dinosaurs, demons, ancient gods and unimaginable monstrosities. Those adventurers with the knowledge or the right connections can also travel through the Rifts to other places on Earth in the blink of an eye, as well as to an array of alien worlds and dimensions
Any adventure conceivable is possible in Rifts® where players are limited only by their imaginations.
30+ player characters including the Mind Melter, Juicer, Glitter Boy, Cyber-Knight, Crazies, Burster, Dog Boy, Psi-Stalker, Dragon Hatchling (yes, a player can be a dragon!), and many others.
Magic player characters include the Techno-Wizard, Ley Line Walker, Mystic, Ley Line Rifter, and others.
The self-proclaimed "saviors of humanity" are the soldiers of the Coalition States, but are they heroes or an enemy as dangerous as any monster from the Rifts?
Equipment varies with the player character and ranges from power armor and high-tech to magic items.
Character creation system that builds memorable characters.
Expansive section on psionic abilities.
Expansive section on magic and skills.
Expansive section on the Rifts Earth setting.
Fun, fast combat system, adventure ideas and much more.
Created and written by Kevin Siembieda. Cover by Scott Johnson.
More than 80 supplements to expand your game and introduce new heroes.
376 pages, 24 pages of color, dynamic art throughout – $39.95 retail – Cat. No. 800HC – available now.
Palladium to hold the line on price
I just want to reiterate that we have no intention of raising the cover price on most of our other books. However, we may increase the price of some core rule books, such as the Dead Reign™ RPG, Palladium Fantasy RPG®, Heroes Unlimited™, and others by a couple dollars as they go into new printings. In this tough economy, we want to continue to keep our prices low and the entry level for Palladium's games the most affordable on the market. Spread the word.
The Rifter® #57
Ships January
The Rifter® is your doorway to unlimited imagination and numerous Palladium role-playing worlds. It offers new heroes, powers, weapons, magic and adventure for your games. It presents new villains, monsters and dangers to battle, and new ideas to consider.
This issue is jam-packed with monsters, weird animals, and other wild things to make your games more fun and unpredictable.
Rifts® – new weapons and vehicles.
Beyond the Supernatural™ – monsters and supernatural threats.
Palladium Fantasy® – monsters and dangerous animals.
For all game settings – Genie bottles and dimensional pockets.
Rifts® – The Brodkil War Machinist and more!
News and coming attractions.
Fiction and more.
Cover by Charles Walton II.
96 pages – still only $11.95 retail – Cat. No. 157. January release.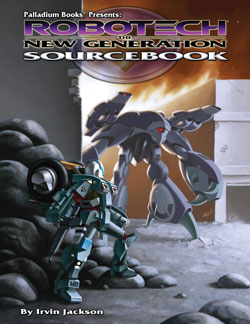 NEW! Robotech® The New Generation™ Sourcebook
Available now! Have you ordered yours?
This sourcebook is epic in scope and opens up an entirely new range of game play by allowing mecha and O.C.C.s from all eras of Robotech® in one setting.
For the first time ever, Veritech Fighters, Destroids, Battloids, Hover Tanks, Cyclones, and something called "Frankenmecha" – giant mecha amalgamations that combine the limbs, weapons and body parts of two or more mecha. There are also rules for creating Frankenmecha, new weapons and vehicles, seven new resistance fighter character classes, Invid Hives, key characters from the TV show, world overview and more. 8½ x 11 book format (not manga size), 96 pages.
The battle for the liberation of Earth starts here. For the first time in its history, the Earth has been invaded and occupied by alien invaders – the Invid. The Invid think they have won, but Freedom Fighters, UEEF soldiers and other heroes continue to fight until they win.
7 new O.C.C.s – including the Freedom Fighter, Patcher, Urchin, Wasteland Rider, Pathfinder, Invid Genetics Experiments, and Invid Cyborg Experiments, plus Invid Prince and Princess.
The resistance and how it operates in the New Generation setting.
New weapons, vehicles and mecha.
A setting where Battloids, Veritechs, power armor, technology and O.C.C.s from ALL eras of Robotech® come together.
"Frankenmecha" – kit-bashed mecha creations that combine the parts, weapons and limbs of two or more different mecha.
Rules for jury-rigging and combining parts from different generations of Robotech® mecha to create "Frankenmecha."
Vehicle Combat Rules, Tactics and Maneuvers.
Vehicle control penalties.
Guidelines for survival and rules for exposure.
Stats for notable New Generation characters like Rand and Rook.
Invid Hives, world overview and adventure ideas galore.
Written by Irvin Jackson. Additional text by Kevin Siembieda.
Cover by Apollo Okamura.
An 8½ x 11 inch sourcebook (

not

manga size).
96 pages – $16.95 retail – Cat. No. 554. Available now.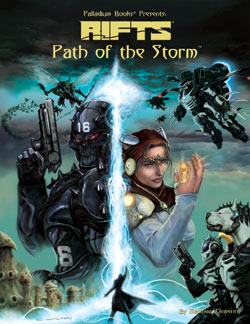 NEW! Rifts® Path of the Storm™
– One writer's vision for the Rifts® movie – Available Now
Everyone wants to know what's going on with the Rifts® movie. Well, this book presents an insight and behind the scenes info on that front by Kevin Siembieda, plus an entire screenplay written on speculation by Matthew Clements as well as game stats and artwork for major characters in the script. Kevin was so impressed with the writer's screenplay that he had Matthew make changes and improvements and sent the second draft to Jerry Bruckheimer Films for their consideration. Meanwhile, Matthew and Kevin hit it off and the next thing he knew he became Palladium's new staff writer.
We thought it would be fun to let Rifts® gamers and Palladium fans see the type of Rifts® movie we at Palladium Books would like to see made. So we are presenting Matthew's screenplay as a proposed Rifts® movie script and Rifts® sourcebook. The screenplay is a fast, fun adventure story that is sure to please Rifts fans. To make it more fun, the author has statted out the key characters in the script and gamers can use the heroes, villains and story ideas in their own campaign should they choose to do so.
This is a unique product and a fun read that should appeal to all Palladium fans. After all, it lets the reader step behind the veil and see what goes on behind the scenes.
A complete movie screenplay, with dialog.
A story that captures the feel and attitude of Rifts®.
Character stats for inclusion in your own games.
Three new demons and other villains.
Use the story and ideas in your own Rifts® campaign.
Some concept art and character illustrations.
A fun read and insight behind the scenes at Palladium.
Cover and interior artwork by Charles Walton.
Written by Matthew Clements. Additional notes by Kevin Siembieda.
96 pages – $12.95 retail – Cat. No. 305. Available now.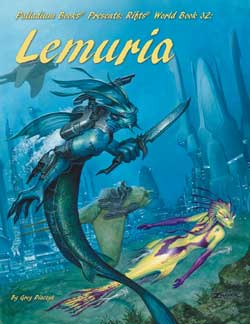 NEW! Rifts® World Book: Lemuria™
Ships January
The power, secrets and magic of the underwater realm of Lemuria revealed. Player characters can use symbiotes, magic and technology to breathe underwater and spend time below the waves.
Lemuria is more than an underwater civilization of aquatic beings. They can trace their lineage as far back as the Atlanteans and can survive on dry land as well as underwater. In fact, their greatest secret is that there is no one resting place for the Lemurians, their great cities are always moving. Learn about the people of Lemuria, new Biomancy magic and weapons, Biomancy engineered riding animals, sea herbs, new powers of healing, sea monsters, and more. Epic adventure awaits.
The Lemurians, their race, history and society.
New O.C.C.s including the Serpent Hunter, Shriekers, Oceanic Guardsman, Biomancer Gene-Mage and others.
The Stone Guardians of Easter Island and other mysteries.
Biomancer Gardens and Aquatic Biomancy.
Living Biomancy armor, weapons and equipment.
Symbiotic creatures and constructs; some that enable air-breathers to survive underwater indefinitely.
Sea Serpents, Sea Dragons, monsters, and riding animals.
New dangers, new challenges, adventure ideas and more.
Written by Greg Diaczyk.
Cover by John Zeleznik.
160 pages – $20.95 retail – Cat. No. 885. Final page count and price may be subject to expansion and increase. January release.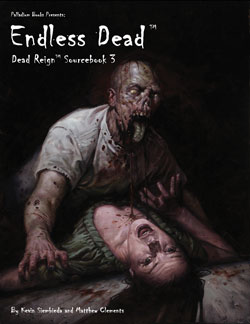 NEW! Dead Reign™ Sourcebook 3: Endless Dead™
Ships January
As time goes on, the zombie hordes only grow in number and strangeness. This book contains horrifying new zombies to haunt your player characters along with new O.C.C.s and tons of tables for detailing Survivors' Hideouts, Safe Haven Communities, Death Cults and more. Survival is not enough. Now is the time for the war against the Endless Dead™. This book is going to be epic. Kevin and all the Palladium creators are pushing the envelope with each and every book they work on.
New types of zombies like the Fused Zombie, Multi-Zombie, Parasite Juggernaut and Walking Mass Grave.
New O.C.C.s including the Survivalist, Watcher, Wheelman, Zombie Hunter and Zombie Researcher.
More information on vehicles and tables for adding custom armor, weapons and anti-zombie defenses.
Rules for vehicle combat and zombie-fighting in vehicles.
Generation tables and random encounter tables for military bases, police stations, gun stores, buildings, suburbs, industrial parks, small towns, farmland and wilderness.
Tables for creating Survivor caravans, hideouts, hermits, Safe Haven Communities and Death Cults.
Timetable for setting campaigns during the Wave, the beginning of the Zombie Apocalypse or months into the reign of the dead.
Stats for some of North America's dangerous wildlife, a threat to survivors and zombies alike.
Written by Kevin Siembieda and Matthew Clements.
Cover by E.M. Gist. Interior art by Mumah, Bradshaw and others.
96 pages $16.95 retail – Cat. No. 233. January release.
Available Now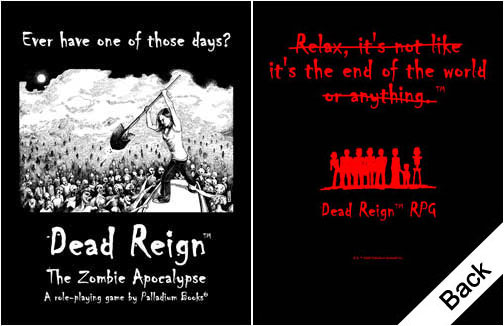 Dead Reign™ T-Shirt
– The Zombie Apocalypse – Available now
The ultimate Zombie Apocalypse T-shirt: The front depicts a woman armed with a shovel standing on the roof of her car as a massive horde of zombies swarm around her. The front of the shirt reads: "Ever have one of those days?" Below the art is the Dead Reign™ logo and the words "The Zombie Apocalypse." Printed white on a black T-shirt. Art by Amy Ashbaugh.
The back of the shirt is red on black and says, "Relax, it's not like it's the end of the world or anything." - but most of that statement has lines crossing it out, leaving only the words "it's the end of the world." Under it is a Nick Bradshaw zombie silhouette and a small version of the Dead Reign™ logo. Funny, poignant, awesome!
Concept & Design by: Wayne Smith and Kevin Siembieda.
Art By: Amy Ashbaugh (front), Nick Bradshaw (back).
Description: See above. Palladium's usual, quality 50/50 blend T-shirt and printing. White on black on the front, red on black on the back.
Catalog Number: 2531
Availability: Available now. All sizes available from Small to 5X Large.
Note: Yes, you can "ask" for this shirt in your Christmas Surprise Package, but if you get one it has the full price listed above. Inclusion in Surprise Packages will be very limited, so do not be disappointed if you do not get this shirt in a Grab Bag.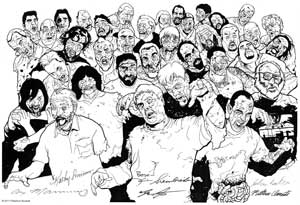 NEW! Endless Dead™ Zombie Print
– Available now
A zombie horde stumbles toward you, but these aren't ordinary zombies, they are the Palladium staff and freelancers! That's right, this horrifying mash of zombies includes Kevin, Wayne, Alex, Kathy, Julius and Matthew, as well as Kevin Long, Ramon Perez, Freddie Williams, Mike Mumah (the artist), Mark Dudley, Chuck Walton, Nick Bradshaw, Carl Gleba, Jason Richards, Brandon Aten, Greg Diaczyk and many, many others (36 monstrous faces total). Available in two sizes, both signed by the Palladium staff.
Black and White Print illustration printed on a nice 80 pound paper stock. Limited print run.
Art by: Michael Mumah.
Signed by the Palladium Staff: Kevin Siembieda, Wayne Smith, Kathy Simmons, Alex Marciniszyn, Julius Rosenstein and Matthew Clements.
Two Sizes and Prices:
Cat. No. PR809-11, $6.00 retail, 11x8½ inches (the size of one of our books turned on its side); signed by the Palladium staff.
Cat. No. PR809-17, $10.00 retail, 17x11 inches (the size of one of our books opened to show both pages); signed by the Palladium staff.
Available now. Order yours today! A few of you have them coming in your Christmas Surprise Package. Ho, ho, ho.
Note: Yes, you can "ask" for the Endless Dead Zombie print in your Christmas Surprise Package, but only people who ask for one will be considered, and you are likely to get the small, 8½ x11 print, not the big, gorgeous 11x17 print. Asking for the print is NOT a guarantee you will get one, as this is a new item available in the Palladium Online Store.
PDF downloads from DriveThruRPG.com
This is a great resource for getting out of print Palladium titles and other select books. We've made 90 titles available as PDF digital downloads from DriveThruRPG.com. This is a great way to try Palladium products and get access to out of print RPG source material. Some notable titles include:
© Copyright 2011 Palladium Books Inc. All rights reserved.
Rifts®, The Rifter®, RECON®, Splicers®, Palladium Books®, The Palladium Fantasy Role-Playing Game®, Phase World®, Nightbane®, Megaverse®, The Mechanoids®, The Mechanoid Invasion®, Coalition Wars® and After the Bomb® are Registered Trademarks of Palladium Books Inc. Beyond the Supernatural™, Chaos Earth, Coalition States, Dead Reign, Heroes Unlimited, Ninjas & Superspies, Minion War, Mysteries of Magic, SAMAS, Thundercloud Galaxy, Three Galaxies, Vampire Kingdoms, Warpath, and other published book titles, names, slogans and likenesses are trademarks of Palladium Books Inc., and Kevin Siembieda.
Robotech® and Robotech® The Shadow Chronicles® are Registered Trademarks of Harmony Gold USA, Inc.
This press release may be reprinted, reposted, linked and shared for the sole purpose of advertising, promotion and sales solicitation.