By Kevin Siembieda
One game system – every genre – countless worlds – endless adventure
We are excited by how much new material has been added to the Rifts® Bestiary Volume One (and Two). Every single creature has some extra tidbits and updates, but many are more expanded and detailed than I had originally imagined I would make them. It has been fun to revisit and expand upon these monsters and animals. These comprehensive rewrites only serve to make two better and more useful books for you. We know you will enjoy and get a lot of use out of these tomes. The Rifter® #82 is also well underway, as are several other titles.
The new PDF release on DriveThruRPG this week is Land of the Damned™ Two: Eternal Torment. Last week was Land of the Damned™ One: Chaos Lands™, the week before that, The Northern Hinterlands, all for the Palladium Fantasy RPG® series. Wayne is also going back and replacing the fast, not-so-great scans of books DriveThru did for us a few years ago, with clean, sharp PDFs.
The new sale in our online store this week is The Rifter®. Most issues of The Rifter® are available this weekend through Tuesday for half price. Only the few issues where there are around a dozen copies or less remaining (#56, #61, #63 and #76) are NOT on sale. Get 'em while you can as many are getting very low, and as you know, many issues are already out of print. Also, original art, negatives and other collectibles are available in my Ebay store – including some select artwork by Charles Walton II (all proceeds go to Chuck): http://stores.ebay.com/kevinstoys-artandcollectibles.
Half-Price Rifter® Sale – 6 days only – Sale ends after midnight, October 2, 2018
Most issues of The Rifter® are half price.
Only issues of which there only around a dozen copies (often less) available are NOT on sale. These are The Rifter® #56, #61, #63 and #76.
Every issue offers optional and/or official source material for Rifts® and 3-4 other Palladium game lines like Palladium Fantasy RPG®, Heroes Unlimited™, Splicers®, Nightbane® and others.
All adventure source material easily adaptable to any setting.
Sold on a first come, first served basis while supplies last. Some issues may sell out.
Sale ends after midnight, Tuesday, October 2, 2018.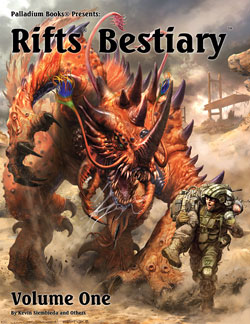 UPDATE: Rifts® Bestiary, Volume One – Ships October
As noted earlier, writing and art are coming along great. Most of the artwork is in, and I am shooting to have the writing finished by the end of next week! As I mentioned in the opening to this Weekly Update, even I am surprised with how much new material is going into this book. I have been having a blast adding defining details and new information as I update each and every one of these creatures. And the new beasts? I'm loving them and so will you.
The two upcoming Rifts® Bestiary books are great resources for players and G.M.s alike, with creatures that can be used as familiars, pets, riding animals, guard animals, and in some cases, even unlikely allies. Others are slobbering monsters or malicious predators who include humans and D-Bees among their prey. All giving you plenty of spice to add to your characters and adventures. And each comes with a map that shows at a glance exactly where to find these beasts. The Rifts® Bestiary Volume One ships end of October. Volume Two end of November.
Monsters and animals of Rifts North America organized in two big, easy to use sourcebooks.
Updated descriptions and information for existing monsters.
Updated and uniform stat blocks.
New predators, exotic riding animals, beasts of burden, alien horrors, giant insects and more.
A map for every creature showing where it is found.
Fully illustrated, much of the art by Charles Walton II, along with Siembieda and many others.
192-224 pages each volume – $26.99 retail – Cat. No. 896 (Volume One) and Cat. No. 897 (Volume Two). In production. Release Date: Soon – i.e., as fast as we can kick these bad boys out!
UPDATE: The Rifter® #80 and #81 are hot
These two issues have been selling like crazy and may be among the best sellers in recent years. Nice, because we put a lot of ideas and hard work into them. They are jam-packed with great characters, adventures and source material for Rifts® Chaos Earth®, Palladium Fantasy RPG®, Heroes Unlimited™, Splicers® and more! And they are part of The Rifter® sale happening right now.
UPDATE: The Rifter® #82 – October release
The Rifter® #82 is another great issue with gaming advice, adventure source material, magic and mayhem for various settings including Rifts®, Chaos Earth®, and Nightbane®, plus a touching and informative tribute to Erick Wujcik in memorial, and more!
UPDATE: Garden of the Gods™, a Palladium Fantasy® Sourcebook
Matthew Clements is giving his considerable contribution to Garden of the Gods one last review and final tweak before he turns it in next week. Matthew has started work on another Fantasy sourcebook even as you read this, and has already turned in one, still secret, Rifts® sourcebook that should get people very excited.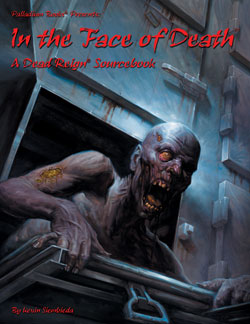 UPDATE: Dead Reign®: In the Face of Death™ Sourcebook
This book remains actively buzzing around inside my head wanting to get out. It is still planned for a fall release. There is a lot of creative energy flying around the office right now. Looking to use it to produce a lot of books.
UPDATE: Rifts® Chaos Earth® – Psychic Scream™ Sourcebook
I approved the tightened and tweaked sketch for the cover to Psychic Scream™ this week and artist Anthony Moravian has been given the green light to start painting. I can't wait to do the final edits and additional writing for this book.
UPDATE: Rifts® Antarctica
I approved the cover sketch so artist John Zeleznik will be moving on to final pencils and painting. Meanwhile, author Matthew Clements is making changes and improvements to the manuscript to ensure that Rifts® Antarctica is a truly compelling and exotic land you'll want to explore.
UPDATE: The Rifter® #83 and #84
We are already thinking about and reviewing material for these two issues. The Rifter® #83 should have a Heroes Unlimited™ theme cover by Anthony Moravian, and The Rifter® #84 will have a Rifts® cover by John Zeleznik.
New on DriveThruRPG.com – Land of the Damned™ Two: Eternal Torment™ – a Palladium Fantasy RPG® sourcebook
New: Land of the Damned™ Two: Eternal Torment™ Fantasy sourcebook, 15 different undead, 15 Beasts of Chaos, curses, key places and people, 100+ adventure ideas, and more!
Recent PDF additions include Land of the Damned™ One: Chaos Lands™ (Fantasy), 20 monsters, 14 demons, 11 dying races, Random Monster Generator, the Great Rift, cold weather rules, key places, and more than 200 adventure hooks; The Northern Hinterlands™ (Fantasy) which includes new cold and snow spells, 15 magic artifacts, Wizard Stones, 18 monsters, the Shadow Coast, and more. Eastern Territory™ (Fantasy): key people, places and dangers, new races, creatures and the Disputed Lands between Wolfen and humans. Mount Nimro™ (Fantasy), Kingdom of Giants, Blade Priest, Life Force Wizard, Were-Shaman, Conjurer, Gigante Warlord, Gromek-Giant War, notable people, places and more; Baalgor Wastelands™ (Fantasy): Key people and places, 17 monstrous beings, survival in harsh environments, and more. The Western Empire™ (Fantasy), key people and places, Western society, city generation rules, The Slayer of Mountains, vampires, 20 new herbs/poisons, and adventure. Beyond the Supernatural™ RPG, 2nd Edition: A complete game, 14 character classes, 42 "ordinary people" occupations, 100+ psychic abilities, 16 monsters, the Lazlo Agency, world setting and rules. Nightbane® RPG, the core rules for this modern horror setting with elements of the monstrous, demonic and tormented superheroes (the Nightbane). Nightbane® Survival Guide: Everything to know about the Nightbane, their Morphus, Talents, magic, skills, contacts, new dangers, history, a complete adventure and more. Nightbane® Between the Shadows™ Sourcebook, the Dreamstream™, the Astral Plane, the sinister Spook Squad, world info, and more. Nightlands™ Nightbane® Sourcebook, secrets of the Nightlords™, the Nightlands, 41 wicked NPC villains, 12 monsters, 12 demons, and more. Nightbane®: Through the Glass Darkly™ presents Fleshsculptor magic, the Mirrormage, Cybermage, the Shadowleague, dangerous brotherhoods, magic artifacts, 50 spells, 3 full adventures, adventure ideas; The Rifter® #77, and FREE Sneak Previews for The Rifter® #80 AND The Rifter® #81, and more.