By Kevin Siembieda
One game system – every genre – countless worlds – endless adventure
The 2017 Surprise Package season ended with a deluge of orders coming in the last weekend. It made for a very busy Monday and Tuesday. I'm glad to say the Surprise Packages delighted many gamers around the world. Our thanks to everyone who participated in both the traditional and Digital Christmas Surprise Package offers. We've also been busy in the warehouse shipping out The Rifter® #79 and other orders.
Now that the holiday season is over we can turn our full attention to product releases and a number of pressing business matters. We are hoping 2018 is going to be the start of many exciting new adventures for Palladium Books and its customers. In the short term, we are looking to get new products into your hands, but we are working in a number of areas that could carry Palladium into new mediums and grow the company. We hope to be able to tell you about some of these very soon. Here's what is happening now.
Last weekend to get the first ever Palladium New Year/New Game Bundle on DriveThruRPG
The good people at DriveThruRPG reached out to us asking if we'd like to participate in their New Year/New Game promotion, to which we replied "Yes!"
The New Year/New Game promotion is an annual event that DriveThruRPG hosts. Game companies assemble a small bundle of PDFs with the goal in mind of giving a gamer everything he or she needs to jump right into the game. For our contribution this year we have the NYNG Rifts® Bundle, which includes the following four PDFs:
Rifts® Ultimate Edition RPG
Rifts® Sourcebook One, Revised & Expanded™
Rifts® Primer – How to Play Rifts® and Create Adventures
Rifts® Game Master Kit
And you can get ALL of these PDFs (normally a cost of $38.47) for just $19.99 — perfect for anyone who wants to get into the epic Rifts® RPG! Makes a great gift too.
http://drivethrurpg.com/product/231028/NYNG-RiftsR-BUNDLE
Already have one, two or three of these PDFs? Not to worry – DriveThruRPG has a feature called Complete Your Bundle. Their system will automatically detect what you already have and only charge you for what you do not have, so you can still get the other items in the bundle for the reduced rate!
The New Year/New Game promotion has been going on for a week or so and ends Monday, January 22, at 10:00 A.M. Eastern, so don't delay. Get in on this great offer over the weekend!
UPDATE: The Rifter® #79 – Available now
The Rifter® #79 includes some new and alternative methods, rules and approaches to Game Mastering and making adventures. Role-playing games are flexible expressions of your imagination and all about bringing ideas to life. This issue provides optional, alternative rules for putting modern characters in different time periods throughout history (can you picture that BTS psychic, Nightbane or superhero on a Victorian pirate ship or fighting for the Roman Empire?), plus more alternative RPG ideas by Julius Rosenstein, a closer look at the Heroes Unlimited™ Stage Magician, and the Kingdom of New Oslo, a nice companion to the soon to be released Rifts® Sovietski, and more.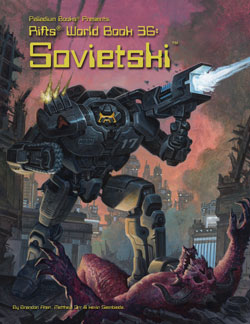 New! World Book 36: Rifts® Sovietski™ – ships February
I was sure Wayne and I would be typesetting and laying out Rifts® Sovietski™ by now, but we hit a snag that slowed down production. Fear not, the additions and changes only make the Sovietski book that much more fun, dynamic, and 32 pages larger! We are now looking at a 224 page World Book for the same advertised price of $24.95 retail.
I'm loving this book with all the new background information, new cyborgs, the Spetsnaz options, D-Bees, new combat vehicles, bionics, weapons and gear. There are a lot of very cool and fun characters to play and adventures to be had. I also feel that Rifts® Sovietski™ helps to pull together the previous two Russia World Books, Warlords of Russia and Mystic Russia, plus Mindwerks (Poland and a slew of D-Bees, monsters and adventure hooks) and the two Rifts® Triax books, into an expansive and cohesive area of Rifts Earth that brings that part of the world to life.
UPDATE: Rifts® Bestiary™: North America, Vol. One and Two
This book is coming together nicely too. It gathers and formats the existing beasts from the current World Books and Sourcebooks (and some new beasts to spice up your games) into two big reference books. As soon as Rifts Sovietski goes to the printer (next week?), I dive into the final edits for both volumes, finish work on the new creatures, and send them off to the printer.
These are just the first two of what we hope to be a series of sourcebooks that collect all the notable monsters, dinosaurs and creepy crawlers of Rifts® Earth. The focus of the Rifts® Bestiary™: North America, Volume One and Volume Two being creatures of North America (US, Canada and Mexico). Presented in alphabetical order, with maps showing their range and location, in two big books. On track for winter releases.
Now available – Additional VIP Night tickets – Palladium Open House
VIP night at the Open House gets you an extra evening of gaming, first crack at special items, new releases, original art, early access to our many guests, and a delicious meal. This is always a fun, intimate night of gaming and hanging with the Palladium crew.
VIP Night always sells out before the event (limited to 120 VIPs) so we encourage you to reserve your ticket as soon as possible. It is because VIP Night always sells out that we deliberately hold back 40 or so tickets till now, so everyone has a fair shot at being able to get them.
Reserve your hotel room for the POH before they are sold out
Rooms at the Red Roof are getting close to sold out! Especially rooms with two full beds ($49.95 plus tax per night). When they are gone, your choice is a room with just one king bed ($49.95 plus tax per night) – or – our other, more upscale hotel, the Hampton Inn and Suites at more than twice the price ($119 plus tax per night). Both are 3 miles or less from the Palladium warehouse, less than 10 minutes away.
Note: The hotel reservation deadline is March 15, 2018, but the rooms are likely to sell out BEFORE that deadline, because we may have record attendance. Please reserve your rooms at one hotel or the other sooner rather than later. You have been given fair warning.