By Kevin Siembieda
It's the New Year and Palladium has hit the ground running with reprints, a special Heroes Unlimited™ 30th Anniversary Hardcover Edition and plans for a wide range of new sourcebooks. Not to mention the hotly anticipated Robotech® RPG Tactics™. Many of these are already works-in-progress.
In short, 2014 is going to be an exciting year for all of us, starting right now. There is much to talk about, including the fact that the 2013 Surprise Package offer ENDS THIS WEEKEND, so we are presenting the Weekly Update as early as we can to give people more time to see it, read it, digest everything and spread the word.
The emphasis of 2014 will be on product releases, fun and excitement all year long. In fact, if all goes well, we should have a number of surprise releases and hopefully exceed expectations. Read on and enjoy.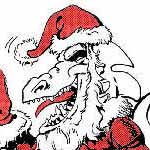 LAST WEEKEND to get a Christmas Surprise Package – Offer Ends Midnight, January 12, 2014
This is your very LAST CHANCE to get the bargain of the holidays! Order now or you'll have to wait till next Christmas. This offer will not be extended.