By Kevin Siembieda
Gonna keep this Update short as you are keeping us crazy busy with pulling, packing and shipping out Christmas Surprise Package orders! It seems half of you have waited to order closer to Christmas and the rest of you loved your first Grab Bag so much, you have decided to order another one or two. That's fantastic! Keep 'em coming. We are on top of shipping everything out – regular orders as well as Christmas Surprise Packages – as fast as they come in. We want to ensure they arrive in time for Christmas! Even if it keeps us working into the night! Me, Julius, Alex and the entire Palladium crew are dedicated to make your holidays fun and exciting. We are having a blast with these and happy to be wowing so many people with this holiday special.
December is always the busiest time of year for us. All of us worked through the weekend pulling orders, writing, editing, working on art, etc. Plus, I have had a couple of business meetings and we are plotting 2017 releases. The cool thing is, everyone seems energized and excited for the holidays and next year. Enjoy the Surprise Package, game on and have a wonderful holiday season.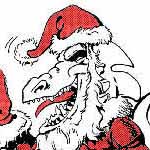 UPDATE: Christmas Surprise Packages – ONLY 9 days till Christmas
We are packing and shipping to make sure you get your Christmas Surprise Package in time for Christmas. Keep those orders coming. This is the perfect gift for any gamer – or yourself – only 9 days till Christmas!
What is a Palladium Christmas Surprise Package? $90-$95 worth of Palladium RPG books (often $100 or more!) for only $45 plus shipping and handling.
And if you want the books signed, I, Kevin Siembieda, and available Palladium staff and freelancers are happy to sign EACH and every one of them. It is all our way of saying thank you to all of you for your support and kindness. Our goal is to put smiles on the faces of gamers around the world.
The perfect gamer gift for the holidays as well as upcoming birthdays, anniversaries, or filling in holes in your collection and trying new game settings. Have you been eyeballing Rifts® or Robotech®, or Dead Reign®, Palladium Fantasy®, Heroes Unlimited™, Splicers®, Nightbane®, Beyond the Supernatural™, After the Bomb®, or one of the other world settings? Well, this is the time to give it a try.
Surprise Packages make great holiday gifts for the gamers in your life – Whether you celebrate Christmas, Hanukkah, Kwanzaa, or the Winter Solstice, or you're looking for a gift for a birthday, anniversary, Valentine's Day, or any special occasion that falls between now and February, a Surprise Package is the ideal way to go for gamers. You get a ton of stuff on the cheap, you can get a bunch of autographs, and you look like you spent a fortune.
Fill holes in your own collection.
Try new game settings and receive cool stuff.
Get autographs from the Palladium crew and available freelancers.
Be surprised when the package arrives.
All items selected and comments read by Santa Kevin, himself. Ho, ho, ho!