One game system – every genre – countless worlds – endless adventure
By Kevin Siembieda
Gen Con was a blast. As you know, we were working like demons all the way up to the day before we left for Gen Con. So maybe it was exhaustion, adrenaline or years of experience – or perhaps all of the above – but Gen Con seemed to go very smoothly and with an omnipresent air of positivity and energy that I don't remember in past years. It just felt good. Every day. We met with old friends and long-time fans, made new acquaintances and friends, signed a zillion books, and chatted with fans from Brazil, France, England and around the world. The majority of this Update will reference Gen Con even when it comes to game product and new releases.
A funny thing happened on the way to Gen Con
We stopped at a McDonald's to grab some lunch. We sat by the windows talking and watching people as they came and went. A particular group of guys stepped out of a car and I said to Wayne and Chuck, "Those guys look like gamers. I wonder if they're heading to Gen Con?"
A few minutes later, a tall gentleman from that group, wearing a Fallout T-shirt, walked over to our table to ask if we were going to Gen Con. I was wearing my Rifts® Promise of Power T-shirt with the big, red and white Rifts® logo, so I imagine it caught his eye. I know Chuck was also wearing a Palladium T-shirt (Rifts® Cyber-Knight Game Master). We said yes, and we all enjoyed a good laugh about it. The man, whose name was Tim, asked me if we worked for Palladium Books. We laughed and said, "yes." Tim then asked if we were booth help or actually worked at the company. I smiled and said, "I am Palladium Books." "You mean like ..." "Yep, I'm Kevin Siembieda, the owner and main game designer," and introduced Chuck and Wayne. Tim was surprised. We shook hands and laughed some more. We wished him a safe trip and fun time at Gen Con, and invited him to stop by the Palladium Books booth.
I'm happy to say, Tim did drop by the booth, bought a few books, and had us sign them. It was a very pleasant and fun way to start our trip, and seemed to set the tone for the entire weekend.
UPDATE: Rifts® Secrets of the Atlanteans™ – Sold out at Gen Con
Rifts® Secrets of the Atlanteans™ was the hot item for Palladium at Gen Con. We brought around 120 copies and they SOLD OUT by Saturday afternoon. Everyone wanted this hotly anticipated book and we could not keep it on the shelf. Some people even bought two copies. On Sunday, with 20 minutes left before Gen Con closed, we found one copy that had fallen and slid under the table. I put it out on the shelf and it sold in under three minutes! Crazy.
It was awesome to see so much excitement about this title. Then again, I am not surprised. As I have said, Rifts® Secrets of the Atlanteans™ is one of those truly epic sourcebooks with ideas on every page and packed with all kinds of useful and fun information about True Atlanteans, Tattoo Magic, Stone Pyramids, Crystal Magic, Shadow Magic, Atlantean clans, the Sunaj, new Atlantean O.C.C.s, old O.C.C.s revisited, the Shadow Dimension and its monstrous inhabitants, and more. And there are many secrets revealed. Please take a look at the free preview on DriveThruRPG.com for more details and a few choice glimpses of what you can expect.
Please Note: Based on furious Gen Con sales and our own online sales, I suspect Rifts® Atlanteans may blow out of game stores just as fast. If you cannot find the book in the stores because they keep selling out, please remember it is available directly from Palladium Books. 224 pages, $24.95 retail.
Oh, and if you don't already own them, we highly recommend you pick up Rifts® World Book One: Atlantis, World Book 21: Splynn Dimensional Market™, and Rifts® Dimension Book 7: Megaverse® Builder (also written by Carl Gleba). All are fun and useful companions to Rifts® Secrets of the Atlanteans™.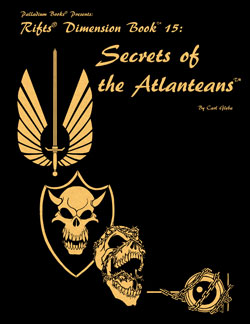 UPDATE: Rifts® Secrets of the Atlanteans™ "Gold Edition" Limited Hardcover – Ships August 31 and may sell out fast
I suspect the signed and numbered, limited Gold Edition Rifts® Secrets of the Atlanteans™ hardcoverM may sell out in a few months. It is limited to only 300 signed and numbered copies, and sold on a first come, first served basis. Remember, Palladium's Gold Editions have a history of increasing in value as time goes by, and with Christmas coming, I think this Gold Edition may be a hot commodity in the months ahead. If you are planning on getting one, I'd suggest getting it sooner rather than later. Only available from Palladium Books.
Important Note: Those of you who have already placed pre-orders have been charged and your number already assigned to you, so do NOT reorder. Multiple orders WILL result in you getting billed for and shipped multiple copies – NO REFUND. If you are worried about your pre-order, please call the Palladium office to inquire. Do not place a new order unless you want more than one copy.
We anticipate Rifts® Secrets of the Atlanteans™ "Gold Edition" hardcover will ship around August 31 or the beginning of September. It takes longer to have a hardcover made.
UPDATE: Nightbane® Dark Designs™ sourcebook – Ships August 31
Try as we might, we could not get Nightbane® Dark Designs™ done in time to have copies of the book available at Gen Con, but it did get finished and sent to the printer before we left. In fact, I approved the cover via digital images sent to my smartphone as we were driving down to Indiana! They looked great and were approved. We expect to receive the printed book by the end of next week, around August 31st, but we're still waiting for confirmation from the printer. I will see if Wayne can get a FREE Sneak Preview for it posted to DriveThru this weekend. See the full description of Dark Designs™ elsewhere in this Update.
Gamers at Gen Con could not wait for this book. The four photocopies we brought (signed by the author, Mark Oberle and Palladium staff, plus a nice color print of the book, suitable for framing), blew off the shelf in the first couple hours of Gen Con Thursday morning. Likewise, the dozen copies of Dark Designs™ Raw Preview Edition (still available in Palladium's online store) also sold out by Friday morning. Most people asked to have them autographed by the author and the available Palladium crew. We also sold several dozen prints of the dynamic Dark Designs cover by Charles Walton and Eduardo Dominguez Sr.
FYI: For those of you who might want the collectible Dark Designs™ Raw Preview Edition (limited to only 150 copies printed), we have around 20 copies left and it is interesting to compare the original manuscript with the finished book and see what was changed or added.
Rifts® Tumblers – Sold Out at Gen Con – Only a few of the other logo tumblers remain in stock
Rifts® was hot at Gen Con. The dozen Rifts® vacuum tumblers we took to Gen Con sold out, but the following are available in Palladium's online store while supplies last. They hold 30 ounces, have sealable lids, do not sweat, and look great. $29.99 each.