By Kevin Siembieda
This week got off to an exciting start for me with the news that my beautiful daughter gave birth to her second child, Jaden, a healthy baby boy. Mother, Father, big sister Chloe (she is four) and baby are all doing fine. So happy.
We have all been keeping our noses to the grindstone. We have already signed and shipped out a bunch of Palladium Christmas Surprise Packages that I think people will enjoy very much. Otherwise, we have all been working away on a number of projects. In fact, I have been so focused on work, I lost track of the days and didn't realize yesterday was Thursday. A lot of great stuff is in the pipeline. As usual, our time is spread out across numerous projects, but much of mine this week has been adding my contributions to Hell Followed™, the largest and perhaps the most diverse Dead Reign® sourcebook yet. Wayne and I are also gearing up for more with Robotech®, Rifts® and Heroes Unlimited.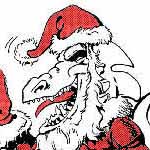 Shipping Palladium Christmas Surprise Packages – available now
Treat yourself to one for Halloween. And get another for Thanksgiving. Then get one for yourself and a few for your gaming friends and loved ones for Christmas or any special occasion. What are you waiting for? We are ready to pull, pack and ship your order.
We have been processing and shipping 2016 Palladium Christmas Surprise Package orders as fast as they come in. I've been packing them pretty solid, so I know people are gonna love 'em and a few may freak out. I love making the holiday season that much more fun and surprising. It is smart to order early in the season, because you can spread out your Christmas gift spending or try a Surprise Package to see if you like it. (You will.)
Palladium's Surprise Package offer is our way of saying thank you and showing our appreciation to all of you. Each Surprise Packages is tailor-made just for you. And if you request autographs we will sign every single one of your books. For many gamers this is the only way to get autographs. And for our fans overseas, this is a way to mitigate the shipping costs plus get autographed books. Sweet. It is our way of saying thank you and showing our appreciation to the greatest fans in the world.
Savage Worlds players: This is your chance to learn much more about the Rifts® setting by purchasing one or more Christmas Surprise Packages to get any number of core titles at discount prices (with autographs if you want them). Titles like the Rifts® Ultimate Edition (core rules), Coalition War Campaign, Coalition Navy, D-Bees of North America, Rifts® Adventure Guide, Rifts® Chi-Town Anthology Book (short stories), and dozens and dozens of other fun titles like Rifts® Psyscape, New West, Spirit West, Australia and many more. Those of you who know how good this offer really is, please pass the word on to the Savage Worlds gamers.
Click here for more details and to place your order.