By Kevin Siembieda
One game system – every genre – countless worlds – endless adventure
This has been another creative week with some business meetings and new prospects tossed in for good measure. I mostly worked on the Rifts® Bestiary and I'm happy to say it is coming along quite nicely. We have been highly motivated to finish books so that is the focus for us all. The new weekly PDF release on DriveThruRPG is Mount Nimro, Kingdom of Giants for the Palladium Fantasy RPG®. There is some wild and fun stuff in this sourcebook, so enjoy.
$7 T-shirt Sale! Starts today for a limited time. The shirts are a steal at $7 and make nice gifts for birthdays, holidays and any reason to give a gift. See details below.
For those of you interested in original artwork and Palladium memorabilia, artwork by Charles Walton II ranging from $50-$200 is available in my ebay store, so is art by Kevin Long and others as well as a selection of one-of-a-kind Rifts® and TMNT® negatives from various RPG titles. More details below or at http://stores.ebay.com/kevinstoys-artandcollectibles the link to the store. Alex and I will be posting new negatives, toys and collectibles from time to time every week.
$7.00 T-shirt sale – 11 days only – August 30-September 9
That's right, $7.00 a T-shirt (plus shipping and handling) and $15 for the CS Embroidered Polo Shirt ($17 for the 4XL and $19.00 for the 5XL). We did a similar sale at the Palladium Open House and people went crazy over it, so Kathy Simmons suggested we offer an even bigger selection to you as a limited time sale. Get Dead Reign® Survive or Die, Wilk's Logo, Northern Gun Logo, Rifts® Vampire Kingdoms, Rifts® Cyber-Knight G.M. T-shirt, POH T-shirts and many others. Enjoy.
Sizes and availability will vary.
Available only while supplies last. Quantities are limited.
Sold on a first come, first served basis.
Limited to select, designated T-shirts, but most are on sale.
Quality shirts. We think all are 100% cotton.
Sale ends Sunday, September 9, 2018.
$7 each T-shirt (plus shipping and handling) except where indicated otherwise. $15-$19 for the Rifts CS Embroidered Polo Shirt.
Four new prints – Available now
These four classic Rifts® covers debuted at Gen Con and are now available in Palladium's online store. Three are offered for the first time ever. The Chaos Earth® cover has never been offered in the smaller, 8½ x 11 inch size. All are in vivid color. $10.00 each and suitable for framing. Sized to fit perfectly in an 8x10 inch matt.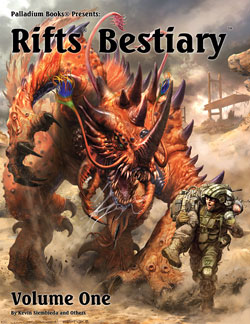 UPDATE: Rifts® Bestiary, Volume One and Volume Two
I'm writing like a demon. Chuck and other artists are drawing away. Volume One is coming along well. It is all good stuff. The Rifts® Bestiary Volume One is tentatively slated for an end of September release. Volume Two end of October or November. In addition to existing creatures collected from various Rifts® World Books and sourcebooks, it has new beasties created by me, Chuck and a few other freelance writers. This includes creatures that are not just predators or monsters but beasts that player characters can use as war mounts, attack animals, familiars, companions and pets.
What are the Rifts® Bestiary™, Volume One and Two?
We are collecting the hundreds of monsters and beasts of Rifts Earth into easy to use reference books, similar to what we did with D-Bees of North America. Only there are so many wondrous and fierce creatures that we cannot squeeze them into one book – plus we are adding a bunch of new creatures to add more fun and menace to your Rifts® campaigns. Some will be a nuisance, others pets and companions, some are suitable M.D.C. riding animals, and some are slobbering monsters.
The first two Rifts® Bestiary™ sourcebooks are being created simultaneously, right now! Between them, these two volumes compile all the beasts of Rifts North America (unintelligent monsters, predators, notable animals and intelligent beings that are monstrous or animal-like in appearance or behavior) from all current World Books and Sourcebooks. In addition to a growing number of brand new critters and monsters by Kevin Siembieda, Chuck Walton, Carl Gleba, Greg Diaczyk and others! All adding new life to the savage wilderness of Rifts Earth (particularly the USA, Canada, and Mexico). Presented in alphabetical order, with maps showing their range and location, in two big books.
Monsters and animals of Rifts North America organized in two big, easy to use sourcebooks. Predators, exotic riding animals, beasts of burden, alien horrors, giant insects and more.
Updated descriptions and information where applicable.
Updated and uniform stat blocks.
A good number of brand new creatures are being added too.
A map for every creature showing where it is found.
Fully illustrated, much of the art by Charles Walton II, along with Siembieda and many others.
192-224 pages each volume – $26.99 retail – Cat. No. 896 (Volume One) and Cat. No. 897 (Volume Two). In production. Release date: Summer – i.e., as fast as we can kick these bad boys out!
UPDATE: The Rifter® #82 – Erick Wujcik remembered
The Rifter #82 is coming along very nicely. Includes source material for Rifts®, Chaos Earth®, Nightbane® and other game settings. Plus a nice, Erick Wujcik remembered section.
UPDATE: Garden of the Gods™, a Palladium Fantasy® Sourcebook
My writing efforts for Garden of the Gods have been joined by Matthew Clements, who is building on some of my preliminary writing and copious notes to help get this book to you sooner rather than later. Good stuff is coming your way.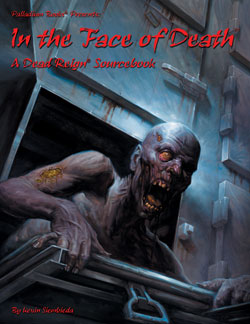 UPDATE: Dead Reign®: In the Face of Death Sourcebook
This book remains actively buzzing around inside my head wanting to get out. It is still planned for a fall release. There is a lot of creative energy flying around the office right now. Looking to use it to produce a lot of books.
New on DriveThruRPG.com – Mount Nimro: Land of Giants – a Palladium Fantasy RPG® sourcebook
New: Mount Nimro (Fantasy) is the fearsome Kingdom of Giants and includes the Blade Priest, Life Force Wizard, Were-Shaman, Conjurer, Gigante Warlord, Gromek-Giant War, notable people, places and more.
Recent PDF additions include Baalgor Wastelands (Fantasy), a 216 page sourcebook with info on the Wastelands, 17 monstrous beings and creatures, notable places mapped and described, survival in harsh environments, and the many monstrous beings and creatures. The Western Empire (Fantasy), with 224 pages of key locations, notable people, Western society, city generation rules, The Slayer of Mountains, vampires, 20 new herbs/poisons, and adventure. Beyond the Supernatural™ RPG, 2nd Edition: The complete, revised core game, 14 character classes and 42 occupations for "ordinary people," 100+ psychic abilities, 16 monsters, the Lazlo Agency, world setting and rules. Nightbane® RPG, the core rules for this modern horror setting with elements of the monstrous, demonic and tormented superheroes (the Nightbane). Nightbane® Survival Guide: Everything to know about the Nightbane, their Morphus, Talents, magic, skills, contacts, new dangers, history, a complete adventure and more. Nightbane® Between the Shadows™ Sourcebook, the Dreamstream™, the Astral Plane, the sinister Spook Squad, world info, and more. Nightlands™ Nightbane® Sourcebook, secrets of the Nightlords™, the Nightlands, 41 wicked NPC villains, 12 monsters, 12 demons, and more. Nightbane®: Through the Glass Darkly™ presents Fleshsculptor magic, the Mirrormage, Cybermage, the Shadowleague, dangerous brotherhoods, magic artifacts, 50 spells, 3 full adventures, adventure ideas; The Rifter® #77, and FREE Sneak Previews for The Rifter® #80 AND The Rifter® #81, and more.