By Kevin Siembieda
The creative energies have been flowing, with work on Matthew Clements' Dead Reign™ Sourcebook: Graveyard Earth™ (it's probably being typeset and laid out as you read this), and plenty of ideas for products to celebrate the Rifts® 25th Anniversary in 2015. A celebration that may begin this holiday season. Ideas for all kinds of other things are also flying around – a few that will blow your mind. In fact, one has been secretly in development for a number of years now.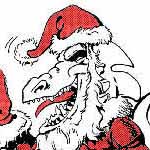 Palladium Christmas Surprise Packages start NOW!
Can you believe it? It's that time again for the Palladium Christmas Surprise Package! Christmas Surprise Packages, or "Grab Bags," are a long-running holiday tradition in which you can get several RPG titles at a substantial discount. It is our way to say thank you to our many fans for being so kind and patient, and for your years of support. You are appreciated more than you may realize.