By Kevin Siembieda
Writing, writing and writing. When we are not working on books and other projects, we are packing and signing books for Palladium Christmas Surprise Packages. After getting his first Surprise Package, one guy already ordered his second, and we are seeing new and familiar names. Nice. Hey, there is no reason to wait for December to order your Christmas Surprise Package – treat to yourself to one for Halloween and another for Thanksgiving, and then another for yourself and loved ones for Christmas, or any special occasion. So what are you waiting for?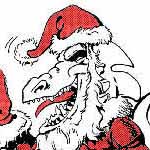 Available now – 2016 Palladium Christmas Surprise Packages
People are enjoying the Christmas Surprise Packages, and we're happy to do them. Part of that tradition includes sharing some of the comments we receive for other gamers to read and enjoy as well. The first batch are later in this Update. Keep 'em coming and thank you for your input and words of support. Happy holidays.
What is a Palladium Christmas Surprise Package?
A bargain and fun for you, it's our way of saying thank you to our loyal fans, delivering a little Christmas cheer, and putting smiles on the faces of some big kids around the world. For you, it is a great way to get presents for your gaming pals, fill holes in your collection, or try new games and settings.
Palladium's Surprise Package is tailor-made just for you. And if you request autographs we will sign every single one of your books. For many gamers, this is the only way to get autographs. And for our fans overseas, this is a way to mitigate the shipping costs plus get autographed books. Sweet. It is our way of saying thank you and showing our appreciation to the greatest fans in the world. See the complete description elsewhere in this Update or click to the description in the online store. Happy Christmas (and Halloween)! Enjoy.
Savage Worlds players: This is your chance to learn much more about the Rifts® setting by purchasing one or more Christmas Surprise Packages to get any number of core titles at discount prices (with autographs if you want them). Titles like the Rifts® Ultimate Edition (core rules), Coalition War Campaign, Coalition Navy, D-Bees of North America, Rifts® Adventure Guide, Rifts® Chi-Town Anthology Book (short stories), and dozens and dozens of other fun titles like Rifts® Psyscape, New West, Spirit West, Australia and many more. Those of you who know how good this offer really is, please pass the word on to the Savage Worlds gamers.
Click here for more details and to place your order.