By Kevin Siembieda
One game system – every genre – countless worlds – endless adventure
A lot of things are going on at the Palladium offices. The most fun is the Palladium Open House which is a mere two and a half months from now. Other things involve getting books finished and into your hands, Robotech®, and a number of business and convention matters. Crazy times. I'm going to jump right into it. Read on.
UPDATE: Palladium Open House
As we get closer and Game Masters are submitting events (please keep them coming), there has been discussion about the kinds of events, games and panel talks we should be hosting. Among them were a couple of things I wanted to mention to get your opinion on.
Kevin the player. One idea was a game where I, Kevin Siembieda, am just a player. I'm usually the Game Master because I love running games. But it was brought up to me that people might enjoy being able to say, hey, I was in a game with Kevin Siembieda. I'm hesitant, because a game is only 6-8 people and typically 4 hours long. That seems like a lot of hours to tie me up for. I could run two and a half Lord DeSilca games in that time. Or a game and a panel talk, so I'm thinking no. What do you think?
A live-streamed "all-stars" game. A role-playing game where I, and some Palladium staff and freelancers like Wayne Smith, Chuck Walton, Carl Gleba, Taylor White, etc. would be players in a game. This sounds more fun and unique to me. What do you think?
Kevin's games. I will run 2-3 Lord DeSilca games because they're fun and people love 'em. Not sure what my other 3-4 games will be. Maybe Dead Reign and Beyond the Supernatural. If BTS I could play test some ideas for the magic system. That might be cool. Any requests for me to consider?
Any POH panel requests? I know you come to game, but folks also enjoy panel discussions. Any topic requests?
The Rifter® 2018 Super-Subscription Offer starts Saturday evening
Free gift(s)
$17 savings off cover price
Free shipping of each issue in the USA
Each fun issue delivered to your doorstep
Each issue a sourcebook for the Palladium Megaverse®
The cover price of The Rifter® is going up a dollar to $14.99 starting with issue #80 (this does not affect current subscribers). Still a great price for 96 pages of RPG source material and adventures. Ah, but the 2018 Super-Subscription Offer gets you The Rifter® delivered to your doorstep for only $10.74 an issue. And select from 7 gift choices for a FREE gift worth $24.95 to $46.80 – available only during this special offer – for the cost of shipping and handling. All prices are in U.S. dollars. Offer ends February 28, 2018.
$42.96 – USA. That's only $10.74 each, a savings of $17.00, and Palladium pays the shipping! Plus you get to select a FREE Gift worth $24.95-$46.80 (please include $7.00 to cover shipping and handling). That's $49.96 total including shipping and handling for the free gift. Note: This rate is limited to subscribers in the USA only. Sorry.
Please click here for subscriptions outside the USA, your 7 gift choices, and all the details. 2018 Super-Subscription Offer starts Saturday evening, February 3.
NEWS: Rifter® sale on DriveThruRPG
To go along with our Rifter® Super-Subscription Sale, we thought it would be nice to put The Rifter® PDFs – issues #1-75 – on sale at a 20% discount on DriveThruRPG.com. The sale begins tomorrow morning, Saturday, February 3, and runs through the month of February.
Over the next several weeks, Wayne will be making the rest of the Nightbane® and Palladium Fantasy RPG® titles available as PDFs on DriveThruRPG. Most Rifts®, Heroes Unlimited, Dead Reign®, the 1980s and '90s Robotech® RPGs and sourcebooks, and many other Palladium titles (200+) are available now.
A New Video Series from Questwise – The Road to Palladium Books Open House
Questwise will be coming to the Palladium Open House 2018. In the run-up to the Open House, Jodi is doing a series of videos looking at various Palladium Books related topics on his YouTube channel.
He has shared some of his plans with us about this series, including a special prize he's going to offer for those who put together the clues he will be including at the end of each video.
The first video of the series was posted this past Monday and is titled Lore of the Megaverse®. You can check it out here: https://youtu.be/BQITnSggwhQ
We're excited to see what he discusses next, and to game with him at the upcoming Open House!
UPDATE: The Rifter® #79 – Available now
The Rifter® #79 includes some new and alternative methods, rules and approaches to Game Mastering and making adventures, putting modern characters in different time periods throughout history, a closer look at the Heroes Unlimited™ Stage Magician, and the Kingdom of New Oslo, a nice companion to the soon to be released Rifts® Sovietski, and more. Available now.
UPDATE: The Rifter® #80 – In development
Wayne is making his selections now. Mark Dudley is lined up to do some art.
NEWS: Small price increases are coming
The cost of paper and printing keeps going up, so Palladium will be making some small price increases, probably only $1-$2. We hope you understand. The price increases will start with new releases and backstock as they go into reprint.
NEWS: The Rifter® is going up
Starting with The Rifter® #80, the retail price of The Rifter® will be increased from $13.95 to $14.99, but this will not affect those of you with a current subscription, you are locked in to the old rate. Better yet, The Rifter® Super-Subscription Offer is starting this weekend, so you will be able to get The Rifter® at a discount, and, if you want it, you can select a FREE gift (you just pay the shipping cost).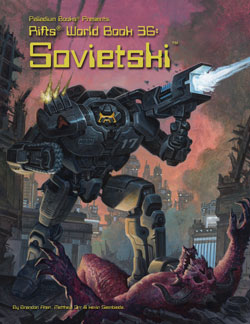 UPDATE! World Book 36: Rifts® Sovietski™ – ships February
I am sorry to say we were not able to layout Rifts® Sovietski™ last weekend after all. Somehow I had missed finishing a big section. I had started it, but put it aside to work on something else, and never came back to it. I know, what a dope. Thank goodness I caught my mistake before it went to print. I have been editing and writing the last of it like crazy. Meanwhile, Wayne has been focused on layout prep and editing the new material as I crank it out. The book will go to the printer next week. Still on track for an end of February release.
Rifts® Sovietski™ is freakin' awesome. So much cool stuff: The Cold Born psychic (think Burster with ice and cold), the mysterious and powerful Yaganar, the yeti-like Wolverine People and other cool D-Bees, a bunch of very new and different cyborgs, a bunch of M.O.S. skill packages that make character creation fast and fun, tables for a character's background, unique characters, interesting places and back story that provides ideas for adventure and is a fun read. This World Book has it all. There is so much in this book that you are going to love. Everyone who has seen the finished sections of the Sovietski Soldier revisited, the Spetsnaz secret police/special forces, the D-Bees, the Religious Enclaves, and ... well, pretty much any of it, has gone wild over it. The first word out of their mouth being, "Wow." I think that's my favorite word for a critique of a book. Like Rifts® Secrets of the Atlanteans™ there is a lot of "Wow Factor" in Rifts® Sovietski™, as well as a lot of fun little touches that will make you smile and add spice to your character or your game.
Rifts® Sovietski™ is also the final puzzle piece that pulls together several other Rifts® titles to create a cohesive area of the world that offers new adventure opportunities. They include Warlords of Russia™, Mystic Russia™, Mindwerks™ (Poland and a slew of D-Bees, monsters and adventure hooks) and Rifts® Triax & The NGR™ and Triax 2™.
UPDATE: Rifts® Bestiary™: North America, Vol. One and Two
These books gather and format the existing beasts from the current World Books and Sourcebooks (and some new beasts to spice up your games) into two big reference books. As soon as Rifts Sovietski goes to the printer (next week?), I dive into the final edits for both volumes, finish work on the new creatures, and send them off to the printer.
These are just the first two of what we hope to be a series of sourcebooks that collect all the notable monsters, dinosaurs and creepy crawlers of Rifts® Earth. The focus of the Rifts® Bestiary™: North America, Volume One and Volume Two being creatures of North America (US, Canada and Mexico). Presented in alphabetical order, with maps showing their range and location, in two big books. On track for winter releases.
UPDATE: Rifts® Disavowed™
Another cool book coming soon. I look forward to getting to the final writing for Rifts® Disavowed.
UPDATE: Rifts® Living Nowhere™
The new draft manuscript for Rifts® Living Nowhere arrived last week, though I have not had a chance to review it.
UPDATE: Dead Reign®: In the Face of Death™
The ideas for this book are screaming to be committed to paper. The cover and most of the interior art is done for it, and I usually write Dead Reign® books crazy fast, so I may slot this bad boy in sooner than later.
NEWS: Palladium Books on HippoTV on Twitch.tv
The awesome people at HippoTV (https://www.twitch.tv/HippoTV/) host a wide variety of games most days of the week. For fans of Palladium Books® they feature a Heroes Unlimited™ game every other Saturday, and every other Thursday features an After the Bomb® space game. The gamers playing these games come from all over the world, are very enthusiastic, and represent a wide variety of experience with Palladium's games.
Be sure to check out HippoTV either during a live broadcast or by watching one of the archived games. The next session for the Heroes Unlimited™ game will be on Saturday, February 10th, starting at 6 p.m. Pacific Standard Time. The next session for the After the Bomb® game is February 15, starting at 10:30 p.m. Pacific Standard Time.