By Kevin Siembieda
One game system – every genre – countless worlds – endless adventure
Only 15 shipping days till Christmas! So you need to order over the next week for most of you to have your orders arrive in time for Christmas. Remember, you lose a couple of shipping days because Christmas falls on a Monday, so get us your Christmas orders pronto. Of course, we will do our best to process and ship orders as fast as we can. Oh and do NOT use Media Mail if you NEED the order in time for Christmas as it is the slowest and least reliable method of shipping.
We are working away on books and have something new for your consideration. Read on for details.
SALE! All Robotech® products and available issues of The Rifter® – 50% off – one last weekend only
Gamers went wild over the Robotech® sale the couple of times we did it in November, so we thought we would offer it one more time, early enough for you to get items for Christmas gifts. Plus, we're putting available issues of The Rifter® on sale with it. A little something for everyone. Enjoy and happy holidays. Sale ends Monday morning, December 11. But that's not all, check out the next offer, below.
NEW! Palladium "Digital" Christmas Surprise Package
For the first time ever Palladium Books is offering a "Digital" Christmas Surprise Package!
It works very much like our traditional Christmas Surprise Package offer going on right now, except for just $24.99 you get a minimum of $50 (usually $60 or more) worth of Palladium PDF books (and digital products like Game Master Kits, Primers, maps, paper miniatures, etc.). That's right, $50-$60+ worth of PDF titles and digital products for only $24.99 during this holiday special. Christmas is only two and a half weeks away. Available NOW through December 24, 2017.
If you have never ordered a Palladium Christmas Surprise Package before, give it or the new Digital Surprise Package a try early, because you'll be blown away and probably want to order another one! If you are new to this fun concept, we ask that you send us a "Wish List" of 10-15 items. Then we select a bunch of the items and may surprise you with stuff you are not expecting; PDFs like issues of The Rifter®, or a Palladium RPG or sourcebook(s), or other items that we think you might enjoy. All items are "hand-picked" by one of Santa Kevin's helpers from YOUR Wish List. We have left fans thrilled with what they received every single year with the traditional Christmas Surprise Package, and we plan to do the same with the Digital Surprise Package. We always try to make each Digital Grab Bag truly special and tailored to you. Those of you who have ordered our regular Surprise Package know what to expect.
How to order a Palladium "Digital" Surprise Package?
Place your order online at the Palladium website just like you would any order in our online store. We accept ALL major credit cards (Visa, MasterCard, American Express, Discover). You may also order by telephone (734-721-2903; order line only).
If the title is available from DriveThruRPG, you can request it in your Digital Surprise Package. The cost is $24.99 for $50-$60 or more of great PDFs of Palladium games, sourcebooks, maps and other digital products.
Make sure you give us your entire, correct email address, and double check it to make sure it is accurate. A link will be e-mailed to that address within five business days of placing your order. When you click on the link you will be taken to a shopping cart on DriveThruRPG's website, with the PDFs from your Surprise Package already entered into your shopping cart and the price set to zero. Simply click the red Check Out button to get your PDF titles via this special offer.
What if you do not have an account with DriveThruRPG? Not a problem – when you click the red Check Out button you will be prompted to make a FREE DriveThru account. The process is quick and easy, and will get you started on building your very own PDF library.
To those of you outside the USA, this Digital Christmas Surprise Package is a great way to get books and circumvent the high shipping costs from the US!
Click here to place your "Digital" Christmas Surprise Package order. Avoid the holiday crowds and order one or more Digital Surprise Packages today.
UPDATE: Christmas Surprise Package – Last two weekends to order
Time is running out to get a Christmas Surprise Package in time for Christmas. There are only 15 shipping days till Christmas – Saturday, December 23 being the last delivery day, and that only applicable to some shipping methods.
As noted last week, if you live east of the Mississippi, you can place your order via UPS or Priority Mail up to December 18 and get it in time for Christmas. But please don't swamp us like that. Please try to get your orders in THIS WEEKEND. Thanks.
The rest of you should place orders by December 14.
To our friends in Canada and overseas, any orders placed this weekend should get to you in time for Christmas, but we cannot guarantee it. Likewise, ANY order sent by Media Mail cannot be guaranteed to arrive in time for Christmas, order at your own risk.
Please Note: With Christmas so close at hand, we will try our best to turn orders around the day after we get them. Orders placed Friday, Saturday and Sunday will NOT ship until the following Monday or Tuesday.
What is a Palladium Christmas Surprise Package? It's a fun bargain for you, and it's our way of saying thank you to Palladium fans around the world. Fill holes in your collection, try new games and world settings, get gifts for your gaming pals, and if you want, we'll sign every book.
It is usually $90-$95 worth of Palladium RPG books, often more! for only $45 plus shipping and handling. And because you guys and gals mean so much to us, I often pack in more than $96 worth of product. Oh, and each book will be signed by me (Kevin Siembieda) and available Palladium staff and freelancers if you request it. It is our way of saying thanks to all of you for your support and kindness.
Palladium Surprise Packages make the perfect holiday gifts for the gamers in your life – Whether you celebrate Christmas, Hanukkah, Kwanzaa, or the Winter Solstice, or you're looking for a gift for a birthday, anniversary, Valentine's Day, or any special occasion that falls between now and February, a Surprise Package may be the ideal way to go. You get a ton of stuff on the cheap, you can get a bunch of autographs, and you look like you spent a fortune.
Fill holes in your own collection.
Try new game settings (Rifts®, Robotech®, Palladium Fantasy®, Heroes Unlimited™, Splicers®, Nightbane®, Dead Reign®, Beyond the Supernatural™, Ninjas & Superspies™, After the Bomb®, and all the rest).
Get cool stuff (miniatures, bookmarks, maps, greeting cards, etc.).
Get autographs from the Palladium crew and available freelancers.
Be surprised when the package arrives.
All items selected and comments read by Santa Kevin, himself. Ho, ho, ho!
The best deal of the holidays! You are likely to pay $50 for just a single core rule book, but for $45 plus shipping, you can get 4-6 books in a Surprise Package, depending on their retail value. Or you can get that core rule book and 2-4 sourcebooks. And we will sign the books if you request it. How do you beat that? It is the best deal in gaming! Our way of giving back to the fans and making the holidays special for you.
Please spread the word to gamers everywhere. People only learn about the Palladium Christmas Surprise Package offer by word of mouth, The Rifter® and our website, so please post and spread the word everywhere. The Grab Bags are a great way to try Robotech® or Robotech® RPG Tactics, Rifts®, Palladium Fantasy RPG® and any of our games. Pick up one for yourself and for every gamer you know!
Surprise Package mitigates overseas shipping costs – take advantage of this while you can
The low cost of the Surprise Package mitigates the cost of shipping. It is, in effect, the equivalent of getting the books you want at retail, plus autographs, and paying the equivalent of only $5-$20 for overseas shipping!
How can that be? Well, if you factor in that you are getting say, $100 in product, but only paying $45 for them, and shipping is, say $60 or $70, that's $105 or $115 total – which is like $5-$15 in shipping for $100+ worth of product. And I always load up foreign Surprise Packages, so make sure you send a long Wish List! Of course, the purchaser is responsible for any Customs fees, taxes and other fees, but since we are selling you a $45 Surprise Package (not $100+ in books) you should only pay on a $45 purchase.
MANY overseas customers take advantage of the Surprise Packages for this reason! And it is likely the ONLY way for you to get autographs. Give it a try, we don't think you will be disappointed. This is the time for our friends and fans overseas to load up on the Palladium products they have been wanting! OR take advantage of the Digital Christmas Surprise Package to get PDF titles of your favorite games and sourcebooks. Enjoy.
Please note that Palladium Books has NO control over the cost of shipping/postage, nor the brokerage fees, Customs charges or any other related fees charged by other countries. Within the USA, Media Mail is the least expensive method of shipping, but also the least reliable and slowest. To our Canadian customers, we have no idea why it costs so much to mail books and product to you. So much for NAFTA making things easier. Game on.
Click here to get all the details or to place a Surprise Package order.
UPDATE: The Rifter® #79 – Ships in December
The Rifter® #79 is nearing completion. Artwork has been coming in and looking good, the initial edit is done and awaiting Wayne's final edits. The cover features one of the strange new characters appearing in the next Dead Reign® sourcebook: In the Face of Death™. See the description for The Rifter® #79 elsewhere in this update.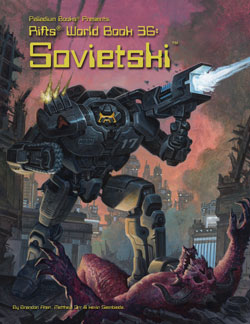 UPDATE: Rifts® Sovietski™ – Ships in December/January
Looking to send Rifts® Sovietski™ to the printer in 10 days. Looking great. Available in January.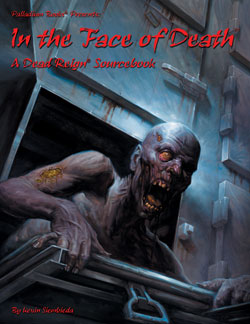 UPDATE: In the Face of Death™ – Winter
Most of the interior artwork for In the Face of Death is in and the awesome E.M. Gist cover blew us away. This is going to be another great Dead Reign, Zombie Apocalypse book that goes beyond the norm. There is life on the rooftops and inner city survival as well as a heaping helping of weirdness.