One game system – every genre – countless worlds – endless adventure
By Kevin Siembieda
The extended Labor Day weekend is coming up here in the US, so I'm going to keep this Update brief. Nightbane® Dark Designs™ arrived at the Palladium warehouse this afternoon. It looks fabulous and we spent time prepping to ship pre-orders tomorrow.
We spent most of this week dealing with a wide range of business matters: long overdue software upgrades to the shipping system, some computer issues, bookkeeping, Gen Con follow-up, PR and planning sessions. Regarding books, Wayne has two new Rifts® Dimension Books available as PDFs, and we have a number of new titles lined up for production, including (in no specific order): The Rifter® #78, The Rifter® #79, Rifts® Living Nowhere™, Rifts® Sovietski™, Rifts® CS Arsenal™, Rifts® Disavowed™, Dead Reign®: In the Face of Death™ and others, including a little surprise.
UPDATE: Nightbane® Dark Designs™ sourcebook – Available now
Nightbane® Dark Designs™ arrived today and looks fantastic. We had a visitor who was blown away by the cover and snapped up a copy for himself. Pre-orders will start shipping Friday. Distributor orders ship next week. This is another fun sourcebook packed with information and tables for the Nightbane and collects most Nightbane Morphuses and magical Talents to date in one nice package.
Please take a look at the free preview on DriveThruRPG.com for more details and a few choice glimpses of what you can expect. Also see the full description of Dark Designs™ elsewhere in this Update and in the online store.
FYI: For those of you who might also want the collectible Dark Designs™ Raw Preview Edition (limited to only 150 copies printed), we have around 20 copies still available. It is interesting to compare the original manuscript with the finished book and see what was changed and added.
UPDATE: Rifts® Secrets of the Atlanteans™ – still selling strong
Rifts® Secrets of the Atlanteans™ remains a hot item. Cool. I'll say it again, Rifts® Secrets of the Atlanteans™ is one of those sourcebooks that is jam-packed with ideas on every page and packed with all kinds of useful and fun information about True Atlanteans, Tattoo Magic, Stone Pyramids, Crystal Magic, Shadow Magic, Atlantean clans, the Sunaj, new Atlantean O.C.C.s, old O.C.C.s revisited, the Shadow Dimension and its monstrous inhabitants, and more. And there are many secrets revealed. Please take a look at the free preview on DriveThruRPG.com for more details and a few choice glimpses of what you can expect.
Please Note: Based on furious Gen Con sales (we sold out by Saturday afternoon) and our own online sales, I suspect Rifts® Atlanteans may blow out of game stores just as fast. If you cannot find the book in the stores because they keep selling out, please remember it is available directly from Palladium Books. 224 pages, $24.95 retail. And if you don't already own them, we highly recommend you pick up Rifts® World Book One: Atlantis, World Book 21: Splynn Dimensional Market™, and Rifts® Dimension Book 7: Megaverse® Builder (also written by Carl Gleba). All are fun and useful companions to Rifts® Secrets of the Atlanteans™.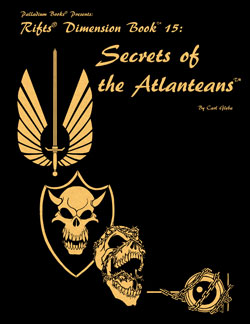 UPDATE: Rifts® Secrets of the Atlanteans™ "Gold Edition" Limited Hardcover – Ships mid-September and may sell out fast
There seems to have been a snafu with the book binder as the expected delivery date for the limited Gold Edition Rifts® Secrets of the Atlanteans™ hardcover has come and gone. I am waiting to hear what the revised reschedule is, but I suspect it will be the end of next week. We will then need 3-5 days for all of us (and freelancer Ben Rodriguez) to sign and number all the 300 copies, before we can ship. So it should ship sometime between September 11 and 15. The Atlanteans Gold Edition is limited to only 300 signed and numbered copies, and sold on a first come, first served basis. Palladium's Gold Editions have a history of increasing in value as time goes by, and with Christmas coming, I think this Gold Edition may be a hot commodity in the months ahead. If you are planning on getting one, I'd suggest getting it sooner rather than later. Only available from Palladium Books.
Important Note: Those of you who have already placed pre-orders have been charged and your number already assigned to you, so do NOT reorder. Multiple orders WILL result in you getting billed for and shipped multiple copies – NO REFUND. If you are worried about your pre-order, please call the Palladium office to inquire. Do not place a new order unless you want more than one copy.
Game line Tumblers are going fast – only a few of the logo tumblers remain in stock
The following are available in Palladium's online store while supplies last. They hold 30 ounces, have sealable lids, do not sweat, and look great. $29.99 each. Sold on a first-come, first-served basis. Still available: Dead Reign®, Heroes Unlimited™ (one of our favorites), and Splicers®. Sorry, the Rifts® and Palladium Fantasy® tumblers are SOLD OUT.