By Kevin Siembieda
One game system – every genre – countless worlds – endless adventure
Happy New Year. May it be a wonderful year for us all. I'm keeping the focus of this Update on the most immediate matters, like The Rifter® #79 shipping next week, Sovietski nearing completion for sending to the printer, and time running out for you to get a 2017 Palladium Surprise Package – offer ends January 15, 2018.
Less than 2 weeks left to get a Christmas Surprise Package – offer ENDS January 15, 2018
You have only 2 weekends left to order a 2017 Christmas Surprise Package. Monday, January 15, is the last day to place your order. This offer will not be extended.
The Surprise Package is a great way to treat yourself to an extravaganza of RPG fun, or fill holes in your collection, try new game settings, get caught up on The Rifter, or replace battered old books and get autographs on the cheap. It is also a great source to get gifts for birthdays, anniversaries, Valentine's Day, graduation, and other gift-giving occasions coming up over the next few months. Whatever the reason, order soon, because this offer is almost over.
Why extend this amazing offer? Because it is the nice thing to do. We realize many of you are so full of the Christmas Spirit that you spend your money on gifts for your loved ones rather than yourself. This wonderful act of charity often leaves no money for you to buy a Palladium Surprise Package for yourself. We think that sacrifice is pretty wonderful and what the holiday season is all about, so we extend the offer so that you selfless souls can pick up a Surprise Package after the holidays. We know this happens, because a lot people over the years have thanked us for the extension for this very reason.
The extension is also for you Johnny Come-Latelies who are so caught up in the holiday frenzy, work and life that somehow you miss placing your order for the Christmas Surprise Package before the offer ends. It is also for those of you who wish you had ordered one (or another one) but forgot. Lastly, it is our way to carry that holiday good cheer into the New Year. So get your post-holiday Surprise Package and enjoy. Please note that this offer will not be extended further. This is your last chance. And please spread the word to let people know the offer ends January 15, 2018.
Click here to get all the details or to place a Surprise Package order.
Digital Surprise Package offer – Also extended to January 15, 2018
That's right, you can get double the fun with a Digital Christmas Surprise Package as well as a physical one! Start the New Year off full of games.
Place your order online at the Palladium website just like you would any order in our online store. We accept ALL major credit cards (Visa, MasterCard, American Express, Discover). You may also order by telephone (734-721-2903; order line only).
If the title is available from DriveThruRPG, you can request it in your Digital Christmas Surprise Package. The cost is $24.99 for $50-$60 or more of great PDFs of Palladium games, sourcebooks, maps and other digital products.
Make sure you give us your entire, correct email address, and double check it to make sure it is accurate. A link will be e-mailed to that address within five business days of placing your order. When you click on the link you will be taken to a shopping cart on DriveThruRPG' s website, with the PDFs from your Surprise Package already entered into your shopping cart and the price set to zero. Simply click the red Check Out button to get your PDF titles via this special offer.
What if you do not have an account with DriveThruRPG? Not a problem – when you click the red Check Out button you will be prompted to make a FREE DriveThru account. The process is quick and easy, and will get you started on building your very own PDF library.
To those of you outside the USA, this Digital Christmas Surprise Package is a great way to get books and circumvent the high shipping costs from the US!
Click here to place your "Digital" Christmas Surprise Package order. Avoid the holiday crowds and order one or more Digital Surprise Packages today.
UPDATE: The Rifter® #79 – Ships next week
The Rifter® #79 is another fun and expansive gaming resource packed with ideas and source material for your games. And remember, you can easily adapt many adventure ideas, monsters, villains, places, weapons, and gear to most any of Palladium's game worlds.
The Rifter® #79 includes new and alternative methods, rules and approaches to creating epic adventure. Role-playing games are flexible expressions of your imagination and all about bringing ideas to life. This issue provides optional alternative rules and ideas to do just that. It includes the Kingdom of New Oslo, a nice companion to the soon to be released Rifts® Sovietski; putting modern characters in different time periods throughout history (can you picture that BTS psychic, Nightbane or superhero on a Victorian pirate ship or fighting for the Roman empire?); plus a closer look at the Heroes Unlimited™ Stage Magician, more alternative RPG ideas by Julius Rosenstein, and more.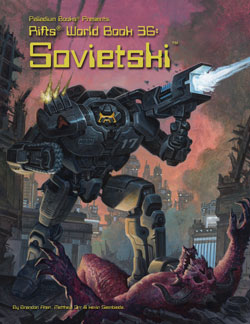 New! World Book 36: Rifts® Sovietski™ – ships February
Nearly done and goes to the printer very soon. The deluge of Surprise Packages the week before and after Christmas, as well as end of year inventory and other holiday and end of year business matters, meant more demands on my time, preventing me from finishing my final writing tweaks and editing on this awesome book. And Rifts® Sovietski™ is pretty darn awesome. New O.C.C.s and D-Bees, notable places, increasing conflicts with the Brodkil and other dangers (not to mention the coming of the Minion War), and lots and lots of new machines of war. Rifts® Sovietski™ really pulls together the previous two Russia World Books, Warlords of Russia and Mystic Russia, plus Mindwerks (Poland and a slew of D-Bees, monsters and adventure hooks) and the two Rifts® Triax books. The frosting on the cake for me, at least, is that Rifts® Sovietski™ creates the proper atmosphere and culture that brings Russia and that part of the world to life.
The Rifts® Sovietski™ World Book delves into the new Soviet Nation, key places, people, O.C.C.s, combat vehicles, cyborgs and weapons, and has everything you'd expect from a book like this. There is a wealth of information that will set your imagination on fire, new characters, new D-Bees, new weapons, vehicles and adventure hooks. There is the looming threat of General Goll's invasion of the Brodkil sent by Mindwerks' Angel of Death and Angel of Vengeance, treachery among the Warlords of Russia, and the coming of the Minion War. Learn about how the Sovietski came into being, its people's dreams, beliefs, politics, and its growing army, plus Deadzones, Spetsnaz Special Forces, new bionics, and more.