By Kevin Siembieda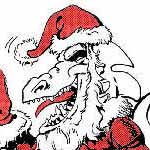 With Christmas next week, I think the focus of this Weekly Update has to be the holidays and the Christmas Surprise Packages. That offer ends Christmas Eve, 2013, so you still have time to order one for yourself.
At this point, only Priority Mail, Express Mail, 2nd Day UPS and Next Day UPS will arrive in time for Christmas. I would hope those of you purchasing a Surprise Package for the holidays have already done so. We certainly did everything we could on this end to get the Christmas Surprise Packages out as fast as humanly possible. Once in the mail, it's out of our hands.
Ah, but the beauty of the Surprise Packages is that they aren't just for Christmas. You can purchase one or more as gifts for any upcoming occasion (birthday, anniversary, Happy New Year's, Valentine's Day, graduation, and so on), or as a treat for yourself. A Surprise Package is also a great way to fill holes in your collection, try new world settings, get back issues of The Rifter®, get autographed books and specialty items like the Zeleznik art book, prints, original art, bookmarks, T-shirts, coffee mugs, and other non-book items.
Each Christmas Surprise Package is handpicked and packed with appreciation and warm holiday wishes. We do the Surprise Package as our way of saying thank you for your patronage and support, as well as a way to spread holiday cheer to the Palladium gaming community. So please, order as many as you'd like, enjoy and happy holidays.